| | |
| --- | --- |
| Deshaun Watson's injured effort had familiar feel for Kelly Bryant | |
---
| | |
| --- | --- |
| Saturday, December 6, 2014 3:45 PM | |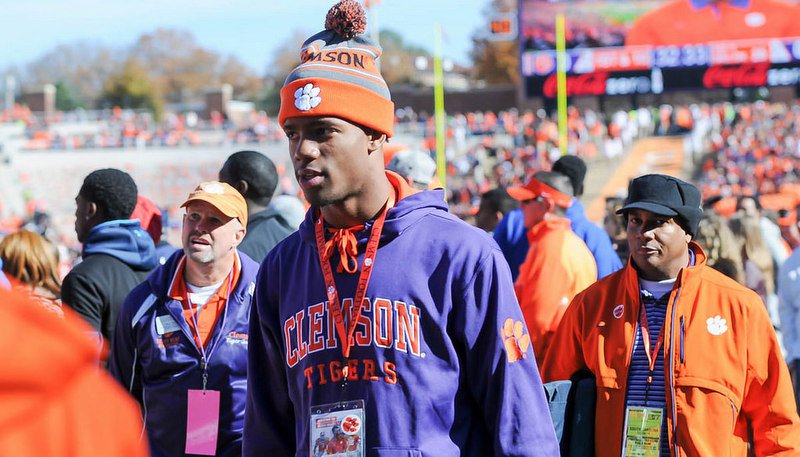 Deshaun Watson took the field one week ago with everything on the line and an injury that limited what he does best – move the pocket and scramble away from pressure – a feeling that few people have ever experienced. However, one of Clemson's coveted quarterback commits for the 2015 class knows that feeling all too well.
Piedmont (SC) Wren quarterback Kelly Bryant

Kelly Bryant
Quarterback
6-4, 205
Piedmont, SC
ESPN:


View Full Profile suffered an ankle sprain during the second quarter of the Hurricanes' loss to Emerald in the second round of the Class AAA playoffs last month, but the 4-star prospect continued to play and finished out the effort on guts alone as his team fell just short.
Bryant told TigerNet recently that even though he knows Watson's injury is more serious; he knew exactly what the freshman signal caller was going through as he played through pain in Clemson's 35-17 victory over South Carolina.
"I felt for him. I didn't know what he was going through as much because that's a major injury but I knew from an injury standpoint what he was going through," Bryant told TigerNet. "Watching the game and being that he was injured, you couldn't really tell the way he was moving the offense and the way everyone was playing."
Bryant said that he went down in the game against Emerald, he knew he was injured and feared the worst.
"It was a mild low to high ankle sprain," Bryant said. "At first I heard an audible pop and I didn't know whether it was my knee. My first reaction was to grab my knee but once I settled down, I realized it was just my ankle. They got me over to the sidelines and checked out everything. My knee was fine and they said my ankle was just sprained. I was more like 50-percent. I wasn't as mobile as I'm used to. I was just trying to do the best that I could on a bum ankle but ended up coming short."
With a little less than a month since the injury, Bryant said he is healthy and ready for his last competition as a high school football player – the Shrine Bowl.
"I'm back to about 90-percent. I've been running and everything," he said. "I'm excited to play against some of the best players, not only in North Carolina but in the nation and to get top lay with some of the best players in the nation. I can't wait to get there and make the most out of my opportunity."
Bryant has been trying to ready himself for the next chapter of his career by working out with quarterback coach Ramon Robinson, who has also spent time coaching Watson.
"I've been working with Ramon for what's about to be four years," he said. "He's helped me from the ground up with my footwork, mechanics, and being able to recognize different coverages. He's helped me out so much off the field, also, being like an uncle and mentor to me and looking out for me and my best interests. I can't really describe what all he's done because he's done an unbelievable job with me turning me into a quarterback, instead of just an athlete. I just can't say enough for Coach Ramon."
Despite the loss of offensive coordinator Chad Morris

Chad Morris
Offensive Coordinator / QBs
View Full Profile , Bryant said he can't wait to get to Clemson in a few weeks to see what Clemson's newly appointed offensive coordinators are going to do.
"Going into my recruitment, Coach Morris was one of my main recruiters so I sort of had a feeling that this time was going to come," he said. "I always tried to think about if he wasn't there and try to get a feel for all of the coaches. That's the good thing about Clemson, they are like a family. I've got a great bond with Coach Jeff Scott

Jeff Scott
Asst. Coach (WR) / Recruiting Coord.
View Full Profile . We have a good relationship. I'm excited to see how the whole offensive coordinator thing with him and Coach Tony Elliott

Tony Elliott
Assistant Coach / Running Backs
View Full Profile works out. It helps out a lot because that's the offense that I want to play in. Being that they aren't going to change it all, that makes it that much easier for me and my decision. It's very exciting to get up there and learn the system and get reps in the spring and to be with all of the guys. I can't wait. I'm really looking forward to it."
Bryant passed for over 3,500 yards with 41 touchdowns to 10 interceptions, while adding over 700 rushing yards and 14 more scores.
Kelly Bryant injured his ankle... They taped it up and he went back in but he has a bad limp. pic.twitter.com/tmRB6p6N1V

— David Hood (@MDavidHood) November 15, 2014