| | |
| --- | --- |
| Deshaun Watson...How special can he be? | |
---
| | |
| --- | --- |
| Monday, June 23, 2014, 8:26 AM | |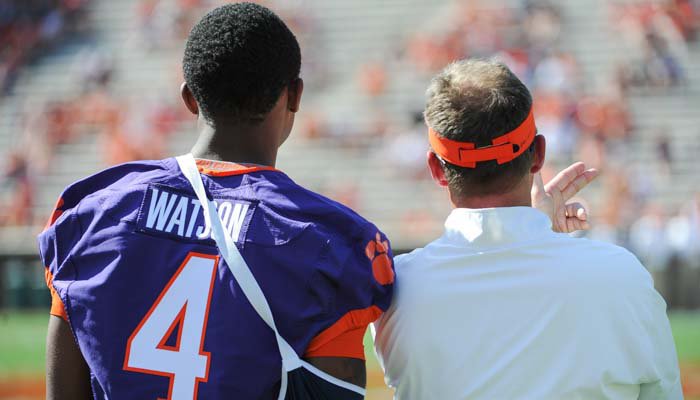 The beginning of fall of camp is still about six weeks away, but the questions regarding freshman quarterback Deshaun Watson

Deshaun Watson
Fr. Quarterback
#4 6-3, 190
Gainesville, GA
View Full Profile have swirled around the talented youngster from Gainesville, Ga., since he arrived on campus back in January.
Will he play this season? If so, how much will he play? The dismissal of Chad Kelly
Chad Kelly
RS So. Quarterback
#11 6-2, 210
Buffalo, NY
View Full Profile following the end of spring practice seemed to give weight to the belief Watson will play this season, but the questions still remain about when and how much he will play.
One of Watson's coaches at Gainesville, Lyn Marsh, watched Watson grow and mature from a whip-thin freshman into a state championship quarterback during his time at Gainesville. And while Marsh believes that a redshirt season wouldn't be a bad thing, he knows that Watson can handle whatever is thrown his way if he has to play this season.
In a recent conversation with TigerNet, Marsh said that there were more than a few games that stand out from Watson's Red Elephant career, but two really stand out.
"Wow there were so many games, but I guess a few that really stand out would of course, be the state championship and his very first varsity game as a freshman," Marsh said. "The thing about the state championship - besides the obvious - is that it is the one and only recognized state championship in Gainesville's long history. The manner in which Deshaun approached the game was amazing. He never showed any signs of being nervous, and at times, he calmed the seniors when they showed signs. The look in his eyes and his body language told you that as long as we rode on him that we were going to win. Believe it or not, he told me to relax because the game was a "lock", and I don't mean as a cocky, brash kid but like a man on a mission."
Watson threw three touchdown passes and ran for two more scores as Gainesville overwhelmed Ware County 49-13 in the Class AAAAA championship game at the Georgia Dome to claim the first state title in school history. Gainesville (12-3), one of the state's all-time winningest programs, was making its seventh appearance in the final, the most of any team that had never won a title.
However, the state championship run began when Watson started as a true freshman.
"With the first varsity game, Deshaun, once again, acted like a seasoned veteran," Marsh said. "His approach and preparation for the game was far past his years. We were playing big bad Buford, and they were everything that they were advertised to be. Early in the game, Deshaun threw an interception to their all-state defensive end on about our 30-yard line, and with only a young skinny kid just 14 years old and weighing probably 160 pounds with rocks in his pockets, he made a perfect form tackle on this monster that had him by at least 100 pounds. At that point, we, the coaches, looked at each other and knew we had something special. We didn't win the game or even score but maybe one touchdown, but we rode him for the best journey that could ever be imagined for the next four years. "
Watson ended his career as a first-team Parade All-American and second-team USA Today All-American. He established state of Georgia high school records for career total offense (17,134) and total touchdowns passing and rushing (218), and set the Georgia state records for career touchdown passes and total offense by the end of his junior year.
But don't think he was just a product of the system – Watson was trusted enough to make changes at the line of scrimmage and call his own plays.
"I've coached in Arkansas and I've coached in Georgia, and I've never really seen anybody that's comparable to him "Marsh said. "He had the permission to start audibling late in his sophomore season and did it all through his junior and senior seasons. We would give him the plays, but if he saw something different he would check to it. He is really smart. He is a really intelligent kid, and he is just a football guy. You have some kids that are good athletes, and then you have some that are good football players. He is that rare combination of both of them."
Marsh said that opponents got to the point that they wouldn't blitz when Watson was on the field.
"It's crazy, but teams just wouldn't blitz," he said. "We had some teams that would disguise coverages and things like that, but he had done so much film work and preparation throughout the week that he would know what to look for. They were scared to death to blitz him because they were scared he would get out of the pocket, and sometimes he was better out of the pocket than he was throwing the ball. If you've seen him, he glides when he runs and he's long. I don't think I've ever seen him lose a yard in high school football because he was always falling forward."
Watson will wear No. 4 at Clemson – the number of Clemson great Steve Fuller – and Marsh said he's seen enough of both quarterbacks to see that they have more in common than a number.
"I remember when Steve Fuller would get tackled he would always fall forward," Marsh said. "He would always fall forward when he got it, and it was unbelievable. I see a lot of that in Deshaun."