| | |
| --- | --- |
| Deshaun Watson ready to "do it all over again and finish the deal" | |
---
| | |
| --- | --- |
| Thursday, January 14, 2016 4:32 PM | |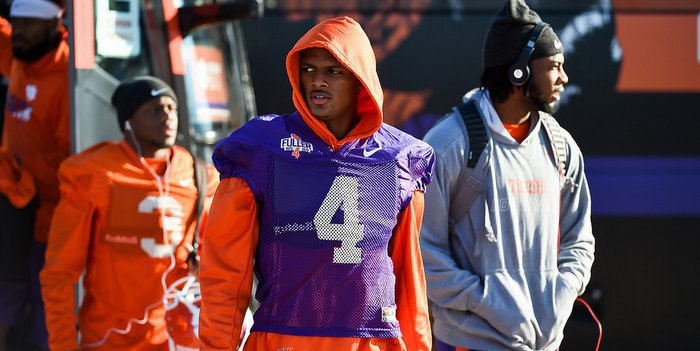 Deshaun Watson has won numerous awards and received accolades from all over the country, but there's one thing he's still missing and that's a national championship. Next year, he wants to finish what was started this season.
Watson was introduced as the 12th winner of the Manning Award, presented to the top collegiate quarterback in the nation, on Thursday. The Manning Award was created by the Allstate Sugar Bowl to honor the college football accomplishments of Archie, Peyton, and Eli Manning. It is the only quarterback award that takes into consideration the candidates' bowl performances in its balloting. The award is voted on by a panel of local and national media, as well as each of the Mannings.
During a conference call with Watson and Archie Manning – the patriarch of the Manning quarterback dynasty – Watson said the awards are a great, but he is a team player and wants the ultimate team prize.
"Even if we would've won the game and been 15-0 and had the record, there still would've been some drive to achieve it again," Watson said on the call. "We're going to learn from the game. Everyone is very confident that we can play with the best. Everyone thought that Alabama was going to roll over us, but we went toe to toe with them until the last play. It came down to an onside kick. We have a lot of confidence in this program, and Coach Swinney has been doing a great job over the past seven years getting us ready for moments like that. We're going to come back stronger next year and try to do it all over again and finish the deal out."
He did say that he understands the significance of the Manning Award and hopes to use its platform to inspire younger players.
"I'm not a normal kid anymore, so everything I do and everything I say is being watched," he said. "There are a lot of people who are looking up to me, so I always want to do the right the things and inspire people and inspire others. That's the big thing about this season and being able to inspire the youth and show that if you put your mind to whatever dream you want to achieve you can do it. I know that I'm a role model for people all across the country."
Archie Manning agreed that Watson isn't "a normal kid" and said that the rising junior signal caller has a bright future.
"We've seen the quarterback position change so much in the last few years. I was talking a little earlier about our Manning Passing Academy that we hope to have Deshaun down at as a counselor," Manning said. "We've been doing that for 20 years, and we started that as Peyton's idea. He was about Deshaun's age when he was at Tennessee, and he wanted to help high school quarterbacks. He said they're not throwing the ball enough, and we can help them, and we can teach them about work habits with their receivers and those types of things. We reflected on 20 years last year how much we've seen that change so much, and a lot of it has to do with the spread offenses, and I say in a way it started with Texas.
"There are a lot more athletic quarterbacks, but yet they're good passers because they're throwing the ball so much more in high school and college. I have to put Deshaun right in there with anybody, especially that exhibition Monday night. His passing ability was fantastic. His athleticism just shows out everywhere, and, of course, his numbers this year rushing the football, too. What he does for his team and the problems he creates for a defense is just unbelievable. I think we could ask Coach Saban and Coach Smart about that. I hate to start naming names, but he's got a great future. I know ACC defensive coordinators aren't looking forward to facing him next year and everything he presents in a football game. He's really a good-looking football player."
Watson said he's gotten a start on next season by watching Clemson's loss to Alabama in the College Football Playoff National Championship. Repeatedly.
"I've watched the game four or five times already. I've re-watched it to see everything and then evaluated myself and what I did well, what I did badly and what I can correct - the missed throws I had and the reasons for those missed throws and the reason for the interception," Watson said. "It was a forced ball. I didn't see the safety until the last second, but I'm just trying to improve my game some way and somehow. No one is perfect. I've watched it four or five times already to evaluate the team and to try to learn from it and get better because we want to be in that championship game again next year. Playing at the highest level in college football and learning from that game is going to take us a long way and help us throughout the off season to get better."