| | |
| --- | --- |
| Deshaun Watson is different than most freshmen | |
---
| | |
| --- | --- |
| Tuesday, December 10, 2013 4:10 PM | |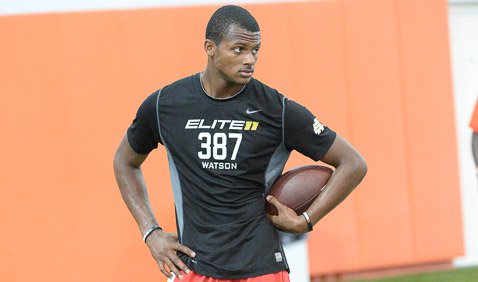 It was a rainy night in Georgia last Friday when Clemson quarterback commit Deshaun Watson

Deshaun Watson
Quarterback
6-3, 190
Gainesville, GA
ESPN:


View Full Profile took a vicious hit to his right knee, yelled in pain and crumpled to the soggy turf, causing Gainesville (GA) head coach Bruce Miller's heart to jump.
The Red Elephants were taking on No. 1 seed Tucker in the Class AAAAA state semifinals on Friday at Hallford Stadium in Clarkston, and Tucker had just taken a 20-14 lead with just over two minutes remaining when Watson, in an effort to try and rally his team, took the hit.
"He was just kind of flushed out of the pocket, and stepped up, and one guy hit him low and one guy hit him high," Miller told TigerNet Tuesday. "The hit just twisted him kind of funny, but I was expecting him to get back up. He didn't get back up, and I knew something was wrong."
Miller raced out onto the field, waited for the training staff to make an initial diagnosis, and then had to keep his quarterback from getting up too fast.
"When he was lying there on the field, I looked down at him and asked him if he was okay," Miller said. "He said, 'I am okay. I can get up.' We told him to let the doctors check him out, and he said, 'I can get up.' You could tell he was little frustrated because they wouldn't let him up as quick as he wanted to get up. He just has that warrior mentality."
Watson stayed out of the game just long enough to get a brace on the knee.
"It was late in the game and we had just fallen behind by a touchdown and we needed him to go," Miller said. "If we didn't have him out there we didn't have a chance. To his credit, he went back out there. They braced it up and he went back out there. But he couldn't run, and that is thirty percent of what he does."
Watson's return wasn't enough as Gainesville lost the game, unable to defend their state championship. Watson finished the game 23-of-37 passing for 185 yards, but he was intercepted four times. He also rushed for 63 yards.
Now, Miller and Watson have to sit back and wait on the results of an MRI later this week. The MRI will determine the extent of Watson's injury, even though Miller doesn't think it's too serious.
"I thought he was supposed to have MRI done today," Miller said Tuesday. "But I just talked to him and he will have it done either Wednesday or Thursday. They had to wait and let the order go through the MRI facility, so hopefully he will have it done in the next one or two days. Of course, then we have to wait on the doctor to read it.
"But I don't think it's serious. I saw him today and he is walking already with almost no help at all. I really don't think it's as serious as it could be. If anything, we think it could be his MCL and you would rehab that at the most. But you never know, and that is why we are having the MRI. We will see what happens."
Miller said that he doesn't see a reason Watson won't be ready to go full-strength when Clemson's spring practice starts in March.
"I think he will be ok, and I think he will be at Clemson in January just like he would if nothing had happened," Miller said. "He should be ready to compete by spring practice, if not way before then."
Miller then said that he thinks Watson will have a chance to compete for playing time once he does arrive on campus.
"Deshaun is different than most freshmen in that he has a deep understanding of the game," he said. "The other night in our game, he called about half of our plays – he would look at the defense and check out of what we had called. And he did it right. We give him that full authority to change plays when he sees the defense. The things that make Deshaun who he is are the facts that he is a great kid and a great student, not just a great football player. He is the total package. And when he gets to Clemson, I will be his biggest fan."