| | |
| --- | --- |
| Deshaun Watson and.....Peyton Manning? | |
---
| | |
| --- | --- |
| Tuesday, August 25, 2015 10:53 AM | |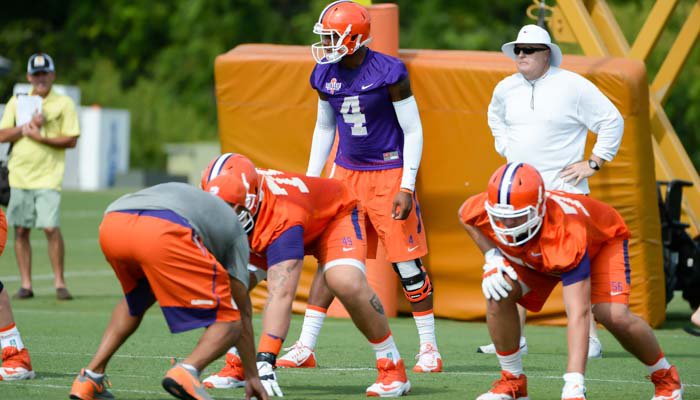 CLEMSON – Peyton Manning is known as the ultimate field tactician, reading defenses prior to the snap, motioning and pointing in a frenetic display of gamesmanship. Could Deshaun Watson

Deshaun Watson
So. Quarterback
#4 6-2, 205
Gainesville, GA
View Full Profile be that type of quarterback one day? Eric Mac Lain

Eric Mac Lain
RS Sr. Offensive Tackle
#78 6-4, 305
Hope Mills, NC
View Full Profile thinks so.
Clemson's heralded sophomore signal caller arrived on campus ready to read college defenses – lessons he learned while in high school in Gainesville, Ga. – and has picked up on the Tigers' protection scheme enough to where the offensive line feels comfortable with Watson making the calls.
"The kid has made unbelievable reads and calls," Mac Lain said Monday in the WestZone. "I think the biggest surprise that we have seen is the calls he's had in protection. He's really taken it upon himself to learn the protections of the offensive line to where if he sees some sort of blitz or coverage that he doesn't like, he can call a different one to put us in a better situation. You don't see that from sophomore, 19-year-old kids, being able to read a defense that way."
Who do you see that from?
"Honestly, I wouldn't be surprised if he's similar to Peyton Manning on game day," Mac Lain said Monday. "If he sees a bear front or something sort of odd, he'll check us out of it and get us into a better situation."
Watson arrived on Clemson's campus knowing how to read defenses and make pre-snap reads thanks to a coach in Gainesville.
"My quarterback coach back home, Michael Perry. All throughout the summer we watched different NFL and college films," Watson said Monday. "He taught me the basics and how to read defenses. It was great because when I stepped on campus I was ahead of the game. That's why I got on campus and operated the system smoothly because I was ahead of the game."
The coaching staff at Gainesville began to trust Watson's judgement at the line of scrimmage enough to not only make reads, but also call his own plays based off of what he was seeing.
"It started my sophomore year. Having that first year under my belt and just having that trust with the coaches," Watson said. "It built throughout the summer and the offseason workouts and from knowing the offense. They gave me the keys and I just drove away with it. I could check out of plays if I needed to, or really call my own plays if I felt comfortable with that and they felt comfortable with that. We had that trust and bond that on every play they could call the play or I could call the play."
His education continued at Clemson and was furthered along because of his injuries.
"I've learned a lot, especially having time off with the injury and being in the film room and having that coaches' perspective just from being out," Watson said. "It's been great talking to coach (Dabo) Swinney and seeing what he sees and trying to think like him. To be able to play at the highest level and win the highest championships you have to be a coach on the field and the quarterback has to be the leader and think just like the head coach."
The coaching staff now trusts Watson enough to make the proper calls.
"I don't want to say (there's) a lot (of pre-snap changes,) but I just have to base it on week to week," Watson said. "They give me a list of things I can check to versus different defenses. It's really just having that trust between the coaching staff and me and going out there and being able to read and execute. Right now I am still learning and getting the details down for the offense. Each week is different. I am still learning the offense and gaining the coaches' trust to where I can change the play if I want to."
Offensive coordinator Tony Elliot said Watson prepares like a much older quarterback.
"He's a football junkie. He's passionate about it. He prepares with purpose," Elliott said. "He does a lot of work outside the building on his own. You see him doing things that you would expect a junior and a senior to do, and he's only started a few games. It's impressive to watch him work."