---
| | |
| --- | --- |
| Wednesday, January 28, 2015 7:01 AM | |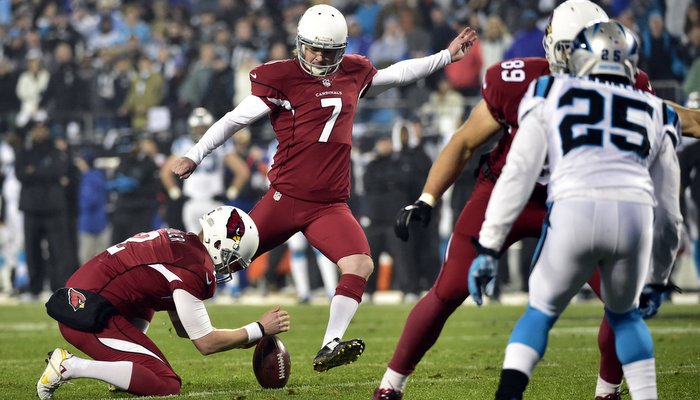 Chandler Catanzaro

Chandler Catanzaro
Punter / Kicker (2009 - 2013)
#39 6-2, 195
Greenville, SC
View Full Profile walked out of the locker room following Clemson's thrilling win over Ohio St. in the Orange Bowl last year, and while he was happy to end his collegiate career on a high note he also wondered what the future held as he pondered whether he would go to medical school or get a chance to kick in the NFL.
He wonders no more.
A thrilling 12 months have seen Catanzaro go from the roster long shot of the Arizona Cardinals to earning a spot on Gil Brandt's 2014 All-Rookie team after hitting on 29-of-33 field-goal attempts (87.9 percent). Catanzaro hit his first 17 field-goal attempts, tying an NFL record for consecutive field goals made to start a career.
He also won the NFC Special Teams Player of the Week twice, and he told TigerNet earlier this week that the past year has been an emotional roller coaster.
"I was thinking the other day and kind of reminiscing back to after the Orange Bowl. The day after the Orange Bowl I hired my agent, and I was hearing all kinds of different things and I wasn't really sure what was going to happen," Catanzaro said. "There was a lot of uncertainty during that period. I just remember thinking, 'Hopefully I will get a shot.' I was just looking for an opportunity to keep kicking. But really, I was looking hard at doing everything I could to get into medical school. I believed in myself and I thought I would get an opportunity.
"I just didn't know it was going to be this good of an opportunity. It was definitely in my dreams, but with all the stuff that happened this year it couldn't have gone any better. I am just fortunate to be standing here after my rookie season knowing that I can continue my career next year. I definitely dreamed about it and believed in myself but I was also realistic and knew the chance I received don't come around very often. I am very fortunate and very blessed."
Catanzaro said he had several "soak it all in" moments during his rookie campaign.
"The first preseason game, just throwing on the Cardinals' jersey with my name on the back of it and the No. 7 on it. I was like, 'Are you kidding me? This is ridiculous.' I actually remember putting it on and having to hold myself back from tearing up a little bit," he said. "It's just something you always dream of as a kid. At that moment, I could have just done that and been happy. It was an incredible moment, and before every game I would just take a moment after warm-ups to sit on the bench and just try and soak it all in and enjoy. Life is short, and the opportunity I had was incredible. I definitely tried to soak in the moment. Playing on the same field as guys like Peyton Manning and Eli Manning and the guys I idolized growing up was awesome as well. I definitely soaked in a lot of moments this year."
The Cardinals made the NFL Playoffs, but injuries at key positions meant an early exit after a Wild Card loss to the Carolina Panthers in Charlotte.
"That was a really cool experience. The Carolina atmosphere was awesome, and it was different," Catanzaro said. "The stakes go up a little bit and it was a really cool atmosphere and I had a lot of friends and family there, so that was fun. It was within driving distance of my house, and I had already played there in the ACC Championship Game and the Meineke Car Care Bowl game from way back. It was definitely fun playing in front of friends and family."
However, his best memory will be of the day he learned he made the roster.
"Walking into the team meeting room and finding out I had won the job was definitely the highlight," he said. "Nobody had really told me. I walked into the team meeting room and found out. That was the coolest moment I guess, just finding out I was going to be the guy. I had a feeling I was doing well but didn't want to make too much of it. But after the third preseason game against Cincinnati, I walked into the team meeting room and the guys were telling me congrats. That is kind of when I realized and it was a really cool moment. I remember after that team meeting calling my parents and we had a good little cry and taking in the moment. I also called Morten Andersen and it was pretty cool having him realize the dream with me."