| | |
| --- | --- |
| Defense imposes its will, leads the way in win over Boston College | |
---
| | |
| --- | --- |
| Sunday, October 13, 2013 9:25 AM | |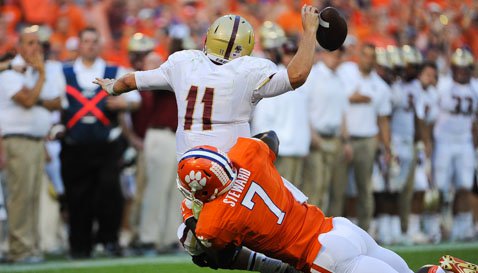 CLEMSON – I've been saying for two years now that at some point, Clemson's defense would have to step up and win a game when the offense was having a bad day.
Saturday was that day.
Clemson's defense gave up just 14 points – the fifth consecutive game the Tigers have allowed 14 points or less – and held Andre Williams, the nation's leading rusher, to just 70 yards on 24 carries, a 2.9 yards per carry average. Overall, Boston College ran the ball 39 times for just 94 yards, and they were just 3-for-15 on third downs. The Tigers also sacked Boston College quarterback Chase Rettig five times. The Eagles also gained just 286 total yards of offense.
That kind of effort was needed on a day when Clemson's offense struggled to score points, and defensive coordinator Brent Venables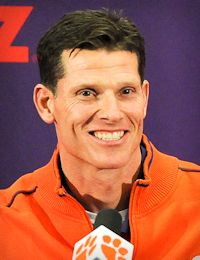 Brent Venables
Defensive Coordinator / Linebackers
View Full Profile told me after the game that he felt his defense imposed its will on Boston College, and that he was proud that the Tigers found a way to win.
"I thought at the end of the day we imposed our will and found a way to win. People have no idea how hard it is to win," Venables said. "We shared with our guys that there are teams that Coach Swinney has been on and that I've been on and coached, and they are great teams, but you have to beat a 3-8 team on the last drive of the game. People don't like it sometimes and it makes everybody uncomfortable – sorry that we are making winning uncomfortable for you – but sometimes the other team has scholarship guys and quality players and good schemes and you don't play your best, and you have to find a way to win. That is certainly better than the alternative."
I asked Venables if he felt like the defense was the difference in the game, and he smiled and said he wouldn't take it that far, but did say that he loves the way his group is playing right now.
"I am not trying to be evasive, but I don't know. We outscored them in the fourth quarter and we started to communicate better," he said. "We got settled in and quit beating ourselves. But you have to play in a relentless manner, and we have some guys that are playing that way, and it covers up some deficiencies we might have. When you play with passion and toughness and resolve, good things will happen. Even the young guys coming in – they like to play."
He then said that the way the defense is playing is starting to gain national attention.
"I've told our guys I've had probably 15 messages from coaches over the last couple of weeks that have complimented me on how our guys are playing and the effort that they are playing with. You watch them play, and it looks like they are having fun, too," he said.
Holding Williams to a 2.9 yards per carry average was no easy feat, and Venables said he told his defenders before the game that he wanted them to be more physical than the Eagle offense.
"We wanted to physically outmatch them. Obviously it starts upfront with our set players, our corners set in the edge," he said. "He made a couple plays there; he's a great player. Our players played with great physical toughness."
Next up for Venables and the Tigers are the Florida St. Seminoles, who bring in freshman quarterback sensation Jameis Winston, and he smiled when asked how he would try and stop Winston.
"I don't know, gosh, can I just go kiss my wife here? We are going to have our hands full," he said. "They have as good of a collection of talent that there is in college football. They have done an incredible job of recruiting. They are playing very well right now and are very talented on both sides of the football. They are very well coached. The key to winning - turnovers are always a big thing, establishing the run game, and having more explosive plays and limiting their explosive plays. They have a very explosive offense with very good receivers and backs, with a veteran offensive line with a ton of experience."