| | |
| --- | --- |
| Death Valley Engagement Party | |
---
| | |
| --- | --- |
| Saturday, November 21, 2015 11:18 PM | |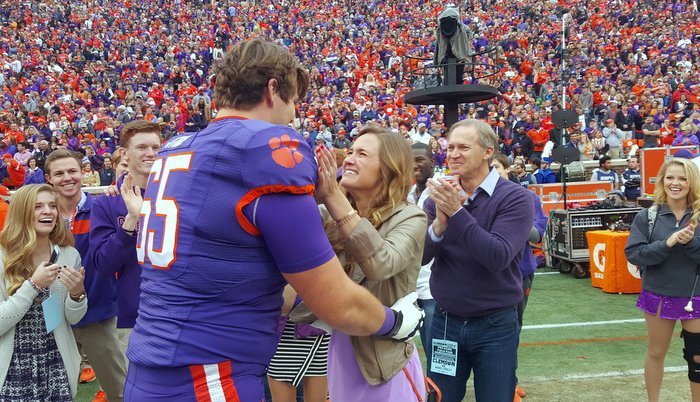 CLEMSON – Most marriage proposals are awkward affairs, with many grooms trying to find a different way to pop the question and show off the engagement ring. Clemson senior Daniel Stone set the bar high for all future grooms with his proposal Saturday.
Stone – a walk-on defensive end – decided to share his special moment with 80,000 members of the Clemson family when he asked his girlfriend, Morgan Helmendach, to marry him during his Senior Day festivities.
The Simpsonville (SC) native had been pondering ways to make the proposal special for several weeks but decided he couldn't think of a better way to start a life with his future wife than with his family and Clemson nation.
"For the past couple of weeks, I've been trying to come up with an idea of how to make this really special," Stone said after the game. "I figured out that on Senior Day we would come down one at a time and get special recognition, so I thought to myself what better way to kind of show off how special the Clemson family is than to start my own family at Clemson in Death Valley."
Once he had a plan, Stone turned to head coach Dabo Swinney for help, and Swinney was more than happy to oblige.
"Not that many [people knew of the plan]. I was trying to keep it low key and a secret," Stone said. "My parents and her parents knew. Her dad travels a lot, so I had to squeeze in a conversation with him last minute, but there were three or four guys involved in the whole thing. I went and talked to Coach Swinney on Monday, and he was funny. He got so excited about the whole thing. He got up and started running around his office and was like, you'll be here, and she'll be there and you'll do this. He tipped off some of the media people. Mike Dooley helped me get passes to the people who needed them. D.J. (Gordon) helped me out with cameras to capture the moment."
Stone was a bundle of nerves as he entered the stadium, but he said his first order of business was simply figuring out how to get down the hill with the ring in hand and all in one piece.
"I was thinking about several things. Don't drop the ring coming down the hill," he said. "Don't drop myself coming down the hill. And three, I was just going through those scenarios of how I was going to do it, but all of those things were calmed when I saw her standing there, and I just went for it.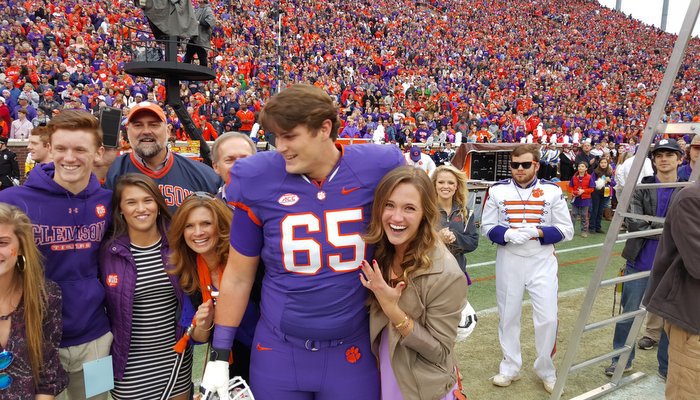 "I was freaking out. How am I going to get this ring down there to her? I wanted to hold on to it myself. At first, I was trying to figure out how to tape it to my helmet or what to do. I held it in my hand underneath my chinstrap to keep it hidden. I ran down the hill with it, and I popped the question right when I got down to her."
However, once he saw his future bride, all was right with the world and he knew he was ready to ask Morgan to be his forever.
"It was surreal. I had a whole bunch of ideas of how to actually go into it, but I looked into my mom's eyes and she said, 'Just go for it,'" he said. "I looked Morgan in her eyes, and I said, 'Morgan, I have a question to ask you.' I went down on one knee, and she started tearing up and I started tearing up. I opened the box, and I asked her if she would marry me. She said yes. It was a struggle putting the ring on with taped up hands and gloves, but she said yes."
Swinney said he was happy for Stone and his bride-to-be, and he enjoyed helping in the planning process.
"I think Daniel Stone got engaged to Morgan today. That was fun helping him scheme that up this week," Swinney said. "I assume she said yes. I don't know, but I am assuming she said yes. So congratulations to them. I'm happy for him. He's a great young man. Morgan, she's a gal that actually went to Daniel High and graduated from Clemson in like 2 and half years or something. Unbelievable. She's a sweet gal. I'm really happy for them."