| | |
| --- | --- |
| Death Valley: An opponent's perspective | |
---
| | |
| --- | --- |
| Thursday, July 24, 2014 8:06 AM | |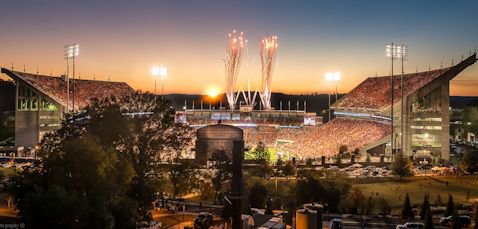 Death Valley at night is electric. It's loud. It's an overload of sight and sound, the senses overwhelmed by the swaying of the stadium, the releasing of the balloons; it's the glare of the lights and the explosion of the fireworks. It's Tiger Rag and it's Howard Rock and it's the sound of 80,000 throats in full voice, an orange explosion of emotion.
In a word, it's breathtaking. Photographers have tried to immortalize the great players and the plays, artists have tried to paint it and writers have tried to describe it. Season after season it moves grown men to the point of tears and there have been times it feels like the very earth itself has moved.
The entrance is called the Most Exciting 25 Seconds in College Football, and it's so riveting that "Even Georgia had to take a peek."
This season, three teams who have never made the trip into Death Valley will see what the stadium is like, an up close and personal experience that fans can only dream about. Louisville, Syracuse and Georgia St. will play in the stadium for the first time, and Syracuse offensive lineman Sean Hickey told me earlier this week at the ACC Kickoff that it's something he can't wait to experience.
"Honestly, when you come into the ACC, you have to figure that the two biggest venues to play in are at Florida St. and Clemson. I heard that Florida St. was harder to play at than an NFL stadium, and then another player told me that Clemson is harder than Florida St.," Hickey said. "When I watched the beginning of that Clemson and Florida St. game last year, that crowd at the beginning was like something I had never seen before. It was really kind of breathtaking to see what the crowd was like. It's definitely a challenge going into a venue like that and with a crowd like that – you can't hear anything and it makes it harder."
Hickey's head coach, Scott Shafer, said Death Valley is what college football is all about.
"I'm sure there will be a lot of people extremely happy to invite us in there," Shafer said with a grin. "I'm excited about it. This is what college football is all about. I'm as excited as the kids to go see what Death Valley is all about. We know it's going to be a great challenge, and it's what we all signed up for. It's what you look forward to as a coach.
"I was telling a story the other day, when you're a little kid dreaming about making the big play in the backyard, you're always trying to do it against the best of the best, whether you're shooting baskets and imagining yourself playing against the best basketball player in the world or the best team. Same thing, you know, so for us to get a chance to go down there to Death Valley and be a part of that environment is going to be extremely exciting for us, and we're looking forward to that challenge. Great football team."
Louisville head coach Bobby Petrino has been around for a long time, but said Clemson's iconic venue is something he can't wait to see.
"I mean, that'll be fun. I think those are the type of games you really look forward to playing in," Petrino said. "You look forward to going into a very hostile environment and understand that it's kind of us against the entire stadium, although we have had a number of fans back in Louisville that tell me they have tickets and they're going. So we'll probably have a pretty good section there of Louisville fans.
"But it's certainly a place that I've heard is tough to go in and play at. We'll have our silent cadence ready and have to work hard on that in camp. It's not something I think you can do in one week. So we'll start preparing for that in the middle of our camp. It's exciting. I've had the opportunity to coach in a lot of great stadiums, loud stadiums, that have been very hostile environments, and I think it's a great way to build your team and understand that you have to win it as a team."
Syracuse linebacker Cam Lynch said he's visited the stadium once before, but can't wait to see it from an opponent's perspective.
"Death Valley will be huge. You know, you've seen it on TV and you see the players touching the rock and running down the hill," Lynch said. "That environment will be huge. I went there on a recruiting visit when I was a junior in high school, but actually playing in a game there will be a lot of fun."