---
| | |
| --- | --- |
| Friday, January 2, 2015 5:38 PM | |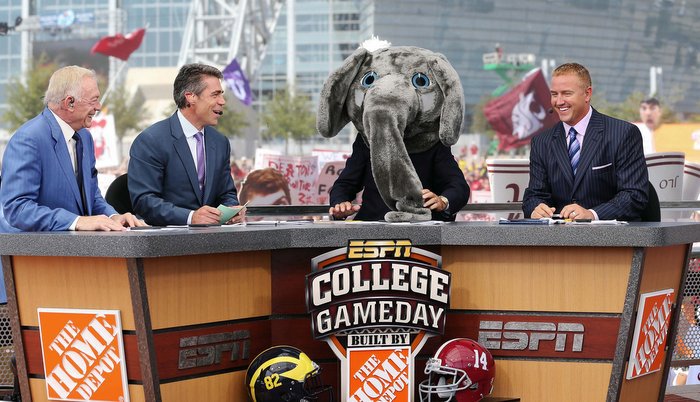 Dear ESPN,
We're sorry, but the jig is up.
No longer can you mislead and misdirect the populace at large and convince them that teams in the SEC are the most dominant force in the land, that players who don the jerseys of schools within that storied conference are somehow faster, stronger and smarter.
Oh sure, you can still troll and trick the deluded fan bases in places like Lexington, Kentucky and Columbia, South Carolina into believing the SEC manifesto that life is just better where the SEC is concerned. That's all those football folks have to hold onto, and they like being thrown the misdirection so they can make excuses for poor seasons and decades of futility.
But the rest of us, we're on to you and we have been for a while. We can think for ourselves, and we can trust what our eyes have seen in person and on the television each week. I know this will come as a shock to those poor souls in Bristol (home of ESPN) and Fayetteville and Nashville and Columbia squared – there is actually some pretty good football played in other parts of the country.
Too often we have had to turn on the radio or the television and hear that Ohio St.'s results don't matter, or what TCU or Baylor do, or even the success of the teams in the Pac-12. They don't play in the mighty SEC, so anything short of an undefeated season and wins over two major out of conference opponents will suffice for those teams to be in the conversation. After all, those teams don't play in the SEC and have to go through that grueling schedule of Vanderbilt and Kentucky and a bad Florida team and a South Carolina team that looks like it's on the way out. Nope, they didn't have to play and beat up on each other like the famous teams from the SEC West.
How bad did it get this season? Clemson was ranked 22nd when it went to play Florida St. – the nation's number one ranked team, defending national champs and on a long winning streak – and lost in overtime. The Tigers rightfully fell out of the polls, but it took four weeks for Clemson to get back into the Top 25.
Mississippi St. was 3-0 heading into week four and was receiving votes in the poll, but a win over an overrated (and anybody who watched them knew it) LSU team and jumped all the way to 14th in the polls. That was after a non-conference schedule of Southern Miss, UAB and South Alabama. Fast forward three weeks, and Miss St. was ranked number one, Ole Miss was ranked third and Alabama was ranked in the Top 10.
Meanwhile, Ole Miss had surged to the top of the rankings and was ranked third nationally before a date with LSU, and they got beat 10-7. LSU had two losses at the time, so Ole Miss took a tumble in the rankings, right? Yep, they fell from third to fourth. Of course, ESPN wasn't doing the voting so we can hardly blame them, right? Actually, the media conglomerate who has financial ties with the SEC is very much responsible – not every writer can watch every game, and those shows are watched and all you heard at that point from the analysts was that the SEC West was maybe just not quite as good as the NFC South.
Wrong.
The SEC West was exposed for what it is during bowl season – a good division in a very good conference.
Speaking of bowl season – Georgia Tech beat Miss St. in the Orange Bowl and beat them convincingly. Does that mean the ACC is better than the SEC? No. TCU drubbed that same Ole Miss team in the Chick-fil-A Bowl. Does that mean the Big 12 is better than the SEC? No. Clemson beat Oklahoma convincingly in the Russell Athletic Bowl. Is the ACC better then, than the Big 12? No. Oregon trounced Florida St. in the Rose Bowl…was Oregon really 39 points better than the Noles and is the Pac-12 that much better than the ACC? Probably not.
If you watched all of the bowl games and all of the teams, you understand one very clear and important fact – there are a lot of good football programs out there, and not all of them reside in the good ole SEC. Michigan St.? They can compete with anybody. Ohio St.? They can, too. Clemson? Sure. Oregon? Elite. TCU? Does anybody doubt they are better than all but maybe one SEC team, and would probably give them a run for their money?
The reality is that college football has a lot of parity, and each conference has two or three really good teams and that includes the SEC. And they all deserve that publicity and the chance to play for a title. The SEC West? They went 2-5 in the bowl games, but that doesn't mean it's a bad division…..it just shows that any team can beat any other on a given day.
And if you doubt that ESPN bias exists or that they actually believe what they are peddling to the non-thinkers, just look at the predictions for the Sugar Bowl between Ohio St. and Alabama. Anybody who has watched either team this season knows that Ohio St. recruits the same players as Alabama and those SEC schools – yet they don't have that "SEC speed or physicality."
Uh huh.
If you've watched the games this season, you knew that Alabama would have a hard time defending the Buckeyes' spread attack and the passing game. The Crimson Tide has been vulnerable to gap runs and long throws all season, and the Buckeyes have enough big bodies (not SEC, of course) on defense to make it a close game.
Yet 42 of 43 ESPN "experts" predicted an Alabama win. That's a whopping 97.6 percent. The lone holdout was Austin Ward, who worked in Wyoming and in Knoxville before joining the four letter network. He now lives in……….Columbus, Ohio. Perhaps he felt safer picking the Buckeyes, or maybe his close proximity allowed him to realize that the Bucks had a legitimate shot of knocking off Saban's bunch.
Nope, some of us knew the reality before bowl season. Now, everybody else knows. It wasn't jealousy that made people sit up and realize that good teams are in all parts of the country, and the theory that SEC teams don't try very hard unless it's a championship game went out the window with Bama's loss. Now, the rest of the country knows (except for places we've already mentioned) that ESPN has sold us a false bill of goods.
The jig is up, ESPN. It's time to report reality and not let your "reporting" be swayed by the almighty dollar.