| | |
| --- | --- |
| Dazed and Confused: Venables overcomes "loser" label | |
---
| | |
| --- | --- |
| Friday, September 18, 2015 6:01 PM | |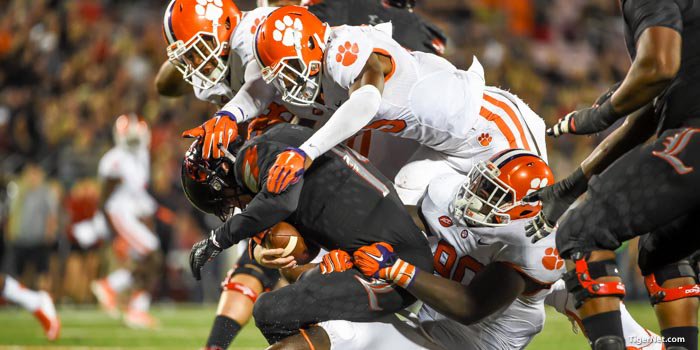 LOUISVILLE, KY – In the days leading up to Clemson's game at Louisville, defensive coordinator Brent Venables

Brent Venables
Def. Coordinator / Linebackers
View Full Profile walked around dazed and confused and forgot his wife's birthday. He left Louisville leaving the Cardinals' offense dazed and confused.
Clemson traveled to Louisville for the Thursday night contest on just four days rest – never an easy feat for anyone – but Venables and the defensive staff were charged with stopping a Cardinal offense that was desperate for points and a win.
The Tigers' defense did just that, holding Louisville to just 19 yards on the ground and 252 total yards in Clemson's 20-17 victory over Louisville, but that type of performance didn't happen without long hours on the practice field and in the office.
"I was in a daze for three days. I forgot my wife's birthday," Venables said about the short week to prepare. "I am a loser and I have my loser card right here. I forgot my wife's birthday and I am an absolute bum. I sent her flowers after the fact. I told her it was because of my days - today is Wednesday and tomorrow is Thursday and I didn't really know the day of the month. It was tough."
The hard work and dedication paid off as Venables watched his defense put together a dominating performance, including a sack and interception on Louisville's final drive.
"I thought it was great. Our guys came ready to play. There were a couple of plays in there that would've made it a great, great, great night," Venables said. "I have this bad problem that I always think about the bad plays - the dumb call on the T.J. Green

T.J. Green
Jr. Safety
#15 6-3, 203
Sylacauga, AL
View Full Profile play on the sideline. It was a dumb call. We blew the coverage down the middle of the field there on the last drive. We left the one guy uncovered. I loved watching our guys battle. What a fun game to be a part of, and watch those guys go out and have that road dog mentality.
"It was the something we talked about all week. You've got to have a toughness about you and an edge to not only go on the road but to play a program that has the tradition they do and is going to have the kind of atmosphere on the stage it was on, a team that was desperate. Winning the line of scrimmage, stoning their run game and creating pressure was the only way we had a chance to win. We said right before we left the hotel that we were going to have to come up with a stop on defense to win this game. Our guys were ready for it and embraced the moment. It's neat to see them have that success."
Before the team left the hotel for Papa John's Cardinal Stadium, Venables had a simple message for his defense.
"I told them, 'You guys have hardly been out there at all. It's like 60 plays. You guys are fine.' It says everything. You have to have that road dog mentality and that edge. They couldn't wait," Venables said. "They had confidence. They had toughness. They were physical. I told them, 'You guys don't have to make every play tonight. This team is going to make plays, you just have to make more of them. Fight harder. Fight longer. Fight tougher. Fight smarter for 60 minutes. You only have to beat them by one play. Sure enough, it came down to the last play."
Now sitting at 3-0, Clemson has a 16 day break before facing Notre Dame on October 3rd, and Venables said he thinks the off week comes at a great time.
"I think it really does. We have some guys that need to get fresh and healthy," he said. "That was a quick turnaround. That was fast, so all of us need a quick little window here to kind of go get refreshed and figure out what we need to get better at because we're going to have us a nice little stretch here where we're going to need to keep improving and getting better."