| | |
| --- | --- |
| Danny Ford on Clemson-SC: "The rivalry will turn" | |
---
| | |
| --- | --- |
| Thursday, December 12, 2013 10:14 AM | |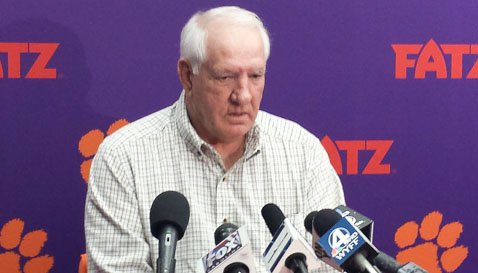 CLEMSON – The modern era of college football is tough on coaches, each sound bite and quote immediately blasted into the world of social media. As a result, most coaches aren't very quotable, their press conferences boring and filled with tried-and-true clichés.
Former Clemson head coach Danny Ford

Danny Ford
Former Head Coach
View Full Profile is the opposite of boring. Even when he was coaching, Ford rarely held back, and that is why Wednesday's session with the media was a refreshing change of pace as Ford covered a plethora of topics.
One of those topics was Clemson's lack of success over the last five years against arch-rival South Carolina, something that Ford said isn't easy to live with.
"Oh Lordy mercy. Certainly we don't like it. I don't think anybody likes it," Ford said. "But there's nothing you can do about it today. You only get one day a year to do something about it."
Ford was Clemson's head coach from 1979-1989, and he lost to South Carolina just three of those seasons, and he told the media that one of his most vivid memories of the rivalry was of bank in Anderson that flew the winner's logo on it's roof each of the next 365 days.
"When you went to Anderson, if Clemson won you would see a Tiger wind sock up there," Ford. "If the chickens won, there would be a Gamecock up there. You would have to remember that for 365 days. Of course, the bowl game can get your mind off of it a little bit, but when you go to raise moneys and go to IPTAY meetings, that is important. People want to know."
Ford said that losing to a rival can be tough, and he particularly remembers the 1987 contest.
"It's tough. We lost to them some and the worst time was when we just got physically whipped down there one time," said Ford. "I can still remember it. And our people remembered it when we were coaching here then. It's nothing to be happy about at all when you get beat by them. (Nick) Saban has won three national titles but they're not too happy with him right now."
Ford was asked if the losses to South Carolina take the shine off of the 10-win seasons, and he said no.
"No, it doesn't take away from 10 wins at all because that's a great accomplishment. But it doesn't make you happy," he said. "And I'm not speaking for their coaches, but if we had won 10 games and lost to them, we wouldn't have a happy off-season They need to turn it around."
Ford said that he doesn't miss coaching as much now as he used to, and that tailgating has become one of the reasons he prefers to watch instead of coach.
"I don't miss this anymore at all," he said. "I come to the games here and Clemson is very good to me. They provide me with tickets and parking passes. I'm able to go up into the stadium anywhere I want, but I love the tailgating more than anything else, I swear I do. I like to get here three hours early just to see what people are cooking. Besides, a lot of times you can't watch it here. In the box there's eating and spirits and everybody up in the box is a coach."
As a result, Ford said he is able to step back and appreciate what Clemson has accomplished over the last three seasons.
"They're doing really, really well now. Well, all except for a couple of games," he said, smiling. "It's the nature of the beast, winning 10 games a year. If they were coming into the old Clemson winning 10 games, people would be tremendously happy. But it's not the old Clemson now. It's 'We won 10, but we still lost this one,' or it's 'We've got to beat this one.' But they put themselves in this position (expectations). They earned that right."
He finished by saying he truly believes the rivalry is going to turn back in Clemson's favor sooner rather than later.
"They just have to take that next step forward. And it'll come," he said. "You just hope it comes when they're still winning 10 games a year. Butit'll circulate again. It's (the rivalry) going to turn. It always has. Nobody can win forever."