| | |
| --- | --- |
| Danny Ford: Tigers have a shot to win it all | |
---
| | |
| --- | --- |
| Wednesday, December 2, 2015 11:04 AM | |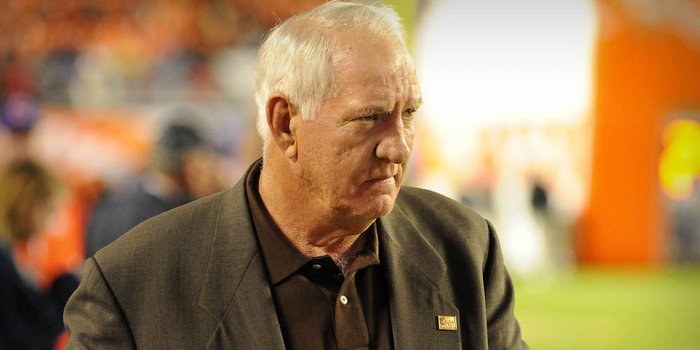 Danny Ford knows a little something about Clemson football and a little something about winning a national championship, and when he says the Tigers have a shot to win it all he means it.
There are a lot of parallels between this 2015 team and Clemson's 1981 national championship team - both head coaches are from Alabama, the Tigers will travel to North Carolina to take on the Tar Heels for the ACC championship, and they have won with good defense for most of the season.
Ford told Fox Carolina recently that if Clemson continues to play well and pay attention to the minute details they have a chance to win the school's second national championship.
"It only takes one bad Saturday. It only takes one guy to make a bad mistake in a close football game," Ford said at a recent event. "It only takes one major coaching move that's a problem. There are a lot of ways to lose a football game, and there are probably more ways to lose a game than there are to win one. They've got to be on their toes. They've got to make sure they've got all of their T's crossed, and I's dotted. They've got to make sure their football team is ready to play every game. They've done a nice job all year of doing that. I don't think they've had a down, down game. They've had a game or two where they could've played better, but it's hard to motivate those 18, 19, 20-year-old guys every week."
However, the Tigers will need to get back to playing the solid defense they were playing at the beginning of the season and continue to improve on special teams.
"Early in the season, they were playing outstanding defense and I thought that was the best part of their football team," Ford said. "The last couple of games they've had a little bit of a tougher time and maybe the teams have been a little better offensively, but they played really good defense. Special teams has been pretty good, but kickoff coverage could be a lot better. Offensively, they probably have as good a talent as anybody has ever had at Clemson."
He also said quarterback Deshaun Watson will be a major factor in how well Clemson does down the stretch.
"Just like Clemson has a shot at going to the playoff, he [Watson] has a shot at going to New York (for the Heisman) as long as he continues to play well, but it takes one bad game or one bad half to knock you out – a fumble at the wrong time," Ford said. "He's done really well. He's a gifted player. They tell me he's a better person off the field than he is on the field, and he's outstanding on the field. He's really a great player."
Ford remembers what winning the national championship did for Clemson University, and he said if the Tigers could somehow find a way to win the College Football Playoff it would mean everything to the university.
"If they can continue, which is a long way to go and I don't think they're counting their chickens before they hatch, it would mean probably one of the biggest things to ever happen to Clemson," he said. "It would improve the application rates of anyone wanting to go to Clemson. It would make high school football very important in the state of South Carolina, even more than it is now. And, it would make a lot of these kids want to go to school and play football at Clemson. It would put a lot of pride in South Carolina if that were to happen."
There is one difference between the 1981 team and this year's team, however, and that's the way head coach Dabo Swinney interacts with his players. Ford said he just wouldn't fit in with today's crowd and Swinney probably wouldn't have fit in back then.
"I don't know if it [the dancing and motivational tactics] would've worked in the old days, but it's working now," he said. "He's got great rapport with his players and his coaches. He seems to have them motivated most every week, and they play. They haven't had a failure yet, so you have to give him credit for that. You have to give his staff for what they've done. They've done a good job.
"They don't square dance no more and that would be our age group. All of this new stuff, I couldn't do. I couldn't do the music at practice thing either. They do it and get away with it."