| | |
| --- | --- |
| Daniel coach breaks down Venables and Batson | |
---
| | |
| --- | --- |
| Saturday, June 27, 2015 7:01 AM | |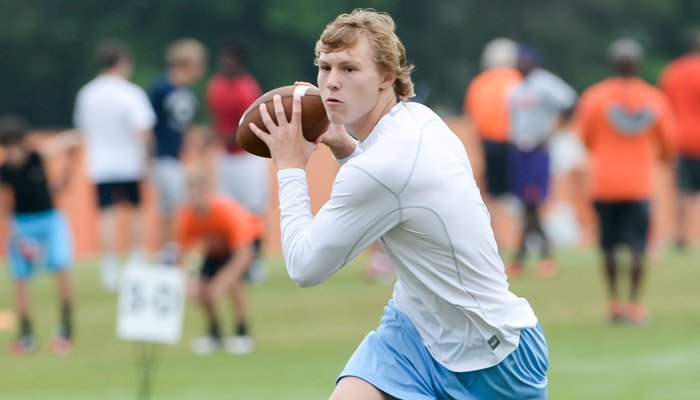 The Clemson pipeline to Daniel High School is littered with the names of players that have traded the blue and gold for Clemson orange, including DeAndre Hopkins, Jarvis Jenkins, Terry Smith, Kyle Young and Shaq Lawson.
Two more could be on the way, and both already have ties to the Clemson program. Clemson recently offered 2018 linebacker prospect Jake Venables

Jake Venables
Linebacker
6-1, 190
Central, SC
View Full Profile , who figures to have a big presence on the Lions' defense this season. Venables is also the son of defensive coordinator Brent Venables

Brent Venables
Def. Coordinator / Linebackers
View Full Profile , and he was offered during Dabo Swinney

Dabo Swinney
Head Coach
View Full Profile 's high school camp last month.
Also making an appearance at the camp and standing out during the passing sessions was 2018 quarterback prospect Ben Batson, the son of Strength and Conditioning Coordinator Joey Batson. Batson has yet to receive an offer, but the dual-threat prospect has received a lot of attention on the camp circuit this summer and figures to gain even more attention during the 2015 season.
TigerNet reached out to Daniel head coach Randy Robinson to get a feel for both prospects, and Robinson said the two players are part of an outstanding group of young players at Daniel. He also says that people shouldn't be surprised that Venables received an offer.
"The kid started as a freshman at Daniel. He is a player," Robinson said. "I thought that whole group in eighth grade in middle school could really play. No one really was just dominant but I thought there were three or four kids in there that had a bright future as far as recruiting down the road. Jake was obviously one of those kids, and we were able to hold most of those kids down on J.V. and let them get a year under their belt. But we had a need at outside linebacker and Jake just earned it. He played as a freshman."
Robinson said Venables learns from his mistakes and is a quick learner.
"He doesn't make the same mistake twice. You tell him one time and he's got it," Robinson said. "He's long. He's athletic and smart, and that is a good combination for an outside linebacker. We threw in a 7-on-7 last night and they caught a little out-cut on him and I went over there and talked to him and the next two times they ran that route they were tipped away. He doesn't make the same mistake twice. He definitely studies football and knows football. That makes it easier to coach a kid, who instead of playing video games is out there playing football and he knows what is going on."
Batson can beat a defense with his legs and his arm.
"Ben shows leadership on offense When you are the quarterback you have to show that leadership and be accountable," Robinson said. "He is a legitimate dual-threat guy. He had some JV games where he threw for 300 yards and ran for 100 yards, and then turned around and ran for 200 and threw for 200 the next week. You take the passing game away and he is more than willing to take it and run with it - probably more than I would like - but if they load the box then he is going to beat you with his arm. So he's a legitimate dual-threat guy."
Robinson then said that while Batson has to learn to trust his receivers and improve his timing on routes, there is no doubting his ability to throw the football.
"I think timing right now is what he needs to work on. We talk about how footwork is tied to the release of the ball," he said. "It's the little things we are working on with him to really get good at. He has a tendency to wait for the receiver to get open to let it rip, but he has to learn to trust those guys to get to their point and let it go on time. That's the biggest thing he has to improve. But I will tell you - he has an arm. He had a throw last night that absolutely lit up the whole place. It was a rocket."