| | |
| --- | --- |
| Dangerous Option: Swinney previews Georgia Tech | |
---
| | |
| --- | --- |
| Tuesday, October 6, 2015 1:49 PM | |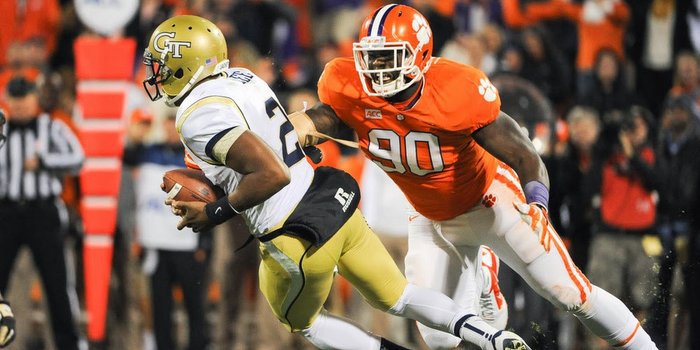 CLEMSON – No matter what Georgia Tech's record happens to be, the Yellow Jackets are always a tough out for Clemson, and that was never more apparent after the drubbing Tech put on Clemson in 2014.
The Tigers are coming off of an emotional 24-22 victory over Notre Dame and Georgia Tech has lost three in a row, but Dabo Swinney

Dabo Swinney
Head Coach
View Full Profile told the media during his weekly press conference in the WestZone that records can be deceiving.
"You better be ready to play Georgia Tech," Swinney said of the jackets. "They lost at Notre Dame. Let's not forget Notre Dame was the fifth-ranked team in the country. They lost to North Carolina, who is probably in the lead in the Coastal. And, then Duke who has one loss to Northwestern who is undefeated. They've played good people. Georgia Tech is a really good football team."
Offensively, the Yellow Jackets pose a different type of threat with Paul Johnson's triple threat.
"They're always a difficult team and as well a coached team as we play each and every year. For us, it's a critical week of preparation as we dive into these guys. Offensively, they're alway a challenge for us and our defense," Swinney said. "They just do a great job. They have a few different formations this year, but the big thing for us is our keys, everybody doing their job, tackling well, same old thing - leveraging the football. They're explosive. When you think of explosive, you think of big plays down the field, but these guys are explosive in a lot of ways. They've had 28 touchdowns and 12 of them are in 2 minutes or less. 12 touchdowns in two minutes or less, that's what they have the ability to do. You better be very, very disciplined with your alignments, angles, and your eyes. Everybody has to do your job. They play four downs. This isn't a three-down game defensively. You better be ready to play four downs. It's just what they do. They don't punt a whole lot."
Georgia Tech has one of the most experienced defenses that Clemson will face this season.
"I think they've got 15 seniors and juniors in their two-deep, and they kicked our butt last year," Swinney said. "They kicked our butt last year, it's just that simple. We were pathetic offensively against this group last year. We had two pick sixes and really put our defense in a bad situation in this game last year, and all of those guys are back. Six of their front seven are back. I think this is a really good secondary that is well coached. They do a great job technically. They do a great job as far as route reading and breaking on things and leveraging the ball. They get their hands on the ball. It's a really good group."
For Clemson however, it's just another game, the next checkbox on a list of 12 games.
"I'm proud of our team. Obviously you want to be 4-0, that was a goal to be 4-0 at this point, but 4 games don't make a season," he said. "Our goals are much bigger than that. It's literally one day, one week, one game at a time is what we've got to do. Today is a huge day as far as our preparation. We look forward to it. It's always good to be back in The Valley. Maybe will have a little sunshine this weekend, who knows. The last thing I'll say is my appreciation to our fans and the people who showed up and embraced the situation last weekend. It was electric, and we need that same type of enthusiasm this weekend as we take on a very tough Georgia Tech team.
"Georgia Tech is our next goal as far as what we're trying to do with our season. We're just trying to get the next game. Our next goal for the season is to win the division, so as we get back into ACC play the rest of they, we've got a lot of work to do to achieve that goal. The only way we're going to get that done is to do what we do, and that's put every ounce of what we've got into each and every opponent. Clemson - Georgia Tech is a game that has a big history."
However, if the Tigers are looking past the Yellow Jackets, the game could get ugly in a hurry – just look at 2014.
"If we have a letdown, we're going to get our butts kicked, but I have not really seen that in the fabric of our culture. We've been a very consistent football team regardless," he said. "We haven't lost a lot of games, but when we have we've come back and played well. That was the rhetoric last year when we lost in Tallahassee - how are you going to get the team back. It was so devastating. They're mentally spent. That was the storyline. That garbage that people try to pour out there."
Other Notes
Mike Williams

Mike Williams
Jr. Wide Receiver
#7 6-4, 213
Vance, SC
View Full Profile update
"I have no idea when he'll be back. I'm just like y'all, just waiting to hear anything. He goes back to the doctor on Wednesday. He's doing great. I talked to him last night and hung out with him on the practice field. In his mind, he thinks he's going to play, but I have no idea and he doesn't either. That's just how he thinks. He thinks he's going to play in the national championship game and catch the game-winning pass. He'll be back at some point, I just don't know when it is."
Injury update
"We're in good shape. Austin Bryant

Austin Bryant
Fr. Defensive End
#91 6-4, 268
Pavo, GA
View Full Profile was the only one that got a little banged up, but I think they're going to brace him up and he's going to be ready to go this week…We hope to have Ryan Norton

Ryan Norton
RS Sr. Offensive Line
#58 6-3, 284
Simpsonville, SC
View Full Profile back for the Boston College game."
The play of the defense in the fourth quarter against Notre Dame
"Tired in the 4th quarter after 60 snaps? That's not a lot of snaps to be honest. That's not a lot of snaps at all. There have been some comments that our guys are tired in the fourth quarter. Being tired has nothing to do with doing your job. I mean it's one thing if a guy just gets beats on a competitive play. He's gassed or something, but it is another when you just absolutely bust. Absolutely don't do your job. That has nothing to do with being tired. We didn't play that many plays. 60-something plays is not a lot of plays. Heck, we've got offensive linemen playing 80-plus plays. Nobody ever asks about the offensive line. I don't know why it is any different. But we do have to develop some depth that is for sure. I think we are in the process of doing that."
On finishing the game
"Our best football is ahead of us. I guess that's what I'm most excited about. We're 4-0, and we haven't even come close to playing our best game or our best football. I'm excited about that. We've got to finish better. Our last two games, we've had double-digit leads in the fourth quarter and we've let people back in the game in various way. We've got to correct that."