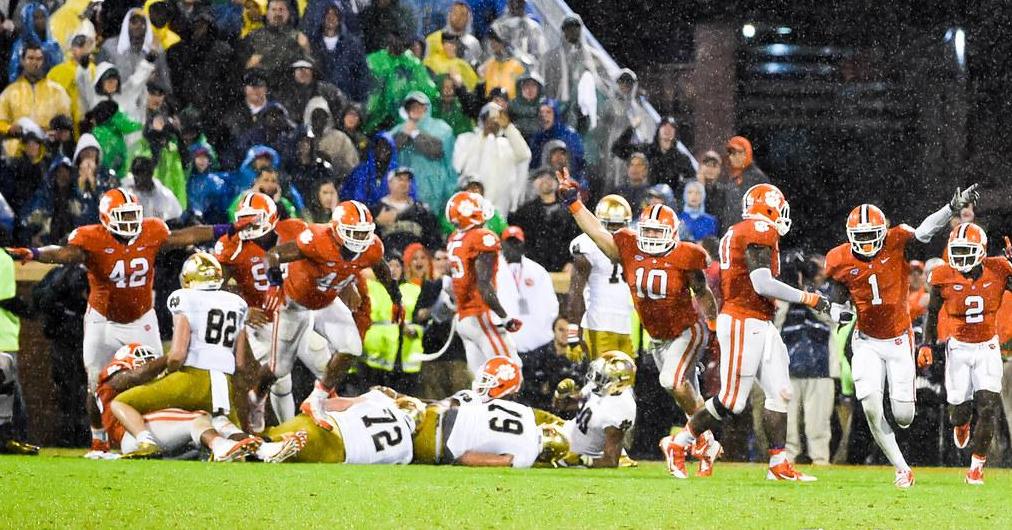 | | |
| --- | --- |
| Dabo's Top-10 wins: Tigers "BYOG" in downpour win over Notre Dame | |
---
A decade (plus some) of Dabo Swinney has produced some of the Clemson's program biggest wins, two National Championships, four appearances in the College Football Playoff, and the ascension of the brand into one of the nation's most recognizable.
It has also seen the program turned into one of the nation's top two programs and arguably the nation's top program at this point.
Swinney is 116-30 (.795) in 11 seasons (10 full seasons) at Clemson, including a 69-16 mark (.812) in ACC regular-season games at Clemson. Swinney is also 5-1 (.833) in ACC Championship Games and 9-5 (.643) in bowl games.
We decided to take a look at the 10 biggest wins during the Swinney era – biggest from a perspective of what the win meant to the program and on the national stage. We will take a look at the ten we've chosen over the next few weeks, and feel free to disagree with us. David Hood, Brandon Rink, and Nikki Hood also disagreed on the ten and where each game should rank.
Yesterday we took a look at No. 9., Clemson's win over Ohio St. in the Orange Bowl.
Today we take a look at No. 8.
CLEMSON 24, NOTRE DAME 22, OCTOBER 3, 2015
Why it made the list
Let's face it. This game had the juice. When the series with Notre Dame was first announced, people on both sides looked at this game as a must-see event. The teams hadn't faced each other since the late 1970s, College GameDay was in town, and both teams had their eyes on a berth in the College Football Playoff.
And then there was the hurricane.
The East Coast was getting drenched by Hurricane Joaquin, while college football was preparing for its best weekend of the season, with five top-25 matchups. While some games in the storm's path changed start times, No. 6 Notre Dame vs. No. 12 Clemson went on as planned in the primetime slot on ABC.
There was added intrigue all week about whether the storm would cause the game to be postponed or even canceled. Heck, even the governor of the state said it should be canceled, but Clemson officials monitored the weather and felt like they had a handle on the situation.
Clemson fans arrived early and they arrived in droves, tailgating in ponchos and rubber boots and all-weather gear. I wondered how many would show up, but a half hour before kickoff the stands started to fill and then I knew – the stadium would be almost full. Even Notre Dame head coach Brian Kelly was shocked at the atmosphere inside Death Valley, eyes widening as he saw the Tigers arrive at the top of the hill.
What followed was sheer drama and joy and an exhibition of why we love college football. If Clemson doesn't win this game, I am not sure they make the Playoff.
Head coach Dabo Swinney, water draining off the brim of his hat, delivered one of his most memorable speeches as he walked off the field.
"It ain't always perfect, but I what told them tonight was, 'Listen, we give you scholarships, we give you stipends and meals and a place to live," Swinney said. "We give you nice uniforms. I can't give you guts, and I can't give you heart.' Tonight, it was B.Y.O.G. -- bring your own guts. And they brought some guts and some heart, and they never quit until the last play.
"I'm just so proud of my team. That's what we talk about. I told them, 'Just play the next play. Just freaking play this play, don't worry about screw-ups. Play this play; win this down.' Just happy they never quit. Again, great effort by Notre Dame.
"But let me just tell you: Rain, sleet or snow, Tiger Nation, they showed. And they were here tonight. Great, great job. We're gonna do the Whip and Nae Nae tonight, I can promise you that!"
Swinney delivered on his postgame dance promise, and the Tigers went dancing all the way to the National Championship Game, Clemson's first appearance in the title game since 1981.
Play of the game
The wild weather conditions likely played a role in four turnovers but Notre Dame had its chance to tie things up on a two-point conversion play with seven seconds to go.
Clemson had forced a goal-line fumble just minutes before but the Fighting Irish were back in scoring position after a punt return to the Tigers' 32-yard line. After a Kizer touchdown pass, Notre Dame went back to a call that had worked for a touchdown earlier in the quarter.
Kizer had his running back as a lead blocker and would have had another path to the end zone if not for defensive tackle Carlos Watkins and linebacker Ben Boulware combining to hold up blockers and bring down Kizer to wrap up the win.
Stat of the game
Everybody thought the game would come down to quarterback play, and both made plays when they had to. But how many remember that Watson was just 10-of-21 for 84 yards? The Tigers got ahead early and played keep-away from the Irish, riding the running of Wayne Gallman to the win. Gallman had 23 tough carries for 111 yards, and overall the Tigers ran it 43 times for 212 yards. The Irish were the ones with the vaunted rushing attack, but Clemson held them to just 111 yards on 32 carries (3.5 per carry).

Upgrade Your Account
Unlock premium boards and exclusive features (e.g. ad-free) by upgrading your account today.
Upgrade Now