| | |
| --- | --- |
| Dabo weighs in on uniform debate | |
---
| | | |
| --- | --- | --- |
| Thursday, October 18, 2012, 10:31 AM | | |
CLEMSON – The debate rages on Clemson message boards each week during football season as fans wonder what uniform combination the Tigers will be sporting on Saturday.
In Death Valley, the Tigers can wear the traditional orange jerseys and white pants, the orange jerseys and orange pants, the purple jerseys and purple pants or some combination of orange and purple. On the road, the Tigers have the choice of wearing the home jerseys if the home team wears white, but if the home team wears a dark-colored jersey, the Tigers have the choice of the white jersey tops with orange pants, white pants, or purple pants.
Clemson head coach Dabo Swinney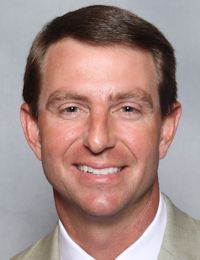 Dabo Swinney
Head Coach
View Full Profile is 17-0 when the Tigers wear the orange jerseys and white pants. The Tigers are 1-2 in the all-purple look since 2006 – the Tigers beat Georgia Tech in 2006, but lost to Virginia Tech at home in 2007 and on the road at Georgia Tech in 2009 and the purple hasn't been seen since that game.
Swinney told TigerNet Wednesday evening that the records have nothing to do with why he chooses the uniforms that he chooses, and that purple would be an option at some point in the future. However, the reason he took the decision away from the players was because he felt it was becoming a distraction for a team that needed focus.
"We will wear purple again at some point," Swinney said. "I really felt like it was a distraction, and I don't want our uniforms to be a distraction. We have more to worry about than having guys coming in and saying, 'Hey what are we wearing?' I don't have time for that. Let's focus on the game."
Swinney played at Alabama, a school known for having the same style of uniform for decades, and said being traditional is just in his makeup.
"I am more of a traditional guy anyway. I know they [Clemson] won the ACC in 1991 wearing purple," Swinney said. "But that has nothing to do with how you play the game. That stuff is so over-rated. Even if we are 17-0 [in orange jerseys, white pants], that has nothing to do with us playing this game. And it has nothing to do with those 17 wins, and it will have nothing to do with this game."
He said that getting his team to focus was the reason he decided to make the decisions himself.
"I just want us to focus on the game and getting better as a team," he said. "So I kind of eliminated that discussion. At some point, we will break out that purple again. The players love it. But, I felt like we needed to re-create our brand a little bit. So that when people see Clemson, they know what they are looking at. With some of those teams out there, you don't have a clue who they are when you turn the TV on. You say, 'Who is that?' Because you don't have a clue until you see the name. That is not who we are. That is really all there is to it. At some point we will definitely break out a different uniform."
I asked Swinney if he would ever consider wearing uniforms like South Carolina wore last weekend, and his answer was terse.
"No. We won't do that."