| | |
| --- | --- |
| Dabo recaps spring practice, Kelly situation and religion | |
---
| | |
| --- | --- |
| Wednesday, April 23, 2014 9:57 PM | |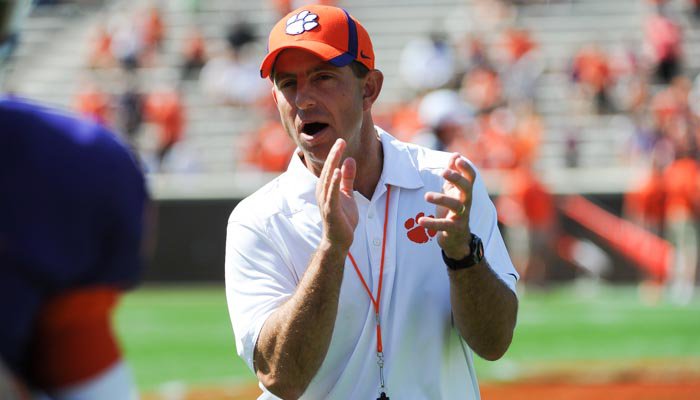 Clemson head coach Dabo Swinney

Dabo Swinney
Head Coach
View Full Profile covered a lot of ground Wednesday, participating in two conference calls with the media while also dealing with the heartbreaking loss of a family member.
Lisa Lamb, Kathleen Swinney's older sister and the sister-in-law of Clemson's head coach, passed away Tuesday night after a decade-long battle with cancer.
Lamb, 49, underwent a double mastectomy after being diagnosed with breast cancer and her cancer had been in remission for eight years. It reoccurred about two years ago, and she has been hospitalized much of the last two years after the cancer spread.
"It has been a very difficult time for my family," Swinney said. "All of us deal with tragedy in our lives. Nobody is immune to that. For my wife in particular, she is losing a sister that just turned 49 years old last week. She has had a tough 22 months in battling cancer. We were able to be with her this Easter at the hospital. When I left there on Sunday, I knew it was not going to be long. I prayed for peace in the situation. People who have dealt with cancer, they know how it affects the whole family. It's been a tough thing, but again I lean on my faith in the good times and in the bad times."
Other notes
On Cole Stoudt

Cole Stoudt
Sr. Quarterback
#18 6-4, 205
Dublin, OH
View Full Profile
Swinney named senior Cole Stoudt as the starter last week, but he said Wednesday that Stoudt is going to have to continue to perform.
"The competition doesn't end," Swinney said. "He has to come out and perform every single day like a starter. It's not like if he has one bad day he's not the starter. But you have to warrant being that guy every day in practice and in games and so forth. It's no different than any other position in that regard."
On Deshaun Watson

Deshaun Watson
Fr. Quarterback
#4 6-3, 190
Gainesville, GA
View Full Profile
"He's special. It really is a blessing to have a guy like that in our program. He'll certainly have an opportunity to play this year. Cole is our starter; I think he's earned that. But as I told him, he doesn't have a lifetime contract. It's about performance now. And I know Deshaun Watson is going to continue to compete to see if he can win that job. It's his to go try to win. He's not going to take a back seat. He's going to try to compete to win the job."
On Chad Kelly
Chad Kelly
RS So. Quarterback
#11 6-2, 210
Buffalo, NY
View Full Profile
"The meeting just didn't go well and his response. There are just certain things you can't tolerate. That's just the bottom line. It wasn't a good meeting but there was no police or any of the stuff that was put out there. It was just a simple decision that was made. He moved on and we moved on. To his credit he has apologized and taken ownership. That's what you like to see in young people. It's unfortunate it had to get to that but sometimes that is what happens. I feel like I failed. That's just the bottom line. Anytime I have to dismiss a player I feel like I am a failure. Nobody is winning in this situation. But again a tough decision had to be made."
FFRF
Swinney fielded several questions regarding the Freedom From Religion Foundation's complaint about the intermingling of religion and football at the school, and Swinney pointed at his relationship with former receiver Aaron Kelly as an example of how all faiths get along.
"We couldn't have more opposite faiths," Swinney said. "But yet I coached him for five years. I love Aaron Kelly and Aaron Kelly loves me and his family loves me. I never had a problem, ever, in coaching him. He was never a guy that went to church with us. He didn't pray with the team if the team ever prayed together, and it was never a problem. He became the all-time leading receiver at Clemson and the ACC. It's not about who the best Christian is, it's about who the best player is. It always has been and it always will be. I'm very proud of the people we have at Clemson, the culture we have at Clemson, how we run our program and the type of men we produce out of our great university."
Swinney then said that he has never received any sort of hint that any players were uncomfortable with the way things are run.
"No. I have coached and recruited just about every faith and religion and non-religion that is out there," Swinney said. "I've never had a problem with any of that kind of stuff. I am who I am. I am proud to be a Christian. And by being a Christian I am a Christian in everything I do. People that know me they know that I am a long ways from being perfect. You can ask my players, my wife or anybody...I am a long ways from being perfect. But I do try to live my life to be a positive influence on those around me. I've never been a guy who tried to force anything on anyone. I just am who I am. I'm proud of how we run our program. "
He also said that he doesn't think Clemson is different from any other college football programs regarding the way religion is handled.
"I would say anything we have in our program from a spiritual standpoint is and always has been voluntary," Swinney said. "We are really no different than any other program out there in how we operate as far as providing our players opportunities to grow in any aspect of their lives. We do things the right way and always have. We'll continue to run the program the way we always have. Anything that we have in our program from a spiritual standpoint is and always has been voluntary. We're no different than any other program out there in how we operate as far as providing our players opportunities to grow in any aspect of their lives."
Spring practice
"We're excited about what we got done this spring. I think that the success of spring always depends on what you get
done in the summer because the spring just kind of lays the groundwork for the season. It's where you get ready. The summer is where you really transform. We got a lot done as far as what we were trying to do staff-wise, but now it's about each player taking that ownership and that accountability to grow and get better. We're in the middle of -- I'm in the middle of all the player meetings right now. Our staff has met with the players, and everybody has got good direction on what they've got to do to transform and come back better than they were in April. We've got a good football team with a chance to have another excellent season, but we've got to work with a great edge this summer, and looking forward to getting back on the field with them in August."
8-game conference schedule
"Well, I've been a proponent for keeping the eight games. I like the flexibility that it gives us, especially selfishly for us here at Clemson, and the fact that Notre Dame is rolling in as a non-conference opponent, as well. In fact we'll play them next year. But I like the flexibility that we have with that and being able to -- we played Auburn three years in a row, we're playing Georgia two years in a row, we've got Notre Dame next year, of course we play South Carolina every year, and I think that is something that helps us as a league as we get into this playoff type of format. I've been a proponent of that as far as divisions and all that kind of stuff. I'm really kind of indifferent on that. The one thing that I really wish that was different was when a young man comes to Clemson, it would be great for him to be able to play every team in the league at some point over his career. With the setup that we have right now, that's just not the case. I don't think we play Virginia -- we just played Virginia this year, and I'm not sure we play them again until maybe 2020 or something like that, and I don't think we go back up there until maybe '23 or '25. So that part of it I wish was structured a little bit differently."
On doing away with permanent cross-over
"You know, I think that that's probably something that would definitely be impacted by that. I think that for us, I mean, there's no way we're not going to play Florida State, for example. They're in our division. I just think that Clemson and Florida State have to play each other. That to me is like Alabama-Auburn playing each other or Alabama-Tennessee. It's just something that I think should happen. Our cross-rival has been Georgia Tech. I don't know if there's a restructuring that might satisfy all of that. But again, for me, I'm pretty indifferent on just the division stuff, the bigger thing for me is if there was a way to where you would have more flexibility as far as these guys being able to experience playing every team in this league at some point before their four years are up."
No Tajh Boyd or Sammy Watkins
"Yeah, well, that's the interesting thing about college football is guys have to move on. Everybody loses players every year in college football, so it's important that you develop your guys, and it's something that we, I think, do a great job of here. We really put a lot of focus on our backups all throughout the season even and especially during spring ball. We're working three groups. We work three groups all of fall camp, and then once we get into game plan time in the season we spread our reps evenly with two groups because we really believe in the development of our players because you never know when a guy is going to get hurt or obviously a guy is moving on. You need to have guys that are ready. And then the recruiting part of it, you have to recruit at a high level and do a great job of evaluating so you can sustain success. We lost two great, great players right there, obviously. Those guys won a ton of games over the past few years. But I think we've recruited well. I really like Cole Stoudt. I think that he has performed every time that he's been called upon in three years. He has prepared to be the starter every week, even though Tajh Boyd was there. He was always ready, so I think he understands he's got an experience that is very good for us. He has a great feel for our system, and again, he's been on the big stage many times and has performed well.
And then Deshaun Watson is as talented a freshman at any position. Cole is our starter, and I think he's learned that, and he'll give us good leadership as we go into summer and go into fall camp, but as I told him, he doesn't have a lifetime contract. It's about performance now, and Deshaun Watson I know is going to continue to compete and see if he can win that job. Nick Schuessler is a guy that we have confidence in and I think really doesn't get enough credit, but he is a young man that is developing. He's a developmental player, and he's doing his part to be ready for when his opportunity comes.
"But that's where we are at quarterback. And then at wideout we brought in three true freshmen in January. That was a huge, huge blessing for us because those guys got some invaluable experience all throughout the spring, and so by the time we get those guys on August 30th, they're going to be obviously way, way further along than they would have been if they didn't come in until July. Three really talented players in Artavis Scott, Demarre Kitt, Kyrin Priester, and I think we hit a home run on all three of them, and I'm excited about what they're going to be able to do. And then we're going to get Charone Peake back. Charone Peake has kind of been out of the conversation since he got hurt last year, but if people remember this was one of the best wide-outs in the country coming out of high school and was really on his way to a great season last year before he got hurt. He looks great and he'll be back to help shore that group up."