| | |
| --- | --- |
| Dabo hoping ball security virus has run its course | |
---
| | |
| --- | --- |
| Tuesday, October 29, 2013 12:13 PM | |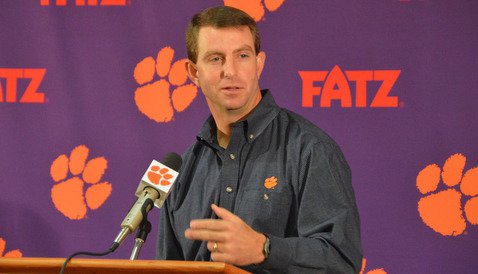 CLEMSON – Head coach Dabo Swinney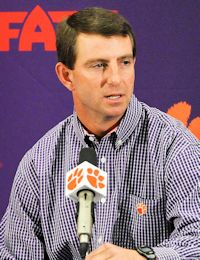 Dabo Swinney
Head Coach
View Full Profile 's biggest concern heading into week nine of the college football season is his team's inability to hold on to the football – something he likened to a contagious virus.
Swinney and Clemson fan alike can only hope that the virus has worked its way out of the team's system heading to Charlottesville for Saturday's matchup against Virginia.
The Clemson offense has turned the ball over 11 times in the last four games, and Swinney said that ball security is something that is worked on during every practice.
"We've practiced really well. In fact, we've probably had the best two weeks of practices we've had all year," Swinney said during his weekly press conference. "We work on it. Some of it has been poor fundamentals. You know Tajh had a busted play in the Florida State game. Sammy is fighting for yards in a pile and has good ball security and their guy just rips it out. It's one of those deals. My experience has been that it's contagious. Hopefully we can get through that. Our defense has been better in every area though. And that's why we are 7-1. That's how we've been able to overcome those turnovers. We have to clean up some things. People always want to talk about the negative but we are doing a lot of good things. There are a lot of good things happening with this team. We always want to get better. Nobody's perfect. But our best football is in front of us."
The Tigers will need to fix that problem quickly as the Cavaliers forced five turnovers last week against Georgia Tech – including two interceptions by Anthony Harris who leads the nation in interceptions.
"Defensively, they've had a lot of injuries," Swinney said. "They are getting some of those guys back this week. The other thing is they are very young. We are going to have to play well and handle what they do. I'm familiar with a bunch of their coaches. Their linebacker, No. 44 (middle linebacker Henry Coley) is as good as you'll see in the conference. No. 7 (defensive end Eli Harold) has a great future in this league. And then they have the interception leader sitting back there at safety."
The Clemson defense will have one of its toughest challenges so far this season with Virginia's huge offensive line.
"Offensively, they are multiple. They have a huge offensive line and huge tight ends," Swinney said. "They play a bunch of wide outs and their running back is fourth in the league in rushing. He's also the second-leading receiver on the team. We know him pretty well because we recruited him a little bit. Really impressed with the quarterback (David Watford). He threw for 370 something yards last week. He's an athletic runner. Very impressed it with him."
The trip to Virginia is Clemson's first stop on its way to a November to remember.
"For us it's the same old deal. Biggest game of the year," Swinney said. "We are trying to get to 8-1 headed to the open date. It's a big challenge because we know we will get their best effort. No doubt about it and we expect it. The big thing for us as we head into November is for us to continue to find ways to win games. I hope we haven't played our best football in September and October. The team that plays the best football - everybody is jockeying for position. We have a chance to have a special season and that's our goal."
Other notes
Offensive line concerns
"I don't have very much concern. I think we just rushed the ball for 250 yards at another team's place at a place that had only given up 125 yards per game. We are a little bit off with where we were last year. A little bit. But our passing is up a little. I know we are little bit off at times but we are 7-1 and those guys have done a lot of good things. Ryan Norton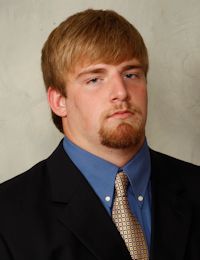 Ryan Norton
RS So. Offensive Line
#58 6-3, 270
Simpsonville, SC
View Full Profile didn't play his best game last week but got a little banged up early. [Tyler] Shatley has been tremendous. [David] Beasley has been on and off a far as being hurt and coming back. And then Kalon Davis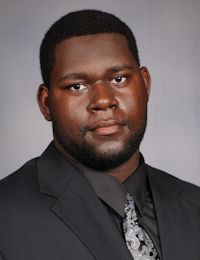 Kalon Davis
RS Jr. Offensive Guard
#67 6-5, 330
Chester, SC
View Full Profile - we have been hopeful he would emerge and it's been good seeing him and David battle. And then Brandon Thomas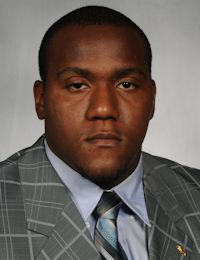 Brandon Thomas
Gr. Offensive Line
#63 6-3, 305
Spartanburg, SC
View Full Profile has been outstanding. I know this football team. I know what we've done good and what we've done bad. We aren't great but we aren't 7-1 without having good play up front."
Having to turn off the ESPN broadcast
"Usually about 9 o'clock or 10 o'clock Sunday night I'll put in the play back. It was real negative. I turned it down. I tell my players all the time, don't let anybody walk through your mind with dirty feet. Just negative. It really doesn't matter though. It has nothing to do with me nor our football team. We just try to find ways to win games."
On Jordan Leggett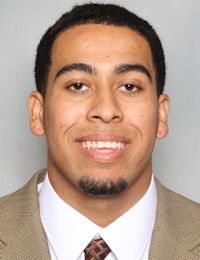 Jordan Leggett
Fr. Tight End
#16 6-6, 235
Navarre, FL
View Full Profile and tight ends
"He's got to practice the right way. He's got to have a sense of urgency that you have to have at this level. The biggest thing with Jordan was when he got hurt it really set him back mentally. He was hungry this spring but when he missed time it set him back. I know everybody is down on Stanton Seckinger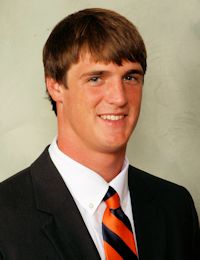 Stanton Seckinger
RS So. Tight End
#81 6-4, 210
Isle of Palms, SC
View Full Profile right now but he's just a sophomore. He's going to be great. He's just young and needs to grow up. We have some of the best young tight ends in the country here. [Jay Jay] McCullough has practiced as well as he ever has since he's been here the last couple of weeks. Y'all write it down because in a few years we will have some of the best tight ends in the country. We have to have the tight end in our system. We haven't had that dominant tight end this year but we will. I love our guys. We are going to get there.