| | |
| --- | --- |
| Dabo Swinney previews spring practice, talks injuries and quarterback race | |
---
| | |
| --- | --- |
| Friday, February 27, 2015 5:29 PM | |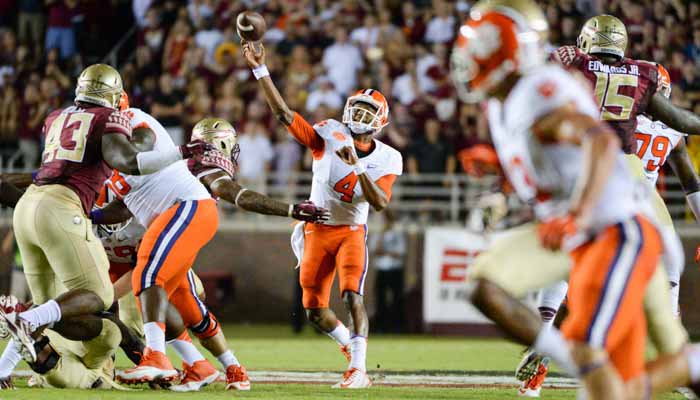 CLEMSON – Clemson head coach Dabo Swinney

Dabo Swinney
Head Coach
View Full Profile previewed spring practice Friday afternoon in the WestZone, and as expected he covered a lot of ground.
The following is an edited transcript of the first part of his press conference:
OPENING STATEMENT
"It's been a good offseason so far. We are about seven weeks in for our players. I really like that. I like to get a good seven or eight weeks to evaluate ourselves and really give Joey (Batson) and his staff some time with our players down in the weight room. And then also to have a little time to get out there and challenge them in some mat drills and challenge them in meetings as well. We are kind of at snails pace in installation because you are really starting over every year and I think it is important that you do that because every year you are building a new year and you have new players. This year is very unusual for us here because our team is pretty much here - we have 10 scholarship guys who will be joining us in the summer. Maybe those guys can help us, I don't know but we will see. Our football team is going through spring practice and that is not always the case in college football. Usually you have most of your new guys come in the summer and you have people that know nothing entering your program every year and you really have to start over. But it gives the older guys an opportunity to re-establish and they continue to progress with your system. It's about fundamentals and techniques, and we've learned a lot about ourselves in studying ourselves, talking to other coaches and looking at our problems.
"Defensively we were the standard in a lot of areas this last year. Usually you study yourself and you say, 'Well, we were 30th in the country on third down. Well, who was first in the country?' And you kind of study yourself, and we were the standard in a bunch of categories and we weren't off much in several others. And that is a real positive. So how do we try to continue to sustain some of that success? And then where do we need to improve? We look at our big plays and we think we gave up too many big runs of 10 yards or more. Why? Was it things that kept showing up? Was it isolated? Was it a pattern? Was it mis-fits or poor tackles or poor alignments or missed assignments or whatever?
"Offensively, we gave up 28 sacks. Why? Well 12 were on the offensive line. Then there are 16 more. The quarterback had this many and the tight end had this many and the running backs had this many, so how do we fix that? We need to improve in the redzone. A couple of years ago we were number one in the redzone and this year we weren't very good. I think we were at 78-percent. Well, why? I think we had about 10 screwups. How do we fix that – is it scheme, personnel, execution poor luck, turnover, fumbles in the redzone, interceptions, bad snaps, a couple of miskicks and a couple of bad calls. Here's what we need to do to improve. Some of it is personnel. A couple of years a go we were a little better running our quarterback in the redzone with a guy like Tajh Boyd

Tajh Boyd
Quarterback (2009 - 2013)
#10 6-1, 225
Hampton, VA
View Full Profile . We were a little better with some one-on-one with Sammy and Martavis. That's what we do in the offseason – we really study ourselves and critique and figure out how to structure spring practice and where the emphasis needs to be.
"We only have 15 practices – we're not going to get it all done but we've got to make a lot of progress but one thing that keeps coming up as we go through this process is leadership. Obviously we lost a lot of good players but everybody loses good players. We lost some great leadership – some tough, tough, battle-tested guys. That's what we've got to develop in a hurry. You can't give a guy three and four years of experience in spring practice, but every opportunity that we get to develop the chemistry, the leadership, the toughness of some of these young, talented guys that we have, it's critical that we do that. We've got to look for opportunities to challenge them in all of those areas. That's a consistent theme as we talk through each position and as we discuss what the goals are for each positions and what the overall goals are for offense and defense, especially in a couple of areas. I'm fired up to get going. It's a blast to get out on the field. I've had a chance to visit with a lot of guys and just talk about some philosophies and things. We're ready roll. March 2nd can't get here fast enough."
ON THE START OF SPRING PRACTICE
"We've got a lot to do. I like our football team. The first thing that's going to jump out at everybody is the defensive line. We lost a bunch of NFL guys. I really think we'll have 15 guys that will get in a camp either through the draft or as a free agent – that's a lot of football players off of your team that's going to have a shot at the next level. When you've got that type of talent walking out the door, obviously there's a lot to replace. I like how we've recruited. I like our talent. I think our front line guys – we've got a lot of experience. We just don't have experienced depth that we've had the last year or so. There are other areas that are stronger, like in the secondary. I think we've got a chance to be special in the secondary if we'll continue to work and chop wood everyday. Same thing at running back – I think we've got a chance to be special. We've got a chance to be really, really special at quarterback, at tight end.
"With the addition of the guys at offensive line, that entire room will be transformed. We went through the entire season last year with eight guys and sometimes only six or seven. You bring in those four guys plus Falcinelli and Hearn who are a year wiser. Crowder and Maverick Morris

Maverick Morris
RS Fr. Offensive Line
#69 6-4, 291
Broxton, GA
View Full Profile kind of give us a transformation in that offensive line room. I'm excited to get out there and get started.
"We'll start with the fundamentals. We'll start with basics. Sometimes as coaches we get so focused on what we're doing that my challenge is to make sure that we know how to do it and that we don't get distracted by what to do, that we know how to do it. That's what spring practice is about. It will be a lot of fundamental and technical work. You look at our linebacker corps – we've got a bunch of young guys that don't know anything as far as our system and they haven't been coached by Brent. We've got a lot of work to do, so we are basically going to start over. We've got 15 days."
INJURIES AND PLAYER UPDATES
"Injury wise, most everybody is in pretty good shape. Adam Choice

Adam Choice
Fr. Running Back
#26 5-10, 211
Thomasville, GA
View Full Profile , D.J. Greenlee

D.J. Greenlee
RS Fr. Tight End
#87 6-1, 240
Clemson, SC
View Full Profile , Stanton Seckinger

Stanton Seckinger
RS Jr. Tight End
#81 6-4, 241
Isle of Palms, SC
View Full Profile , Deshaun Watson

Deshaun Watson
Fr. Quarterback
#4 6-3, 204
Gainesville, GA
View Full Profile and Travis Blanks

Travis Blanks
Jr. Safety
#11 6-0, 210
Tallahassee, FL
View Full Profile are out. They'll do some things but will be limited. Deshaun is just killing it. He's just way ahead of where a guy normally would be at this stage. I'm really pleased with the progress that he's making and the work ethic that he brings every day. D.J. Reader
D.J. Reader
Jr. Defensive Tackle
#48 6-2, 322
Greensboro, NC
View Full Profile will be a little limited the first two days. He dropped a weight on his big toe a few weeks ago. He'll be ok. We're getting Zac Brooks

Zac Brooks
Jr. Running Back
#24 6-1, 199
Jonesboro, AR
View Full Profile back. Leggett will be back. C.J. Davidson

C.J. Davidson
RS Jr. Running Back
#32 5-10, 203
Clemson, SC
View Full Profile is back rolling. Jay Jay McCullough

Jay Jay McCullough
RS So. Tight End
#89 6-3, 248
Fort Mill, SC
View Full Profile is still not back with us. He's doing everything we're asking him to do and hopefully he'll continue to do that and have the opportunity to join us sooner than later. That's kind of still in his court. Jay Guillermo

Jay Guillermo
RS So. Center
#57 6-3, 314
Maryville, TN
View Full Profile – really disappointed for him because he would've gone into spring ball as the starter for us. I really love Jay. Great kid. Great family. He's not with us right now. He's got some medical issues that are just kind of personal in nature. The biggest thing with him right now is just trying to get Jay healthy. I don't anticipate him being with us this spring and that's disappointing from a football standpoint because he's a really good player and he's worked really hard. He's got some health things that have got to get worked out that are much more important than football. Hopefully that will happen for him.
"At the same time, it's opportunity for somebody else. Crowder will probably be the guy that will slip in there at that right guard position and have the first opportunity to win that job. There's going to be a lot of competition this spring in the trenches. You've got to start somewhere. We've got a depth chart but it's not worth the paper that it's printed on, because there is so much work to be done and competition ahead for all of these guys. Just because you started last year doesn't mean you're starting this year. You have to earn it every year. You have to prove it all over again. We typically will start with the veteran guys and go from there, but spring ball is about giving everybody an opportunity to compete. We'll work three groups all spring long. We don't have scout teams. Everybody will learn the system. Everybody is coached. Everybody gets the same installation. The reps aren't always even but everybody will get an opportunity to compete to win a job or to move up on the depth chart. Hopefully when we come out of it and go into fall camp, we'll have the competitive depth that we're looking for."
WHAT HE EXPECTS
"Ready to go on March 2nd. I think we've got a good-looking football team. I really like the focus of this team just from talking this morning. One of the things that Joey [Batson] said is that there has been very little distraction from this team. They have been very business-like as they've gone through the offseason. That's a good sign. I think the guys are excited because they know that there are a lot of jobs open and a lot of opportunity. Then we've got some guys that have had to be patient – like Kevin Dodd

Kevin Dodd
RS So. Defensive End
#98 6-5, 275
Taylors, SC
View Full Profile , who I think will be drafted one day – because he's had some really good players in front of him and now is his time. It's fun to see that sense of urgency in some of these guys that know now is my time. Ben Boulware

Ben Boulware
So. Outside Linebacker
#10 5-11, 235
Anderson, SC
View Full Profile is chomping at the bit to be the guy. Let's see how he responds. Guys like B.J. Goodson

B.J. Goodson
RS Jr. Linebacker
#44 6-1, 240
Lamar, SC
View Full Profile haven't been asked to be the leader yet. They haven't been in that position because they've had Stephone or Tony or Shuey to take that role. We need a guy like B.J. that we know can play to step up and be that guy. We need a guy like Battle to assert himself. We know Ryan Norton

Ryan Norton
RS Jr. Offensive Line
#58 6-3, 292
Simpsonville, SC
View Full Profile will do it. Eric Mac Lain

Eric Mac Lain
RS Jr. Offensive Tackle
#78 6-4, 306
Hope Mills, NC
View Full Profile is as good a leader as we've got on the team. Is he ready to be that day in, day out great player that we need him to be. There are a lot of things that we've got to get answered but the only way that's going to happen is to get out and get to work and we'll get to start that on Monday."

Tags:
Tajh Boyd
,
Eric Mac Lain
,
Ryan Norton
,
Stanton Seckinger
,
B.J. Goodson
,
Travis Blanks
,
Jay Guillermo
,
Zac Brooks
,
Kevin Dodd
,
D.J. Reader
,
Jay Jay McCullough
,
Ben Boulware
,
D.J. Greenlee
,
Maverick Morris
,
C.J. Davidson
,
Deshaun Watson
,
Adam Choice