| | |
| --- | --- |
| Dabo Swinney: Commitment is a two-way street | |
---
| | |
| --- | --- |
| Friday, August 7, 2015 8:45 PM | |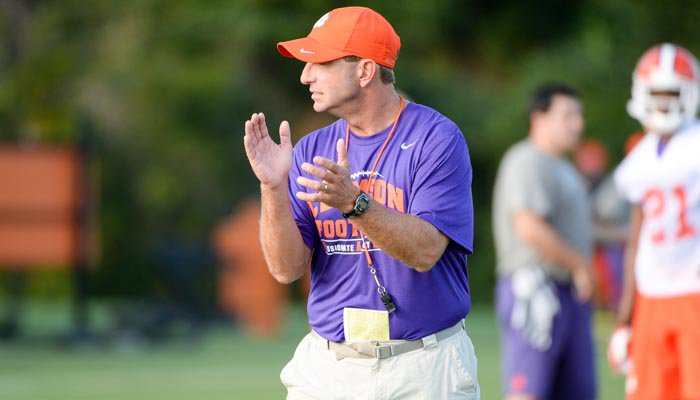 CLEMSON – Commitment isn't a one-way street, something that head coach Dabo Swinney

Dabo Swinney
Head Coach
View Full Profile reiterated to TigerNet following Friday afternoon's practice.
The news broke Thursday that 5-star linebacker and 2016 linebacker commit Rahshaun Smith wanted to take his five official visits this fall. Swinney doesn't like for commits to take official visits, so Smith de-committed so he could see what other schools have to offer.
Swinney isn't allowed to comment on unsigned recruits, but we asked him about his general policy on recruits taking visits and why he has those standards in place. His answer: Commitment goes both ways.
"It's very simple. Commitment is commitment. It works both ways. You're either committed or you're not," Swinney said Friday. "There's nothing wrong with taking visits. That's called recruiting. If you want to be recruited, don't commit. That's the way we do things here. It was the same for Sammy Watkins

Sammy Watkins
Wide Receiver (2011 - 2013)
#2 6-1, 205
Fort Myers, FL
View Full Profile and it's the same for everybody else. When you're dealing with young people, sometimes they lose their focus. Sometimes they figure that out, and sometimes they don't. The last thing I would ever want to do is keep somebody from their recruitment or their experience. I want people that know that they know that they know that they know that they want to be at Clemson."
He then said it has more to do with managing a roster than being controlling.
"In my opinion, in today's recruiting it would be impossible to manage a roster if you allowed all of your committed guys to go take all of these visits because they're not committed," Swinney said. "They're just trying to reserve a spot and then go on all of these trips and then they decide what they want to do later. They might stay with you and they might not, and then it's too late in January to recruit people. It's really difficult. It's managing your roster, but the biggest issue is when we recruit we have a number. If we're going to take one player at this particular position and then we get a commitment, well guess what, we can't recruit anybody else because if you're going out and recruiting other people you don't have a scholarship for them so they're not listening to you. You have to call people and tell them good luck."
Swinney said the Tigers aren't hurting for good players that want to be Tigers.
"There are tons of players that want to come to Clemson. It's one of the most difficult things that we have to deal with is to turn down players, but that's just the way it is," he said. "When you take a commitment, guys fall off the board because your numbers either fill up or you were taking three and now you're down to one, so it gets really narrow. Then all of a sudden a guy doesn't want to be committed and now those other guys are committed elsewhere. That's just the way we do things. We're very open and transparent and up front. It's not something that we don't talk about. We talk about it with everybody up front. There is nothing wrong with recruiting a guy all the way to the end. That's perfectly okay. If it works out, then it works out. Everybody has decisions to make."
Turning recruits down isn't something that is easy, but the coaching staff has to deal with just that problem each season.
"For us, we have a lot of people that want to come, and we have to turn people down. When we take a kid's commitment we mean it," he said. "We're not going to call some guy in the eleventh hour and say, 'Hey, I know we committed to you, but we really didn't mean it and now we've got somebody else that we like better.' We don't play that game. That's just the way we do it. As far as guys committing then change their mind, that's no big deal. It's not a big deal at all. We just all need to be on the same page. We're not going to have a hard time getting good players here. There's no player and no coach that's bigger than our program, that's for sure.
"Everybody has their own situation. Here at Clemson, we have to be careful who we offer because people are going to come here and they're going to like it, and we take a guy's commitment we have to turn others away - good players. We're turning down good players, that's just the way it is. We recruit to a number. This is what we're going to take, and it's a fluid situation. It changes all of the time. It's not a big deal either way. We're going to always recruit good players."