| | |
| --- | --- |
| Dabo: If you're faint of heart, you might want to stay home | |
---
| | |
| --- | --- |
| Wednesday, October 16, 2013 8:26 PM | |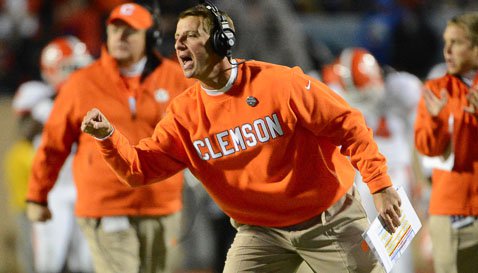 CLEMSON – Saturday night's game between No.5 FSU and No. 3 Clemson promises to be a battle between two powerhouse programs, a game that Clemson head coach Dabo Swinney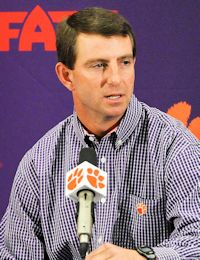 Dabo Swinney
Head Coach
View Full Profile says won't be for the faint of heart.
Swinney even told TigerNet following Wednesday's practice that he expects the Clemson faithful to give Clemson an edge in the contest.
"It's going to be a magical night. It's going to be incredible in The Valley and to showcase what's best about Clemson. Let's light it up. Let's hang in there," Swinney told TigerNet outside of the indoor practice facility. "It's going to be a four quarter game. If you're faint of heart, you might want to stay home for this one. This is going to be a humdinger. We are going to need every edge we can get and I hope that our fans will be a huge edge for us in this game."
Swinney said the fans made a huge difference last week against Boston College.
"I would just like to tell them that I appreciate the great job that they've done this whole season," Swinney said. "Last week, in the second half – late in the third quarter and in the fourth quarter – our fans were a factor. They did an awesome job and really created some stress – more than Vic Beasley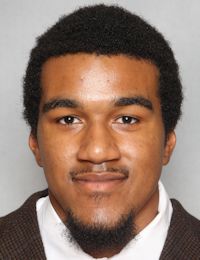 Vic Beasley
RS Jr. Defensive End
#3 6-3, 225
Adairsville, GA
View Full Profile coming off the edge. They added some stress in the mix there."
Adding intrigue to the contest is the fact that Florida St. head coach Jimbo Fisher has declared this game as a "sod game." Swinney said he was unaware of the Seminole tradition, but could understand it because of Clemson's tradition of "tombstone games."
"Do we need armored guards around the turf? Literally, protect your turf," Swinney said. "It's important to win at home. That's one of those staples of any successful program. That's one of the first things that I told this team when I took this job – if we are going to be a good team, we have to win at home. We hadn't been a very consistent team winning anywhere, not even at home and that's got to change. We have to take pride in winning at home.
"We've done that and have won a bunch of games in the last four years here. We've created the right kind of culture and attitude. Our fans have been awesome. It's important. We can't be a great program if home field isn't an advantage for us. Then, you have to go on the road and win your fair share of those in those tough environments. Everybody has their own traditions, but we are certainly proud of those tombstones and all that went into them."
Swinney said he doesn't have to stand up and yell "protect this house" to his team before a game, saying that his players already understand the importance of playing in Death Valley.
"They know. We set that tone all year long – the importance of playing here and taking pride in how special Death Valley is. That's one of the reasons why I started Tiger Walk," he said. "I thought it was a problem that guys thought it was just another day. Guys would wake up, throw on a jogging suit, walk into the locker room, [yawns], and let's play football. They didn't really have an understanding of what's going on at Clemson.
"Now, it's a whole different deal. We used to come in some country road and half the bus would be asleep by the time you got to the stadium. I didn't know that until I did it for the first time and I was like, 'What? We will never do that again because I was almost asleep!' Now, we come right through the heart of campus because I want these guys to understand that it's a dang big deal. It matters to a lot of people how you play. When you come down over that hill on Perimeter Rd. and you see everybody lined up, you cannot go through that Tiger Walk and not feel the emotion and energy of campus and not be mentally ready to play when you walk into that locker room and understand that, 'you know what, there's a lot of people counting on me to do the best that I can do today.' "