| | |
| --- | --- |
| Crawford on Clemson's defense vs. FSU: "We have to be dominant" | |
---
| | |
| --- | --- |
| Friday, September 12, 2014 7:01 AM | |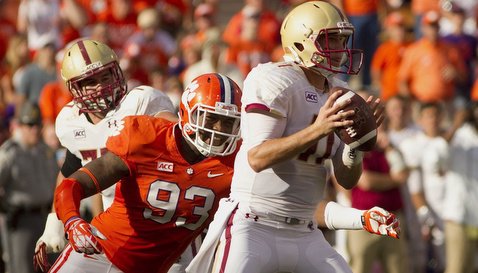 CLEMSON – The memories of last year's game against Florida St. are painfully vivid for Corey Crawford

Corey Crawford
Sr. Defensive End
#93 6-5, 276
Columbus, GA
View Full Profile and he wants better memories this time around.
The fifth-ranked Seminoles rolled into Death Valley to take on third-ranked Clemson in a battle of heavyweights that many thought might be the biggest in the history of Death Valley. Instead of a heavyweight fight, however, the Seminoles landed way too many early knockout punches and rolled to a 51-13 victory.
Or as Crawford says, "They just gave it to us."
"We know what happened last year. They came in here and just gave it to us, like Coach Swinney said," Crawford told TigerNet earlier this week. "We just have to forget that game, game plan, and whatever they (the coaches) put in place we have to go out and execute to the best of our abilities. We know this won't be an easy game. This is going to be a hard-nosed game. It is going to come down to who plays the hardest and wants it more. We just have to prepare with a purpose and just go get the job done."
Crawford said it will be up to Clemson's defense to make a difference, something that was lacking in last year's loss.
"Coach (Brent) Venables and Coach (Marion) Hobby will put a good game plan together," he said. "They take a lot of time in putting the game plan together. It's up to the players to just go out and execute it. I feel confident that we will make a difference, a bigger difference than we did last year. It will be a game for us to redeem ourselves and show everybody that is not our defense we put on tape that night. This is another opportunity to show what kind of defense we are. We have to show we can play for all four quarters and not just three. We have to be dominant."
Florida St.'s offensive line is generally regarded as the nation's best, and four starters return from last year's team. They average over 320 pounds, but Crawford feels like Clemson's defensive front can provide a favorable matchup.
"Physically, last year we were the same I feel like. Not saying they physically beat us, they just beat us and wanted it more," he said. "Physically, we match up pretty well with them. They are a great bunch, a veteran group. I feel like they are one of the best offensive lines in the country. We will just have to go out and play hard against them. "
The Tigers have two weeks to prepare for the 'Noles, and Crawford feels like the break comes at an opportune time.
"These two weeks we have are a blessing. This was a good time to have the bye week," he said. "It just gives us more time to prepare. There is a lot of adrenaline and hype behind it - especially on campus - but we just have to stay focused and just prepare and get ready."
Following the fourth quarter debacle at Georgia, word leaked out that Clemson's practices were intense in the week leading up to last week's 73-7 shellacking of South Carolina St. Crawford said Swinney pushed the team to its limits, and expects the same next week.
"It's true, I think it did help to just get that sense of urgency behind us," he said. "We got lackadaisical in our preparation for the Georgia game, and that's why we didn't finish in the fourth quarter like we were supposed to. So I think it was helpful for us. Coach Swinney just pushed us the whole practice; he didn't let us slack off in any phase - offense, defense or special teams. He just pushed us hard the whole practice."