| | |
| --- | --- |
| Could Clemson play in Death Valley on a Friday night? Swofford, DRad clear the air | |
---
| | |
| --- | --- |
| Tuesday, July 21, 2015 1:13 PM | |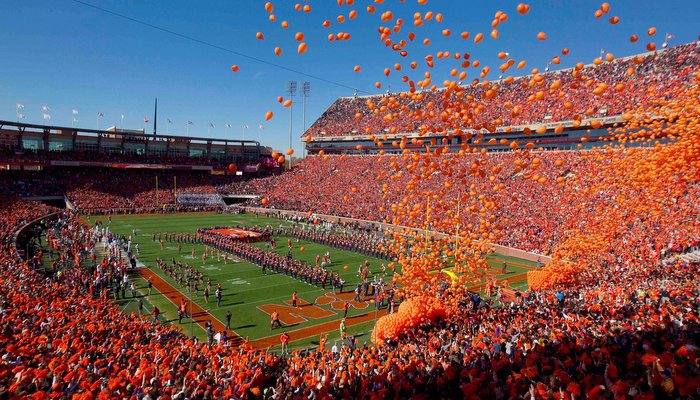 PINEHURST, N.C. — Atlantic Coast Conference Commissioner John Swofford proudly displayed a graphic Monday afternoon that showed the "Specialty Games" that ACC teams will play this season, games that include Thursday night tilts, a game in Ireland and a few Friday night contests.
Could Clemson be one of those teams that play a game on a Friday night, and could it take place in Death Valley? Swofford said the conference will try to listen to the preferences of the individual schools but wouldn't rule out a Friday night contest.
"We try to give great respect to the sensitivities that are there on individual institutional bases," Swofford told TigerNet after the Commissioner's Forum. "Obviously one of those sensitivities is high school football, and a high school game on a Friday night might have more bearing in South Carolina than it does in Massachusetts."
The ACC has five Friday night games this season – including one on Sept. 18th that sees Florida St. travel to Chestnut Hill to take on Boston College. Later games include Boise St. at Virginia, N.C. State at Virginia Tech, Louisville at Wake Forest and Miami at Pitt.
Swofford said the conference prefers to play those Friday night games in areas of the country that wouldn't see the games compete with high school football, but does have to listen to ESPN and the network's preferences for those Friday night slots.
"There are all kinds of things that come into play," Swofford said. "We try to make it all work in a manner that gives the least pain as possible. You don't want to ask a school to do something that gives it some heartburn at all, if you can avoid it. If you can't avoid it, you don't want to ask too often."
TigerNet reached out to Clemson Athletic Director Dan Radakovich

Dan Radakovich
Director of Athletics
View Full Profile and he said that Clemson fans don't need to worry about making the trek to Death Valley on a Friday but that there are no guarantees for away games.
"We have not, and will not consider Friday night games at Death Valley," Radakovich told TigerNet. "The ACC understands and has not requested Clemson to host a Friday night game. We're good partners and may, if needed in future years, play an ACC Friday night game away from Death Valley.
Another specialty game sees Georgia Tech open up the season against Boston College in Ireland, but Swofford said he doesn't see Clemson playing on the Emerald Isle anytime soon.
"We don't have anything contractual that says we have to do it," Swofford said. "What we are really working on is providing opportunities if our schools want to take advantage of it and it may or may not be a conference game. Boston College was very interested in playing and then started discussions with Georgia Tech, and the two schools are very excited about doing it.
"Notre Dame was there last year against Navy and Penn State played Central Florida within the last two years. It has been very successful. In talking with the Notre Dame people it has been a wonderful experience for the fans and the athletes alike."