| | |
| --- | --- |
| Cordrea Tankersley plays like Bashaud Breeland......just faster | |
---
| | |
| --- | --- |
| Thursday, August 7, 2014 4:51 PM | |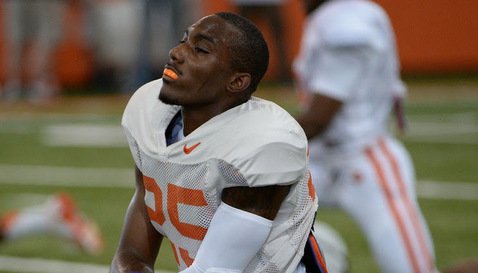 CLEMSON – Clemson head coach Dabo Swinney

Dabo Swinney
Head Coach
View Full Profile raised a few eyebrows during the spring and over the summer when he said that if the season started at that exact moment, Cordrea Tankersley

Cordrea Tankersley
So. Defensive Back
#25 6-1, 195
Beech Island, SC
View Full Profile would be the starter at the boundary corner position.
Tankersley was not one of those who was surprised at that proclamation, and he told TigerNet earlier this week that he has been preparing like a starter since last season.
"I worked hard and we all worked hard as a team. I felt like I progressed from last year and learned more of the playbook," Tankersley said. "I started taking it more serious - I had big eyes going into the season so I wanted to get a feel for it. Once I got a feel for it, I took advantage of it and wanted to come out and help my team. Whether I start or not I just want to come out and try and help the team in any kind of way. I've been more aggressive and I know the playbook better. Now I have a bigger role and I am more into the playbook. I don't look at the hype or anything, I just want to go out and help my team. "
The 6-0, 195-pounder out of Beech Island (SC) played quarterback in high school but was listed as either a wide receiver or safety coming out of Silver Bluff High School in 2012. Then he wound up playing a year of prep school ball at Hargrave Military and learned a new position along the way.
"I learned to play corner in prep school. That is all I played at Hargrave," he said. "I took full advantage of it, and I worked at both. I wanted to play corner when I got here, but wherever Coach (Brent) Venables wanted me to play, I would have played. But it was Robert Smith

Robert Smith
Sr. Safety
#27 5-11, 211
St. George, SC
View Full Profile who said, 'Hey, Cordrea can play corner.' And I've been there since then."
Tankersley avoided a redshirt last season, but played just 21 defensive snaps during limited action. He did make his mark on special teams, however, registering a team-high nine special teams tackles.
Tankersley called it a learning experience.
"It was disappointing but we had Bashaud Breeland

Bashaud Breeland
(2010 - 2013)
#17 6-0, 195
Allendale, SC
View Full Profile and Darius Robinson

Darius Robinson
Cornerback (2010 - 2013)
#8 5-10, 175
College Park, GA
View Full Profile , veterans who balled every day," he said. "My role was special teams and I took that and I was happy with the role that I played. It helped me get better - Coach (Danny) Pearman gave me the opportunity to come out and compete. But I wanted to help my team in any way and special teams was one of those ways."
Veteran Garry Peters

Garry Peters
RS Sr. Cornerback
#26 6-0, 194
Conyers, GA
View Full Profile is out for the opener against Georgia, a situation that ensures Tankersley plenty of playing time against the Bulldogs. However, he said it doesn't change the way he will prepare.
"Even if he was going to play against Georgia, I was going to go out and do my best to compete for a spot," Tankersley said. "Everybody wants to compete for a starting spot, but I really just want to go out and help my defense in any role. So whether he was playing or not, I was going to come out and compete."
Tankersley said he has relied on the veteran leadership of Smith and Travis Blanks

Travis Blanks
Jr. Safety
#11 6-0, 210
Tallahassee, FL
View Full Profile , getting advice from both, but said that he looks to childhood friend and former Clemson teammate Bashaud Breeland for inspiration.
Breeland was drafted in the fourth round of this year's NFL Draft by the Washington Redskins, and Tankersley says that he feels like his game mirrors Breeland's more than any other except for one thing: Tankersley is faster.
"I would say Bashaud. Bashaud is a bigger, more physical guy. He is more of a faster guy," Tankersley said with a smile. "But I am faster than Bashaud. I don't want to make him feel bad. Last year we were going to the N.C. State game, and Adrian Baker

Adrian Baker
RS Fr. Cornerback
#21 5-11, 184
Hallandale, FL
View Full Profile , Bashaud and Martin Jenkins

Martin Jenkins
RS Sr. Cornerback
#14 5-9, 185
Roswell, GA
View Full Profile , we had a footrace across the 50-yard line. I don't think Bashaud was really in the picture - it was really me and Adrian Baker. Bashaud talks like he can run, but I am faster. But he has been my friend since I was little."