---
| | |
| --- | --- |
| Monday, September 1, 2014 7:41 PM | |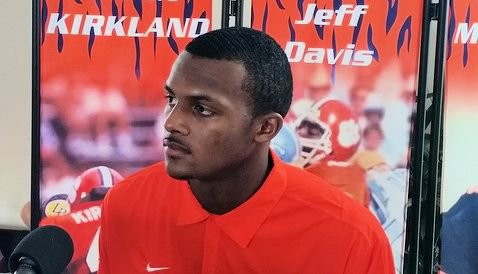 CLEMSON – Deshaun Watson

Deshaun Watson
Fr. Quarterback
#4 6-3, 204
Gainesville, GA
View Full Profile walked into the interview area on the fourth floor of the WestZone Monday afternoon, took a glance at the cameras and microphones surrounding receiver Tay Scott, and patiently waited his turn.
Watson sat down on one of the couches, ignored the stares and the media presence, propped his big yellow tennis shoes up on a table and scrolled through his phone like any other bored teenager on a late summer afternoon after school.
But Watson isn't your normal teenager, and following his eye-opening debut Saturday at Georgia the eyes of not only Clemson but the nation will follow his every move.
He doesn't care, and told the media Monday that it's just the way he's wired.
"It's just my personality. I don't always say too much," Watson said. "I just like to hangout, laugh, and joke around. You can ask anybody, I just like to be in the background. I don't even pay attention to the noise or the hype. I just have to do what I have to do. I can't be satisfied with myself. That's not the type of person that I am. I try to get better every day. I'm trying to strive for the best and that's we're all trying to do on this team."
Watson threw the first touchdown pass of his career – a 30-yard laser to Charone Peake

Charone Peake
RS Jr. Wide Receiver
#19 6-3, 204
Moore, SC
View Full Profile – and took the first of many hits during limited action. That he did it in front of 92,000 angry Georgia fans didn't matter.
"It was great going in there. You just have to be confident," Watson said. "Coach (Chad) Morris and Coach (Dabo) Swinney just told me that it's just football with extra people in the stands. I just went out there and executed my job and did what I had to do. It was a great feeling scoring my first touchdown."
Watson said his familiarity with Morris' system has made for a smooth transition from the high school to the college game, and that he knew what he would face because of the game prep in the week leading up to the game.
"I'm very confident in myself and in the system. I was kind of running this offense at my high school," he said. "It's more up to date, more motions, more tempo. Whatever he calls, I'm confident in running. I feel comfortable in the offense, but I've got plenty of more to learn.
"It was something that we had game planned all week. We knew that if they brought one kind of pressure that we would do that. Coach Morris checked me on the sideline and I got us in the right protection. I made the throw and Charone and the offensive linemen made me look good. I give those guys all of the credit."
This week, Watson will more than likely take his first snaps in front of the home crowd – he missed the spring game after suffering an injury midway through the spring.
"It's going to be exciting for me. My emotions are running high, but by the time game time comes back around, I'll be cool," he said. "Having the first time playing in Death Valley in an actual game is going to be special. I missed the spring game. Seeing all of the orange in the stands and all of the support we have and the family atmosphere we have here is going to be great."
The clamor for Watson to get more playing time began as soon as he took the field Saturday, and that isn't likely to change in the coming weeks. Watson, however, says he knows he has to improve before the coaches fully trust him.
"I'm always looking for ways to get better. You can always gain from past successes. Every day I'm trying to get better," he said. "Like Coach Morris says, one percent better every day, that's our goal. I try to do that and learn from the upperclassmen - especially Cole (Stoudt) because he's the senior veteran leader of this offense. It's always good to talk to him and learn from him."
Watson said that fans who want a quarterback controversy aren't going to get one – he knows that Stoudt is the starter and supports the senior leader fully.
"It's been great getting to know Cole ever since I stepped on campus," he said. "He's a funny guy. Our relationship is real tight and we're really close. We know our role on the team. He's the leader and the starter. I'm there to back him up and help him while he's in there - whatever he needs help for. It's not really difficult for me. I know my time is going to come. He paid his dues and I have to pay mine. That's what I've been doing. I've been working every day and whenever that time comes, I just have to be ready for it.
"I just go with the flow. I don't call the shots. Coach Morris and Coach Swinney do. Whenever the opportunity comes, I'm just going to take advantage of it. They know what's best for the team. I know when I get in I have to do my job, execute. Whenever Cole is in, he's going to do his job. I just have to be the best teammate I can be on and off the field."
On his first play being a run and getting hit
"For me, it's always good to get that first play and get hit and get in the groove of the game. He asked me what I wanted to call and I told him it was whatever he felt was best, so he gave me that running play. I just tried to execute and gain positive yards."
On his first pass being a deep ball
"That gave me a lot more confidence in the trust that he has in me - taking a shot down field. You know how Coach Morris is - he loves to take shots. Having the opportunity, I just wanted to take advantage of it. It was a little short and then the next two plays he called were shots, too. We just had to execute it."
Playing in Georgia
"It was a great experience. It's something that I've been dreaming of since I committed. Knowing that we were playing Georgia - my home state. Just having an opportunity to run out there with those guys and be a part of it was a great feeling."
On this week's game
"I know more of my family will be here. A lot of my hometown is Georgia alumni. A whole bunch of my high school friends are Georgia students. They were all at the game."