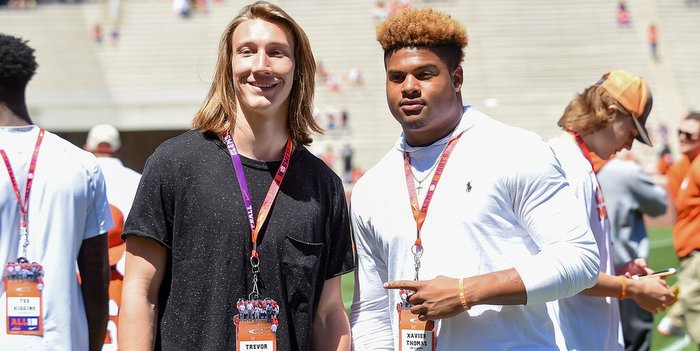 | | |
| --- | --- |
| Commitment buzz, championship rings: A special day in the Valley | |
---
The day was already supposed to be special, but another afternoon spent in the bright sunshine of Death Valley turned special into perfect.
That's how good things are right now with the Clemson football program, and Clemson as a whole.
Nikki and I knew we needed to be in Death Valley by noon, or sooner, last Saturday. We needed to get set up, make sure the cameras were charged and we had the right people in place for the parade of recruits. I knew I was going to miss that because we had a 1 p.m. press conference with basketball coach Brad Brownell in Littlejohn Coliseum.
Our thought process was that we would grab a quick lunch and head over to the stadium. But the text messages started flying fast and furious Friday (what I secretly call my phone's commit buzzer) about Xavier Thomas, and they went long into the night as we prepared for what could be a commitment. My phone, which usually stays in sleep mode after midnight, was on all night.
I woke up without any further drama, and we hit up a local spot in Pendleton for lunch. I had taken about six bites of lunch when my phone rang, and the caller ID said it was Xavier Thomas. My chips and salsa would have to wait - can't ignore that call, right?
Thomas went into detail about why he chose Clemson, and how he knew for a few weeks that it was the place he wanted to be. But I kept asking him why Clemson, and my biggest takeaway was that he wants more than personal glory. He wants to win championships and go to the NFL. He could do the same thing at Alabama, another suitor, but he wanted to stay in state and felt like Clemson gave him the best chance to accomplish his goals.
I was still on the phone when Nikki came barreling out of the restaurant, the bill already paid, the dishes cleaned, and I jumped into the car while still on the phone. At that point, it became a little difficult to ask questions while I was wondering why she didn't let me finish my lunch or at the very least get another sip or two of my drink.
Nope, she was now bent on getting us to the Valley and parked so we could write the Thomas story. I left her to finish the story while I skipped across the street to interview Brownell.
I made it back in time to see the end of warm-ups, took a few pictures of recruits and watched the game from the press box. I caught my breath, looked out at the sea of orange in the Valley, and started to work on photos and basketball updates while keeping an interested eye on the proceedings on the field.
Then that darn confetti struck.
In this line of work, we get to know these players when they are still in high school. I know them, I know their siblings, and I know their parents. Seeing guys like Jay Guillermo, Wayne Gallman, David Estes and Deshaun Watson get their championship rings while they took one final bow in Death Valley was fun to watch, even if that darn confetti did get in my eyes a time or two.
At the end of the game, we met in the tunnel for postgame interviews, did our work, and watched the end of baseball's win over Virginia Tech. We hung out with our friends, J.T. and Ginger Bass, for an hour or so then headed home to finish transcribing and writing.
A little after 11, my phone started getting that "commit buzzer" feeling, and I cut short a little me time to talk with tight end Braden Galloway about his commitment. Galloway is in many ways a direct opposite of Thomas – he's a kid that has flown under the scouting radar and wasn't offered because of how many stars he has by his name. He was offered because the Clemson coaches scouted him, believe he will fit the system and has tons of potential.
Galloway, like Thomas, grew up a fan of one of Clemson's bitter rivals. Galloway grew up loving the Florida St. Seminoles. Two different players – one a highly-regarded defender with lots of stars, the other a kid who has played just 13 games in high school. Both commit on the same day, one early and one late.
As the clock struck midnight, I thought back on another sun-splashed day in the Valley, complete with Tiger Rag, championship rings and a glimpse into the future, both with what we saw on the field and the recruits that are headed this way.
Special? Absolutely. Perfect? You better believe it.

Upgrade Your Account
Unlock premium boards and exclusive features (e.g. ad-free) by upgrading your account today.
Upgrade Now