---
| | |
| --- | --- |
| Wednesday, September 16, 2015 1:08 PM | |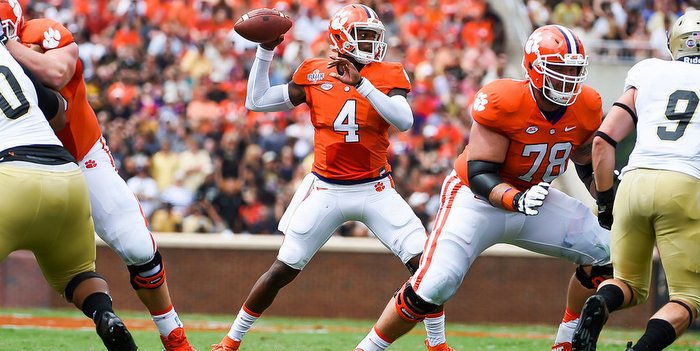 CLEMSON – Eric Mac Lain

Eric Mac Lain
RS Sr. Offensive Tackle
#78 6-4, 315
Hope Mills, NC
View Full Profile and the Clemson Tigers will head into unchartered territories Thursday.
Clemson travels to Louisville for a primetime ESPN matchup Thursday night at 7:30 p.m. – the Tigers second game in six days and third game in 12 days, something that no one on the current team has ever been a part of.
Despite playing Appalachian State Saturday, Mac Lain said he was shocked at how energized the entire team was during a Sunday evening practice.
"No. This will be the first time. I think usually we have a bye," Mac Lain told the media earlier this week. "It will be different, but people's bodies seem to be great. We were out there with great enthusiasm on Sunday flying around, so it's going to be fun."
The senior offensive linemen said the players took advantage of all of the resources available to them in order to ensure they were fully recovered in such a short turnaround.
"It was very different. At first, I thought that playing a game the day before that a lot of guys would be tired, maybe a little lazy out there, but guys were high-energy and flying around," Mac Lain said. "It was very exciting to see such a young team respond to having practice the next day. Guys really took care of their bodies where right after the game guys were in the cold tub, stretching, getting the massages on Sunday and really taking care of their bodies so that they were ready to go. I was very impressed with that."
In addition to preparing physically for the Thursday evening contest, Clemson is having to mentally prepare for a Cardinals team playing with their backs against the wall. However, Mac Lain said that despite Louisville's record the Tigers aren't taking the game lightly.
"They're a great team. They should be 2-0. Overlooking Houston a little bit, and focusing on us," he said. "They're a great defensive team, and when you're trapped in a corner people are either going to stand up and fight harder or they're just going to lay down. I think a team that is so well coached is just going to step it up."
Despite Louisville's early season woes, Mac Lain said everyone knows what they are capable of on defense.
"I think we respect them very much, their defense. They're well coached," he said. "They have new guys on offense that are going to be trying to make a name for themselves, and I don't think this team is like that this year. Playing App. State and Wofford in our first games where they got our full focus and no one was talking about Louisville til now, I think we've proven we're not going to overlook anybody
"There are a lot of similarities [to last year's team]. They're going to bring pressure. They've got a lot of two gap players up front. There is a lot of NFL talent from what I see on film, and it's just going to be one of those headache game where they're bringing people from different angles to get those weak points."