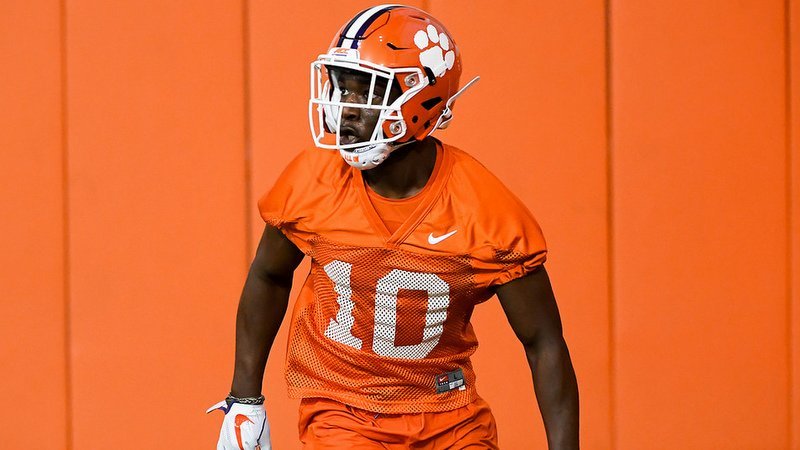 | | |
| --- | --- |
| Coaches compare Derion Kendrick to Nuk Hopkins and Sammy Watkins | |
---
CLEMSON – Clemson coaches aren't in agreement when it comes to comparing freshman receiver Derion Kendrick to Clemson greats, but they all agree that Kendrick has the tools to be special.
Kendrick wasn't just a receiver in high school, playing there as a 10th grader before taking over quarterback duties as a junior and senior. In 2017 alone, he completed 184 of his 255 passes for 2,683 yards and 30 touchdowns to just six interceptions.
But the Tigers are already loaded at quarterback and saw the same traits in Kendrick that they saw in Deon Cain and Ray-Ray McCloud – outstanding athletes who were forced to play quarterback on the high school level but were a perfect fit at receiver in college.
Co-offensive coordinator Tony Elliott told the media last week that Kendrick reminds him of The Deuce.
"He reminds me of Sammy," Elliott said, meaning Sammy Watkins. "It's just a different gear. When (Kendrick) moves, when he takes off at the line, it's just a different speed."
Head coach Dabo Swinney agreed – for a moment that the comparison is legit – but said he has someone else in mind.
"I think that is kind of fair," Swinney said after practice. "He has that type of explosiveness. He is tough. That guy has a great edge to him that sometimes is not always present when you go recruit a receiver. He played quarterback like a linebacker.
"But he is a lot like Nuk," Swinney said, meaning DeAndre Hopkins. "DK is faster than Nuk, but you knew when you stepped on the field with him you were fixing to go against the most competitive guy on the practice field. DK has a lot of that in him. That is something that has jumped out at me these first four days. He is highly, highly competitive."
Wide receivers coach and co-offensive coordinator Jeff Scott likes the comparison to Watkins.
"I've been really impressed with DK. I really noticed that at our football camp when he came to our camp the past two years," Scott said. "The explosiveness was apparent there and I said then, he was probably one of the most explosive guys we've had come through our camp since Sammy (Watkins). Watching him out here, I'm not surprised at all. Some guys, it's very effortless and very easy for them to run. Other guys it's a little bit more work.
"He's one of those guys where it just looks very easy for him."
Swinney says Kendrick is "salty."
"He likes it salty. He is my kind of guy," Swinney said. "He has to develop as a receiver, the transition and all of that. But he will. He has great ball skills and I knew that because we had him in camp. I knew he had great ball skills and unbelievable explosiveness, but what I like about him the most is that he is coachable.
"He likes to be coached. He does not mind for you to correct him and things like that because we have a lot to correct. He is supposed to be running a post and he is running a nine route so we have a lot to teach with him, but he is going to be a great player."
Scott said that while comparisons are easy to make, the transition from quarterback in high school to receiver in college isn't easy.
"He's definitely got things he's got to work on," Scott said. "His hands, some guys are very natural and it's kind of unique that he played quarterback in high school, but he catches the ball very well ... Route-running, technique, stance, start, releases — he's still got a lot of work to go. But it's important to him. He's taking notes in meetings, he's coming in extra, he's doing the things it takes to be able to help as a young player."

Upgrade Your Account
Unlock premium boards and exclusive features (e.g. ad-free) by upgrading your account today.
Upgrade Now