| | |
| --- | --- |
| Coach says Deshaun Watson "is as good as I've ever seen" | |
---
| | |
| --- | --- |
| Monday, November 16, 2015 1:59 PM | |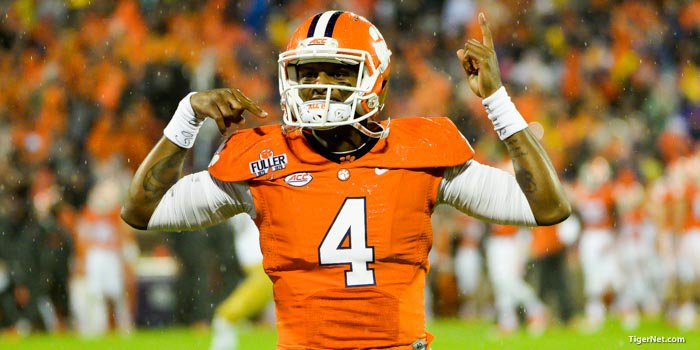 CLEMSON – Jeff Scott has been around football and football players his entire life, so if he thinks a player is special you have to listen.
Like many fans, Scott thinks that Clemson quarterback Deshaun Watson is special, and he says that Watson is one of the best he's seen once the ball is snapped. He also thinks Clemson fans are witnessing one of the best to ever don the paw.
Watson has completed 216-of-308 passes (70.1 completion percentage, good for fourth nationally) for 2,593 yards and 23 touchdowns. He's grown more comfortable carrying the ball in recent weeks and has 107 carries for 594 yards (5.6 yards per carry) for another five scores, and Scott told the media Monday just what Watson means to the offense.
"It's been overstated that he is very special. Two weeks in a row, he's had over 400 yards - all purpose. As fans, you can turn on the TV or go to the game and see a lot of the plays that he makes," Scott said in the WestZone. "As coaches, some of the best plays that he makes, no one would know. And that is making a decision on where to go with the ball on certain situations. In my opinion, in all of the attributes that he has, his decision-making at the line of scrimmage and when the ball is snapped is as good as I've ever seen and ever been around. He just gets us out of bad looks and gets us into good situations."
Scott admitted that Watson isn't perfect but said there is no denying that we're witnessing the growth of a special player.
"He's got things he wants to correct, but we are all witnessing one of the best players at Clemson. He's very special, and we're going to go offensively how he goes right now," Scott said. "His leadership has increased, and our guys are listening to him. He's doing a good job on the side lines talking to the guys and encouraging them, especially in some difficult situations. I'm glad we have him on our team for sure."
Watson's durability was in question after missing significant time with injury last season – there was the broken collarbone in the spring, the broken hand mid-season, the sprained knee late in the season and then the torn knee ligaments. However, Watson has been healthy to this point and is getting more comfortable as a weapon in the running game.
Watson is even begging for the chance to make a play with his legs.
"One thing we are very pleased with is the durability that he has shown. Early on in the year, we weren't as aggressive in running him, but as the year has gone, he wants to run the ball," Scott said. "He came to the sideline and said, 'Hey. I want the ball in my hands on 3rd down.' That right there from our quarterback, says a lot that he is wanting to carry the ball. He's got so many ways he can run the ball and not all of those are designed quarterback runs. There is no doubt about it, his ability to run has been a difference maker in our offense this year. It was the first time that I've been in a game, where he has come over and asked to run the ball on third and short. I want to go get it. You can see that look in his eye, and that was pretty good to see."
The result is that Watson plays at a level far beyond his years.
"I think that is what you see. When you're watching him, you're seeing things you'd like to see out of a 3rd or 4th-year quarterback," Scott said. "Deshaun is very even keeled on and off the field. It just feels like the game is slow for him out there. He is a guy that doesn't panic in the pocket and is so poised. He's obviously the leader on our offense, on an offense that is having a lot of success and on a team that is having a lot of success. I think all of those things are important."
Watson is in the middle of the Heisman Trophy conversation, and tight end Jordan Leggett told the media Monday that he plans on being in New York in a few weeks (if Watson will take him), but Scott said the Heisman stuff will take care of itself as long as the team keeps winning.
"If we keep taking care of our job winning games, and he keeps leading our offense, he's going to get plenty of opportunities to get recognized at the end of the year," Scott said.