| | |
| --- | --- |
| "Coach" Deshaun Watson talks recovery from knee surgery and young quarterbacks | |
---
| | |
| --- | --- |
| Tuesday, March 3, 2015 7:01 AM | |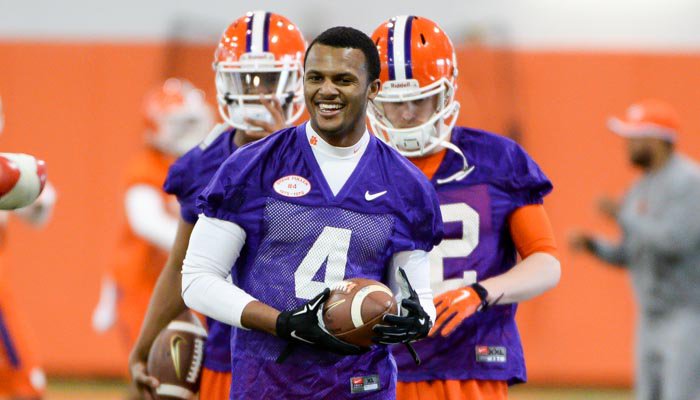 CLEMSON – Deshaun Watson

Deshaun Watson
Fr. Quarterback
#4 6-3, 204
Gainesville, GA
View Full Profile is impressive to watch on the football field but he might be even more impressive off the field.
Watson was forced to be little more than a coach and spectator when Clemson opened spring practice Monday afternoon, but instead of pouting or sulking on the sidelines Watson was the consummate teammate to freshmen Tucker Israel

Tucker Israel
Fr. Quarterback
#10 6-0, 195
Orlando, FL
View Full Profile and Kelly Bryant

Kelly Bryant
Fr. Quarterback
#2 6-4, 205
Piedmont, SC
View Full Profile and veteran Nick Schuessler

Nick Schuessler
RS So. Quarterback
#12 6-3, 195
Grayson, GA
View Full Profile .
Following the practice, Watson met with the media and his maturity and sense of self were more than obvious as he answered questions about his knee surgery and hopes for the 2015 season. Watson had surgery to repair his torn ACL on December 12th and appeared to be moving with little problem Monday, but he said he was taking the process one day at a time.
"The progress is going pretty good. The knee is fine," Watson said. "It's just an everyday progress and I'm trying to get better each day. I'm just taking it one day at a time. It's my competitive nature to get out there and go out there and be there with my friends and teammates but I know the process and I know that I have to wait my turn until I get healthy."
Watson said the spring will be spent helping the younger players while making sure he sharpens the mental side of his own game.
"Just really the leadership and leading those guys," he said. "Getting that unity together and making sure that everyone is on the same page. I'm just trying to grow mentally and make sure that I become the student in the game."
So what would his message be to the younger players?
"Just don't press anything and take it one day at a time," Watson said. "You just have to enjoy the process and don't try to make it as big as people try to say it is and put pressure on you. Do what you did in high school because that's the reason why you're here. "
Watson is also spending his time trying to understand how his coaches think.
"I'm always learning and trying to get better," he said. "I try to get into the minds of Coach Swinney, Coach Elliott, Coach Streeter and Coach Scott and get a feel for their game plan and what they want to do on offense. Each day is just learning something new."
Other notes
How hard was it not playing in the bowl game?
"It was kind of hard. It was my first bowl game. Something that I always wanted to do as a recruit was to play in a bowl game. It was fun and I enjoyed myself and the time that I was there. I congratulated Cole. He played his butt off."
His relationship with Streeter?
"I knew about him but once he got here we started clicking. Things have been going well so far."
Are you further along in the rehab process than you thought you would be?
"I'm guessing so. I'm not sure how long the process is. They don't have a set time for when the ACL should be fully healthy, so I'm just taking it one day at a time and letting my body tell me how I feel."
When will you be ready to play?
"I'm not sure. That's something that you'll have to ask Danny Poole and the doctors."
Has he changed his workouts and how much does he weigh?
"I work out the same way. I do leg stuff and my upper body. My workout doesn't change. I think about a week ago it was 205."
Do you change the way you play?
"Injuries are part of the game. I can't control if I hurt myself. It just happened to be me and that I tore my ACL. My game process or the way I'm going to play isn't going to change. I'm going to run when I need to and I'm going to pass when I need to."
How do you manage the expectations?
"That's something I let the media and the fans take care of. I don't really pay too much attention to it. It's a new year and I have to prove myself this year. The past and the history is gone and it won't take care of this year's wins. I just have to get better. When that time comes and I'm a [Heisman] contender then I'm happy but if not I have worry about my team first."
Can coaching on the sidelines improve your leadership on the field?
"I think so. Just gaining that trust again from all of the other players and teaching the new guys because you never know when that time is going to come for the younger guys, so they have to learn on the fly too. Becoming a leader and a coach on the sideline will transfer into my games."
Impression of other quarterbacks
"The first day was good. It's a lot to learn. It's a process. No one is going to be perfect on the first day and even in the middle of spring practice it's not going to perfect. Each day you have to get better."