| | |
| --- | --- |
| Clemson's resident sack master has big goals for 2014 | |
---
| | |
| --- | --- |
| Monday, March 17, 2014 8:22 AM | |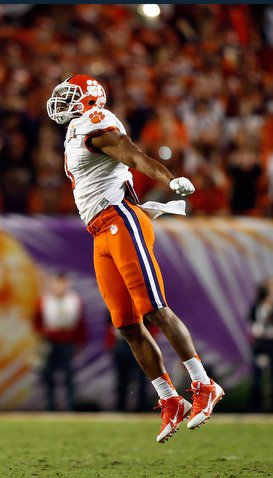 CLEMSON – Vic Beasley

Vic Beasley
RS Sr. Defensive End
#3 6-3, 225
Adairsville, GA
View Full Profile dares to dream big, and he never takes the easy way out.
Clemson's star defensive end has big plans and goals for this season, but not all of them are of the personal variety. First and foremost in his mind? Get a degree, win a national championship and help mold the next generation of elite defensive ends to call Clemson home.
The days that followed Clemson's victory over Ohio St. in the Orange Bowl were long ones for Beasley, who was being pushed and pulled from every direction, given unwanted advice, and asked by everyone he came into contact with the same question.
What are you going to do?
Beasley had a tough decision to make – return to Clemson for his senior season or turn pro and become a possible first round draft pick. The easiest route would have been to take the money and run, but Beasley has never taken the easy route during his Clemson career, and he wasn't going to start with that particular decision.
"It was big decision, but I really wanted to come back and be a consensus top 10 pick and get my degree," Beasley said at the beginning of spring practice. "I had a long conversation with Coach (Dabo) Swinney, and we went over the pros and cons. I felt deep down in my heart like I wanted to come back, because no one in my family has ever gotten a degree, so I wanted to be the first to do that."
Beasley said he was also excited about the opportunity to play on what should be a good Clemson defense.
"We've got a great front seven. We lost guys like Spencer Shuey

Spencer Shuey
Linebacker (2009 - 2013)
#33 6-3, 230
Charlotte, NC
View Full Profile and Quandon Christian

Quandon Christian
Linebacker (2009 - 2013)
#34 6-2, 225
Lake View, SC
View Full Profile , but we've got Stephone Anthony

Stephone Anthony
Sr. Linebacker
#42 6-2, 235
Polkton, NC
View Full Profile and Tony Steward

Tony Steward
Sr. Linebacker
#7 6-0, 235
Hastings, FL
View Full Profile ," he said. "Our front four, we've got all seniors and we're just ready to make a statement again this year. We have to be more of a leader to the secondary because we have such a young secondary. That's one of roles to be better this year. We have to be committed this year. We were committed last year, but there's always room for improvement. I feel like with more commitment, we can be the best d-line in the country."
Beasley said he looks at the talent Clemson has on its defense, and he envisions big things for the Tigers in 2014.
"Playing with this group one more time is very big for me. It's an accomplishment," he said. "I just want to go back out here and make a statement with this team one more time and hopefully end it with a national championship run and bring home the national championship back to Clemson. I feel like we've got plenty of time to get better – all spring and all of fall camp. I think by the time it's all said and done, we'll be a lot like Florida State was last year – a top-notch defense and probably one of the best in the country."
Beasley knows that his spot on the defensive line is secure, and he is taking the time this spring to work on his craft in an effort to get better. Also, because he doesn't feel the need to impress the coaches with every play, he is taking the time to help the talented youngsters who are waiting in the wings.
"If you watched Clemson games, you hear about guys like Da'Quan Bowers, Gaines Adams

Gaines Adams
Defensive End
# 6-5, 260
Greenwood, SC
View Full Profile , Andre Branch

Andre Branch
Defensive End (2007 - 2011)
#40 6-5, 260
Richmond, VA
View Full Profile , Malliciah Goodman

Malliciah Goodman
Defensive End (2009 - 2012)
#97 6-4, 270
Florence, SC
View Full Profile ," Beasley said, "Then here comes us. It's just good to know it's going to continue to be like that, simply because that's what Clemson is known for. There is some good history. Clemson is really known for producing great defensive ends."
As a result, he has taken on more of a leadership role, despite his quiet nature.
"I've taken more of a leadership role, and I've taken guys under my wing like Kevin Dodd

Kevin Dodd
RS So. Defensive Tackle
#98 6-4, 280
Taylors, SC
View Full Profile and Ebo ( Ebenezer Ogundeko

Ebenezer Ogundeko
RS Fr. Outside Linebacker
#1 6-3, 230
Brooklyn, NY
View Full Profile ). Shaq Lawson

Shaq Lawson
So. Defensive End
#90 6-4, 260
Central, SC
View Full Profile came along and played a big role and he is no longer a young guy," Beasley said. "Ebo is coming along, and I am trying to make a difference in their lives so they can make a difference for Clemson University. I learned from guys like Andre Branch and Malliciah Goodman.
"And Coach Hobby has played a big role in my growth as a defensive end. That will be a big goal for me. It will also influence guys like Shaq, them seeing me become the player I have become throughout my career at Clemson, actually seeing it, him and Kevin Dodd - that will inspire them to chase the same dreams, to become a better player than I have."

Tags:
Andre Branch
,
Ebenezer Ogundeko
,
Gaines Adams
,
Kevin Dodd
,
Malliciah Goodman
,
Quandon Christian
,
Shaq Lawson
,
Spencer Shuey
,
Stephone Anthony
,
Tony Steward
,
Vic Beasley