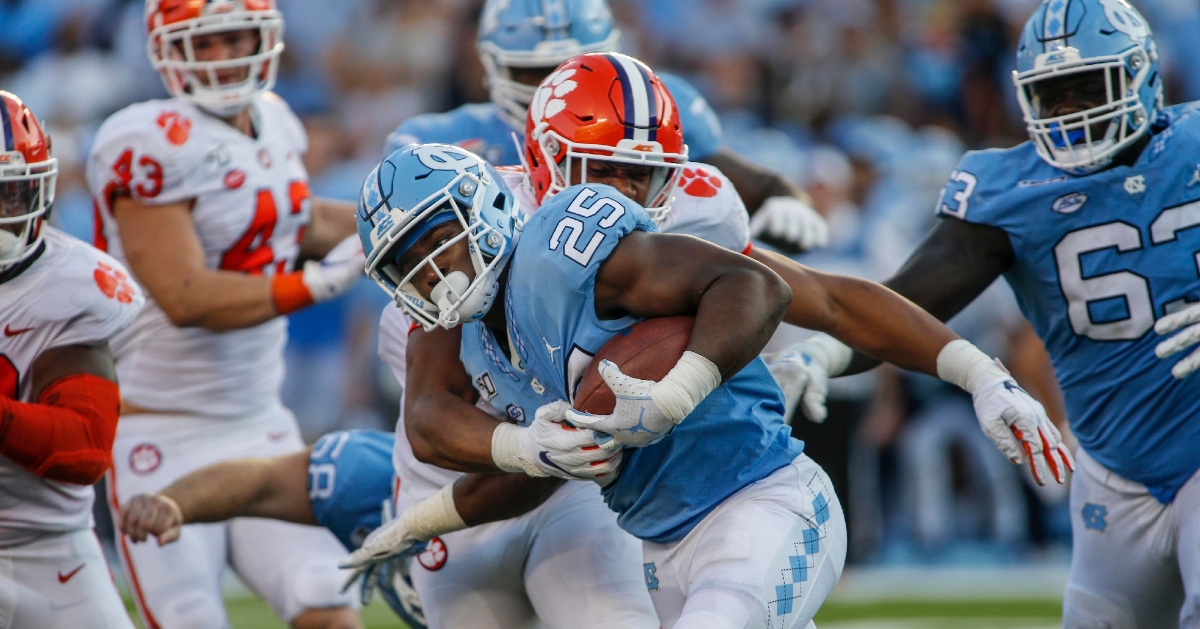 | | |
| --- | --- |
| Clemson's defense shows grit, continues to grow | |
---
CHAPEL HILL, NC – Brent Venables' defense continues to grow.
Clemson's defense held UNC in check for most of Saturday's 21-20 victory, but the Heels put together a late scoring drive that had the Clemson group on its own heels. UNC elected to go for two points and the win, but Venables' defense made the play it had to make.
"We talked about a number of two-point plays in the huddle but we didn't talk about that one. I think we had a good call on but we hadn't done that exact play," Venables said. "Man, what a great display of will. You can't coach it. You can't teach it. Our guys, outside of that first drive, really put on a display of toughness and so did they. Take nothing away from them.
"Just bragging on our guys who came out in the second half and really put the clamps on. We gave up a play here or there - they're on scholarship, too and they'll make some plays. We anticipated them trying to go for two there. Guys did a great job of leveraging the ball and getting off blocks and getting down. They had one more play to make after the ball was put on the turf. They grabbed it so give them credit for two tackles on that one."
A young defense is growing up in front of the nation.
"I think it continues to build belief and toughness and confidence and cohesion. That's how the chemistry comes together and playing for one another and guys fighting their guts out," Venables said. "Whether you're on the right side of it or the wrong side of it, those same attributes are gained through the adversity. We talked all week about the adversity is coming. Not that it doesn't happen week to week but sometimes there's a lot less stress. We really perpetuated that idea that adversity is coming and it's going to define who you are as a competitor, as a teammate and as a Clemson Tiger.
"Our guys, I couldn't be more proud of them for putting the kind of display on that they did. That second half, to come out and punt, punt, punt, turnover on downs and we gave up the touchdown there in the last couple of minutes of the game. That was a 16-play drive that we were just barely off. How fitting for how the day went. Just finding a way to win."
Coaching can only do so much – at some point, players have to go make plays.
"You try to prepare them but the guys have to be the ones that put their hand in the dirt, attack, get off of blocks, make tackles, line up the right way and put their eyes in the right place," Venables said. "I think it's a group of guys who care a great deal and they prepare that way thus far through the first quarter-plus of the season. Our preparation and our commitment and our work ethic through the week has been as good as it's been. It's been a fun group of guys to coach. The young guys have a willingness to work and to learn and be coached. I think under stress, it shows up - all of that hard work. It reveals itself good or bad and I think it was a reflection of how our guys work and prepare and they're ready for those moments."
"Poster child for toughness and it means so much to our guys. When your leaders play with kind of edge and toughness through the hurts and the pains, it just kind of creates a mojo, if you will."
"He's one of the better players (in the country) and there are a lot of really good players out there and he's definitely one them. What I loved, he's breaking the group down at the end and he's talking about all of the mistakes we've got to fix. They're easy correctible things but instead of having his head in the sand and act like we played like the '85 Bears today, he's like, 'Hey man, that's a win and you've got enjoy it. Winning is so hard.' He's talking about the mindset going into next week with it being the off week and what we've got to do to get better and improve mistakes and improve fundamentals and technique. That's music to your ears as a coach."

Upgrade Your Account
Unlock premium boards and exclusive features (e.g. ad-free) by upgrading your account today.
Upgrade Now