| | |
| --- | --- |
| Clemson's Get Back Guy: More than meets the eye | |
---
| | |
| --- | --- |
| Tuesday, January 13, 2015 7:01 AM | |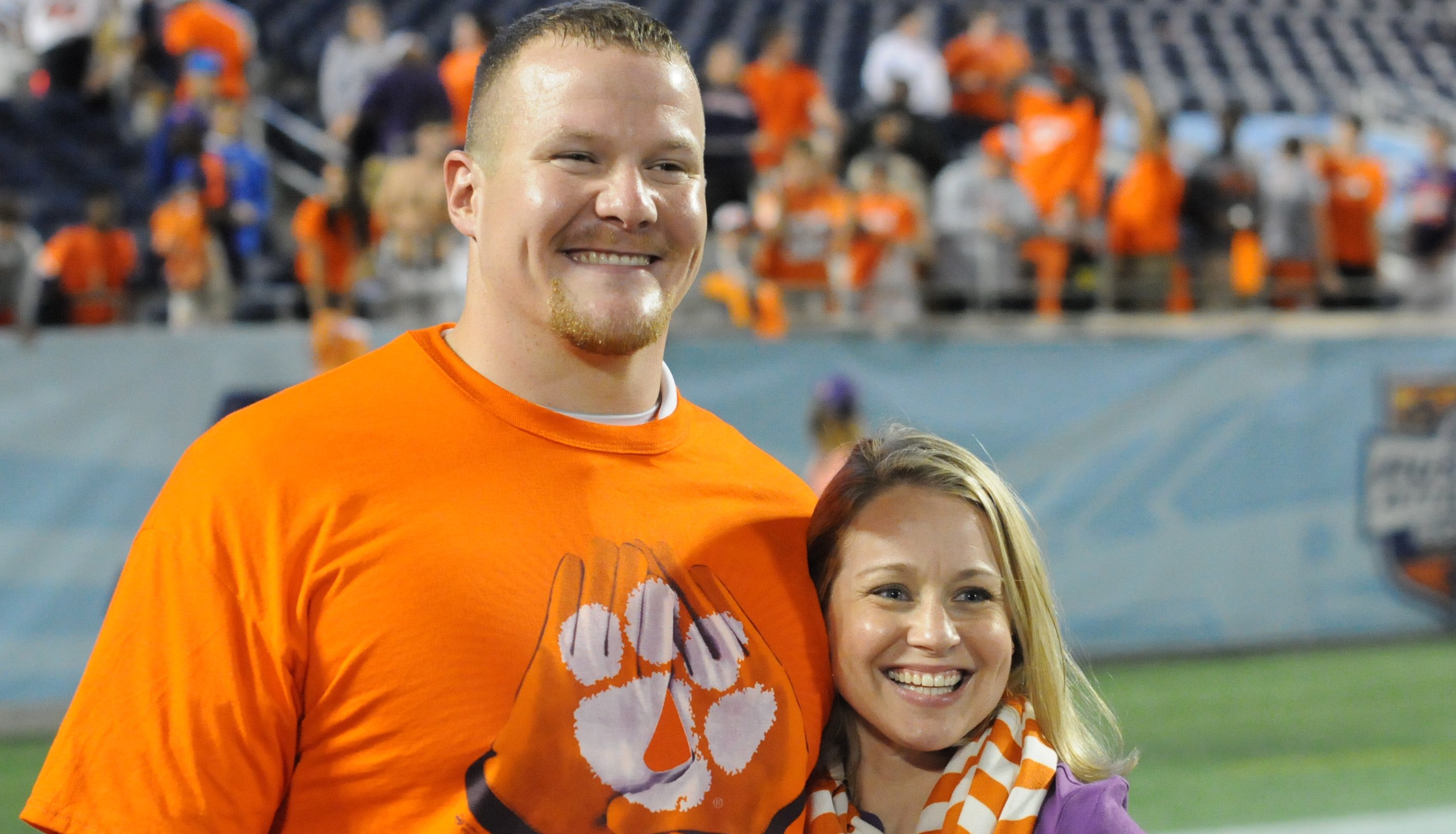 CLEMSON – Clemson's blowout win over Oklahoma in the Russell Athletic Bowl meant that the announcers were trying to find things to talk about other than the game itself and they found a topic with the Get Back Guy. And a star was born.
The announcers critiqued his stance. He was complimented on his strength. He was even caught on camera going for a drink of water or Gatorade after another bout with defensive coordinator Brent Venables

Brent Venables
Def. Coordinator / Linebackers
View Full Profile and wound up getting about as much air time as ESPN's sideline reporter.
So who is Clemson' Get Back Guy? He's assistant strength and conditioning coach Adam Smotherman, the man whose game day job is to make sure that Venables doesn't wander too far out into the field of play and either draw a penalty or get run over. Up until the win over Oklahoma, it was largely a thankless job but that all changed in the blowout win.
In an exclusive interview with TigerNet this week, Smotherman said that the extra attention came as a bit of a shock.
"I was surprised. I wasn't expecting it," Smotherman said. "Pulling back Coach Venables has been a job I have been doing all year. Coach Swinney assigned it to me and assigned me the task and it's something I've been doing all year and really didn't think anything of it. It's my game day responsibility. The commentators kind of noticed it and got on it and it just went from there."
Smotherman didn't realize the attention he was receiving until he made it back into the locker room after the game and turned on his phone. The response was overwhelming.
"It was wild. Typically after a regular season game I will have a few texts," he said. "My wife is at the game so she doesn't text me, but it's my parents and a few friends from back home that will say, 'Hey, I saw you on TV' or 'Congrats on the win' or whatever. Usually after a bowl game it's a few more. But I got back to the locker room and I had close to a hundred text messages and I was like, 'What the heck?' I started reading through them and thought it was crazy. And then a buddy of mine from back home - a former teammate - sent me some video clips and I was able to watch them on the bus back to the hotel. I was like, 'Oh man. This is crazy.'"
So how did Smotherman become the Get Back Guy? It was a job born out of necessity during the season opener against Georgia, and he says he was ready for the challenge.
"I knew it would require a lot of focus, a lot of patience and a lot of agility. I kind of started to accept the role last year and toward the end of the year Miguel (Chavis) and I were kind of teaming up on it," he said. "And then this year against Georgia, one of the officials came over to Coach (Dabo) Swinney and said, 'Hey, your defensive coordinator is kind of getting out on the field.' So Coach Swinney turned and he found me and he pointed at me and said, 'You're the guy' and I said, 'Yes sir.' He told me it was my job for the rest of the year and if we get a sideline penalty it's on you. So I said yes sir."
Smotherman said that Venables doesn't even recognize the fact that he's being wrangled up and down the sideline.
"Sometimes he does but most of the time he doesn't because he is so focused. He is so good at what he does, and he just has a great game plan and he is always on top of his game plan and he has the opponent broken down," he said. "When he gets out there, it's basically his plan versus their plan. It's a chess match and he typically wins that chess match. That is what I love about him - he is intense and focused and sticks to his plan. Because of that, when he is out there on the field, I don't think he really knows - geographically speaking - where he is standing because he is so focused on what is going on out on the field. And that's fine. That's why I am there to pull him back because he doesn't need to focus on where he is standing - he needs to focus on what is going on out on the field."
What most people don't realize is that Smotherman played four years on the defensive line at Vanderbilt, measures out at 6-4, 295 pounds and can bench press 450 pounds.
Smotherman laughed when I asked if the job was tougher than it looks, even for a man of his size.
"He (Venables) is stronger than he looks because he is explosive," Smotherman said. "What the people were talking about on TV is true - I have to sink my hips and I have to get a low center and grab him at the midpoint because he can flip his hips still and he is lightning quick. I think if you strapped the pads on him right now I think he could still play linebacker."
Which is why Smotherman was seen heading for the drink of water.
"I have to stay hydrated," he said. 'I am running up and down the sidelines trying to keep up with him and I can't catch a cramp. I have to be on point."
A native of Smyrna, Tenn., and former 5A all-state selection, he started for three years as a defensive tackle at Vanderbilt. In 2008 he tallied four tackles in the Commodores' 16-14 victory over Boston College in the Music City Bowl and, as a senior, was elected team captain and representative to the leadership council by his teammates. He captured Vanderbilt's Ironman Lineman Award three times, Lifter of the Year twice, and was the recipient of the program's Football's Dedication Award in 2010, his senior year.
He graduated with a B.S. degree in secondary education and history in the spring of 2011 with the thought of going into coaching. After serving as an intern in Vanderbilt's strength training and conditioning program in the winter and spring of 2011, he accepted the graduate assistant's position at Clemson. He spent a year at Clemson, then moved with former Clemson strength coach David Abernathy to Furman in 2012. Then it was back to Clemson in 2013 when strength and conditioning coach Joey Batson offered him a full-time job.
"I was recruited as an offensive lineman to Vanderbilt, and when I got there I was moved right away to the defensive line," he said. "I thought I was going to be a defensive end, but on the first day of fall camp they put me at the 3-technique. I was 240 or 245 at the time, and it was at this point I realized I needed to get bigger. I always loved the weight room, and I got plugged into the weight room at Vanderbilt and ended up at 300 pounds by my senior year. I fell in love with it, and saw from a strength and conditioning standpoint what it did for my own career – I started out at Vanderbilt at 240 and ran a 4.8 (40-yard dash) and ended up at 300 and still ran a 4.8. The guys there started talking to me about strength and conditioning, and that began my journey."
It's been a short journey in terms of time, a long journey in terms of stops along the way, and while he gets his satisfaction from watching Clemson's defensive line dominate its opponents and see their players take the next step into the NFL, he can also take a little satisfaction in being The Get Back Guy.
And that journey has hopefully just begun.