| | |
| --- | --- |
| Clemson's Eric Mac Lain steals the show at ACC Kickoff | |
---
| | |
| --- | --- |
| Monday, July 20, 2015 4:18 PM | |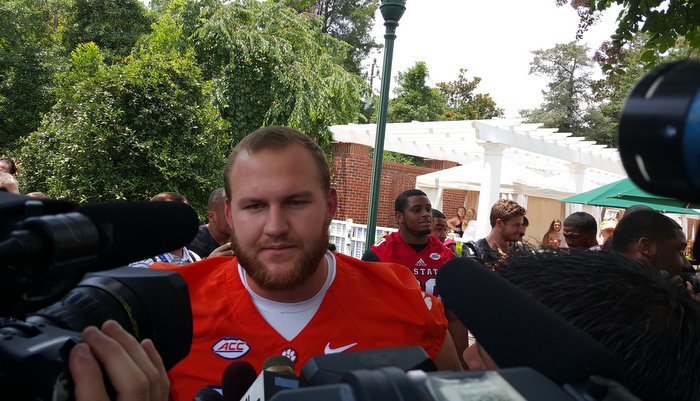 PINEHURST, NC – Prior to the start of each football season, the ACC Football Kickoff is a chance for the league's stars to meet and greet the assembled media. Last year, it was Florida St. quarterback Jameis Winston that stole the show. This year it was perhaps the one player no one would have predicted – Clemson senior offensive lineman Eric Mac Lain

Eric Mac Lain
RS Sr. Offensive Tackle
#78 6-4, 305
Hope Mills, NC
View Full Profile .
Mac Lain was one of the stars of the digital media segment. He was the star when photos were taken. And he was most definitely the star when the print and internet media sat down with Mac Lain and defensive tackle D.J. Reader

D.J. Reader
Defensive Tackle (2012 - 2015)
#48 6-2, 325
Greensboro, NC
View Full Profile to discuss Clemson's upcoming season, the offensive line and the health of the quarterback Deshaun Watson

Deshaun Watson
So. Quarterback
#4 6-2, 205
Gainesville, GA
View Full Profile .
Mac Lain was serious when he had to be, but when things got too serious the North Carolina native slipped back into his element and had the reporters laughing and hanging expectantly on each word. It was that kind of afternoon.
On the rivalry with South Carolina
"The history of the game is incredible. It's been a battle. The state regulates that we play no matter what. Growing up, a lot of people are around those guys and it's really a split decision for your family when you make that decision - it's either Clemson or South Carolina. We love playing them every year.
"Not being from South Carolina, it might not be as heated of a battle, but when I was a Tennessee fan, South Carolina was a nobody to us. As I became a player and got to around it, I saw the heated battle that's there and I wouldn't trade that rivalry for anything."
Deshaun's health hinging on the OL
"The only times he got hurt were his own self-inflicting cuts and falling down, so I don't think it has a lot to do with the offensive line."
Have you been asked more questions about you or Deshaun?
"I'm here to answer questions about Deshaun. He didn't want to talk to y'all, so he sent me. I'm here. Ask away."
How is Deshaun?
"He's good. He looks great. His knee is great. He's on all of these different training regimens and I see him running all of the time. He'll be ready. It's exciting to see. There is no ceiling with him. He can be as good as he wants to be. If he stays healthy this season there is nothing he can't do."
Favorite non-sports Twitter follow?
"I follow History Facts. It's pretty good. They post pictures and tweets about old stuff that you've never probably seen. Other, than that Forbes. I'm a Forbes kind of guy. I like to keep up with what's going on in the world and they have very technical writing."
Most famous follower
"Probably President Clements – he's probably my most famous. I like him. He's cool."
All lineman football, who plays quarterback?
"Myself. I'm dual-threat all the way. Do you think they could tackle me? I'm more of the Peyton Manning type of guy. I call the plays. I don't need an offensive coordinator. I just go off what I see. Probably Ryan Norton

Ryan Norton
RS Sr. Offensive Line
#58 6-3, 285
Simpsonville, SC
View Full Profile at fullback. He played a little fullback in middle school. Joe Gore

Joe Gore
RS Sr. Offensive Tackle
#73 6-5, 290
Lake Waccamaw, NC
View Full Profile would play tailback. Nobody is stopping that. We need to make it the turtle package."
Favorite meal?
"I'm a big steak guy. Rick Erwins."
What does the term "unlimited snacks" mean to you?
"A good time."
Best non-football question of the day?
"A lot of people have asked about my beard and my regimen, so I'll tell y'all since you're interested. I condition it every day, because you have to keep it looking nice. Shampoo is vital, depending on what brand you use. I'm an Herbal Essence type of guy. I like to keep it fruity smelling because all of the ladies enjoy that. You've got control the beard. You can't let it control you."
Beard gang?
"We're never dying. We've already told the freshmen that if they don't grow it out by fall, they're off the team. Mitch [Hyatt] is struggling, so y'all might have another left tackle emerging really soon. Mitch's is patchy looking. It's not coming in well. I think I need to talk to his dad to see what's going on. Maybe he needs to shave it more."
On how quiet the freshmen are?
"They are really quiet. Sometimes we see them talking to each other so we know they can talk. We kind of slide over and eavesdrop on them just to see what they have to say. They are really quiet. But they are also really, really good. Mitch has a lot of power and Jake has the prettiest slide step I've ever seen."
More about Twitter
"I think it's a good thing we can't get on Twitter during the season. Coach (Swinney) doesn't tell us we can't look at it, but I try to stay away from it anyway because of all the negativity. I block people, too. But really the only person I've blocked is Kirk Herbstreit. He said something negative about Clemson and I just blocked him."
Funniest guy on the team?
"Funniest acting? Probably G-Hop. He gets pretty silly. Jay Guillermo

Jay Guillermo
RS Jr. Center
#57 6-3, 310
Maryville, TN
View Full Profile is probably the funniest guy on the team. He says some pretty ridiculous things."
Best dancer?
"G-Hop. He's got a lot of tricks up his sleeve. He doesn't show it much but when he does, you're just taken aback and wowed."
Worst dancer?
"Myself. I'm not too extravagant with the dance moves. I keep it simple. Keep it tight. I don't get out of my comfort zone. My moves are way better than Coach Swinney's. He's just embarrasses himself. I keep it like Will Smith in the movie Hitched."
Best chef?
"Reader."
Best basketball player?
"Myself and it's not even close. I will take on any one-on-one, any day. If we played to 11, it would be 11-0. Mike Williams

Mike Williams
Jr. Wide Receiver
#7 6-4, 210
Vance, SC
View Full Profile can't guard me. He would never get the ball because I'd just be raining three's all over the place."
Worst basketball player?
"Probably Tyrone Crowder

Tyrone Crowder
RS So. Offensive Guard
#55 6-2, 330
Marston, NC
View Full Profile . He's one of those big guys that thinks he can play but he can't and it's just embarrassing to watch. It brings a tear to my eye."
Most likely to become president?
"Myself or Nick Schuessler

Nick Schuessler
RS Jr. Quarterback
#12 6-3, 195
Grayson, GA
View Full Profile ."
Most likely to be on a reality TV show?
" Jay Jay McCullough

Jay Jay McCullough
RS Jr. Tight End
#89 6-3, 248
Fort Mill, SC
View Full Profile . He's just a crazy individual and has a crazy life."