| | |
| --- | --- |
| Clemson vs. Wake Forest prediction | |
---
| | |
| --- | --- |
| Thursday, November 6, 2014 10:56 AM | |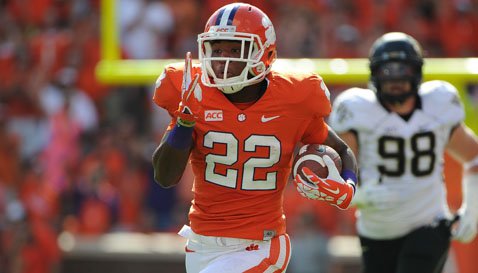 Clemson and Wake Forest will kick it off for the 79th consecutive season Thursday night in Winston-Salem, with Clemson winning 61 of the previous 78 meetings.
Thursday's contest looks like the kind of game in which the Tigers will get win number 62. The teams appear to be heading in opposite directions – Clemson has won five games in a row while the Demon Deacons have lost four in a row.
Can Wake Forest mount enough of an offensive attack to hold off the Tigers? Will Clemson's Dabo Swinney

Dabo Swinney
Head Coach
View Full Profile turn to freshman sensation Deshaun Watson

Deshaun Watson
Fr. Quarterback
#4 6-3, 204
Gainesville, GA
View Full Profile if the Clemson offense stalls? Or will the Tigers ride out of Winston-Salem with an easy win?
WHAT: No. 21 Clemson at Wake Forest
WHERE:BB&T Field – Winston-Salem, NC (31,500)
WHEN: Thursday, Nov. 6th (7:30 p.m.)
SPREAD: Clemson by 21
TV: ESPN (Rece Davis, Jesse Palmer, David Pollack, Samantha Ponder)
WHY WAKE FOREST MIGHT WIN
*Clemson's offense has been stagnant without Watson – The Tigers have just three touchdowns over the last three weeks without the freshman from Gainesville, and there have been times when the offense is hard to watch. Chad Morris

Chad Morris
Offensive Coordinator / QBs
View Full Profile once had a vertical passing attack and a running back that could stretch the field – these days the offense is stuck with passing plays around the line of scrimmage and a ground game that only gets in gear in the fourth quarter.
Wake Forest is in the middle of the pack in the ACC in total defense, but their pass defense is ranked second (behind Clemson) in the conference. Despite all of their struggles, Wake is still giving up just 24.6 points per game. If they can keep it close, they might have a shot.
*Special teams – It seems like every game Clemson has played this season, the opposing punter has looked like Ray Guy and boomed punts all over the field. As a result, the Tigers have had terrible field position in several games, and it doesn't get any easier this week. Wake's Alex Kinal is currently 28th in the nation in punting average at 43.6 yards per punt. Thanks to his efforts, Wake Forest ranks sixth nationally in net punting at 42.3 per punt. He already owns the Wake Forest record for career punts with 234 (a dubious record), but Kinal has punted 53 times this season and does not have a single touchback. Only 11 of Kinal's 53 punts this season have been returned, and in a game that might be low-scoring he could five the Deacons an advantage. Field goal kicker Mike Weaver has hit all nine of his attempts this season, and we know the struggles that Clemson's Ammon Lakip

Ammon Lakip
RS Jr. Kicker
#36 5-10, 200
Alpharetta, GA
View Full Profile has had on the road.
*It's a Thursday night in Winston-Salem – Believe it or not, the Deacs are 4-1 all-time in Thursday night games at BB&T Field. The lone loss? Two years ago to Clemson. Will Clemson be overlooking an overmatched opponent and be looking ahead to Georgia Tech?
WHY CLEMSON MIGHT WIN
*Wake's offense is really, really bad – Wake Forest is dead last in total offense. The Deacs average just 213.5 yards per game, and 36 yards behind the second-worst team and 52 yards behind the third-worst. The numbers get even uglier when you dig deeper – Wake is averaging 164.3 yards per game in conference games, averaging 188.7 against FBS foes and a whopping 126 yards per game against ranked foes. That's bad. As in really bad. Did I mention that they were also dead last in the nation in rushing offense? They average 34.50 yards per game.
Freshman quarterback John Wolford has thrown 13 interceptions but has been constantly under pressure, getting sacked a total of 28 times this season. Clemson's defense has 30 sacks this year, so if the Deacons can't establish a rushing attack and have to throw it, it could get ugly.
*The Tigers are getting healthy – Clemson is lucky in that many of these injuries have occurred in the softest part of the schedule. The Tigers get tight end Jordan Leggett

Jordan Leggett
So. Tight End
#16 6-5, 251
Navarre, FL
View Full Profile back this week, and he will be a weapon for Cole Stoudt

Cole Stoudt
Sr. Quarterback
#18 6-4, 231
Dublin, OH
View Full Profile or Watson. The game should also feature the Clemson debut of running back Tyshon Dye

Tyshon Dye
RS Fr. Running Back
#23 5-11, 214
Elberton, GA
View Full Profile – by all accounts we've heard Dye has looked good in practice, and he's the kind of physical runner that Morris has been needing to get involved in this offense. It's just a matter of time before Clemson's offense begins to click, and if Stoudt's shoulder is improved and the offensive line can open some holes, it will make scoring points a lot easier.
*Simply put, Clemson is just better – This is the kind of game that the Tigers have won consistently under Swinney. Out of Tommy Bowden

Tommy Bowden
Head Coach
View Full Profile 's 45 losses, 24 were to unranked teams. Under Swinney, the Tigers have beaten 24 unranked teams in a row. Other teams in the state would love to say the same thing. Clemson has a lot of NFL talent all over the field, and while Wake has some freshmen that have stepped up this season, they are still very, very young.
WHAT WILL HAPPEN
Don't be surprised if the Tigers struggle to get acclimated early. The offense – as we mentioned – has been stuck in neutral for a while but if Stoudt is healthy the Tigers can take more shots down the field. If Stoudt struggles, Swinney probably won't hesitate to insert Watson into the game to get a spark.
The Tigers have reshuffled the offensive line this week – Reid Webster

Reid Webster
RS Sr. Offensive Tackle
#77 6-3, 300
Woodstock, GA
View Full Profile will start at center and Tyrone Crowder

Tyrone Crowder
RS Fr. Offensive Guard
#55 6-2, 322
Marston, NC
View Full Profile takes over at right guard. The Tigers will have success running behind Crowder and right tackle Kalon Davis

Kalon Davis
RS Sr. Offensive Guard
#67 6-5, 340
Chester, SC
View Full Profile and will gain enough yards to keep the defense honest. Along the way, Mike Williams

Mike Williams
So. Wide Receiver
#7 6-5, 208
Vance, SC
View Full Profile or Artavis Scott

Artavis Scott
Fr. Wide Receiver
#3 5-11, 190
Oldsmar, FL
View Full Profile get untracked and the passing game clicks enough to score points. This one should see the Tigers comfortably ahead by midway through the third quarter.
FINAL SCORE: CLEMSON 27, WAKE FOREST 6
---
GUEST PREDICTIONS
---
Mickey Plyler
- 6AM-9AM EST on WCCP 105.5FM -
31-10 Clemson

Tony Crumpton - TigerNet's Associate Editor - 34-10 Clemson

Nikki Steele - TigerNet Writer - 30-3 Clemson

Lawton Swann - Clemson Sports Talk / TigerNet Talk - 31-0 Clemson

Pigskin Prophet - 27-3 Clemson

Dutch Coleman - 9AM-12PM EST on WCCP 105.5FM - 31-3 Clemson
| Game | Actual | David Hood | Mickey Plyler | Tony Crumpton | Nikki Steele | Lawton Swann | Pigskin Prophet | Dutch Coleman |
| --- | --- | --- | --- | --- | --- | --- | --- | --- |
| UGA | 45-21 UGA | 27-24 CU | 27-23 CU | 28-27 CU | 24-21 UGA | 31-23 CU | 23-16 CU | 31-20 CU |
| SC St | 73-7 CU | 44-10 CU | 45-10 CU | 49-13 CU | 52-10 CU | 43-7 CU | 44-10 CU | 52-13 CU |
| FSU | 23-17 FSU | 27-23 FSU | 31-23 FSU | 31-21 FSU | 30-24 FSU | 35-31 CU | 31-28 CU | 27-24 CU |
| UNC | 50-35 CU | 45-17 CU | 48-20 CU | 42-24 CU | 42-17 CU | 51-27 CU | 41-21 CU | 49-17 CU |
| NCSU | 41-0 CU | 37-23 CU | 41-27 CU | 48-25 CU | 42-28 CU | 42-27 CU | 38-28 CU | 42-21 CU |
| LOU | 23-17 CU | 37-20 CU | 31-17 CU | 35-17 CU | 38-14 CU | 45-18 CU | 27-17 CU | 38-17 CU |
| BC | 17-13 CU | 27-21 CU | 24-23 CU | 24-17 CU | 28-10 CU | 34-20 CU | 27-23 CU | 24-20 CU |
| SYR | 16-6 CU | 27-10 CU | 31-13 CU | 34-14 CU | 30-7 CU | 34-13 CU | 30-13 CU | 31-9 CU |
| Points | - | 11 | 7 | 9 | 12 | 8 | 8 | 8 |
* Points: 3 pts for best prediction of the week (tiebreaker is Clemson score), 1pt for picking the correct winner