| | |
| --- | --- |
| Clemson vs. Syracuse prediction | |
---
| | |
| --- | --- |
| Friday, October 24, 2014 1:33 PM | |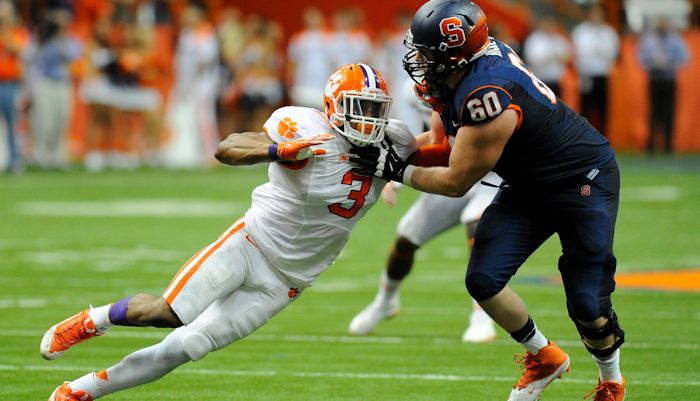 Tajh Boyd

Tajh Boyd
Quarterback (2009 - 2013)
#10 6-1, 225
Hampton, VA
View Full Profile to Sammy Watkins

Sammy Watkins
Wide Receiver (2011 - 2013)
#2 6-1, 205
Fort Myers, FL
View Full Profile . Boyd threw for a record 455 yards and five touchdown passes, while Watkins had four catches for 126 yards, including a 91-yard score from Boyd. Clemson led 35-7 at halftime. Clemson finished the game with 624 yards of total offense and averaged 8.1 yards per play.

Can the Tigers put up similar numbers under Cole Stoudt

Cole Stoudt
Sr. Quarterback
#18 6-4, 231
Dublin, OH
View Full Profile ? Will this – like the previous two weeks – be a defensive struggle?
Syracuse is 2-0 in true road games this season, while Clemson is 4-0 at home. The Tigers also have a six-game home winning streak, dating back to last season. Which team will see a streak end?
WHAT: Syracuse at No. 21 Clemson
WHERE:Memorial Stadium, Clemson SC (82,500)
WHEN: Saturday, Oct. 25 (7 p.m.)
SPREAD: Clemson by 14.5
TV: ESPNU (Anish Shroff, Kelly Stoufer, Cara Capuano)
WHY SYRACUSE MIGHT WIN
*It's the same as last week. Clemson's offense just isn't the same without quarterback Deshaun Watson

Deshaun Watson
Fr. Quarterback
#4 6-3, 204
Gainesville, GA
View Full Profile . Senior Cole Stoudt led the Tigers to a win last week, but there were at least two occasions where he could have been picked off. Despite almost 400 yards of total offense, the Tigers managed just one second half touchdown and had to hold on late to beat Boston College.
*Syracuse's defense is playing pretty well…..The Orange like to blitz off the edge and play man coverage. That was a killer last season as Boyd and Watkins – and even Adam Humphries

Adam Humphries
Sr. Wide Receiver
#13 5-11, 193
Spartanburg, SC
View Full Profile – beat them repeatedly over the top. But Stoudt has a thin offensive line, no running game to speak of and Syracuse played perhaps its best defensive game of the season last week in its win over Wake Forest. Syracuse scored two defensive touchdowns and has the confidence it can play with Clemson.
*Syracuse has had a lot of moving parts on the offensive line, but….. Due to injury, the Orange has used six different offensive line combinations in seven games. Eight different players have started at least once with Nick Robinson (RG), Ivan Foy (RT) and John Miller (C) all missing at least one game because of injury. Preseason All-ACC left tackle Sean Hickey is the only member of the group to start all seven games. Because of the moving parts, it's that much more impressive that first-year coach Joe Adam's unit is tied for fourth in the FBS in fewest sacks allowed (5). Can they keep that kind of success against Clemson?
WHY CLEMSON MIGHT WIN
It's getting repetitive, but…..This Clemson defense is playing really, really well right now. The Tigers leads the nation in tackles for loss, and they've made better quarterbacks than A.J. Long look mortal (think Tyler Murphy and Jacoby Brissett). Defensive coordinator Brent Venables

Brent Venables
Def. Coordinator / Linebackers
View Full Profile stacked the box against Murphy and Boston College last week and all but shut down the Eagle run game. Expect more of the same this week, as Venables dares the freshman signal caller to go out and win the game against a defensive line that will be attacking with a frenzy. Another great stat – Clemson is sixth nationally in red zone defense as opponents have been inside the Clemson 20 yard line just 15 times in seven games. If Syracuse wants to pull the upset, it's gonna have to pull out all the stops against a defense that is making its own stops. The advantage is all Clemson in this matchup.
*The offense is beginning to find its way……. Artavis Scott

Artavis Scott
Fr. Wide Receiver
#3 5-11, 190
Oldsmar, FL
View Full Profile (38) and Mike Williams

Mike Williams
So. Wide Receiver
#7 6-5, 208
Vance, SC
View Full Profile (30) have combined to catch 68 passes, 40.5 percent of the Tigers' total receptions. Williams is second in the ACC in receiving yards (95.9 yards per game) and both receivers seem to be developing a chemistry with Stoudt. Stoudt hasn't looked like a world-beater, but he hasn't had to be with the play of the Clemson defense. Stoudt also played the Louisville game with a bum shoulder, and he had to have a shot during pre-game and at halftime last week. His arm strength is back, and he told us this week that he doesn't expect to need a shot against the Orange. If he can go out and turn it loose and gain some confidence, the offense can finally break through. Especially if they can find a spark in the running game.
*Speaking of the run game….The Tigers lost leading rusher Adam Choice

Adam Choice
Fr. Running Back
#26 5-10, 211
Thomasville, GA
View Full Profile early last week, and he's out for the season. However, both Wayne Gallman

Wayne Gallman
RS Fr. Running Back
#9 6-1, 209
Loganville, GA
View Full Profile and C.J. Davidson

C.J. Davidson
RS Jr. Running Back
#32 5-10, 203
Clemson, SC
View Full Profile were effective at times last week, and the Tigers will get a boost with the debut of freshman running back Tyshon Dye

Tyshon Dye
RS Fr. Running Back
#23 5-11, 214
Elberton, GA
View Full Profile . Dye likely won't see a lot of snaps and you wouldn't expect more than five rushes out of him, but any lift he can give the offense is a good one. As he gets healthy, he will push the rest of the backs to be better. It's not too much of a stretch to see Dye being a major contributor by the end of the season.
*History is on Clemson's side…..Syracuse is the second of three first-time visitors to Death Valley. Clemson defeated Louisville on October 11, 23-17 in the Cardinals first appearance. Syracuse makes its first appearance on Saturday, then Georgia State will be a first time visitor on November 22. Syracuse is the 55th different team to play in the Valley, and the Tigers are 40-13-1 against teams making their first appearance in the stadium. Since 1978, however, it's almost impossible to beat Clemson at home in that situation. The Tigers are 24-2 during that span, losing only to Marshall in 1999 and Miami (FL) in 2005.
WHAT WILL HAPPEN
Syracuse has a freshman quarterback who will be making his first appearance in a loud environment, at night, against one of the nation's best defenses. That alone is a recipe for a Clemson win no matter what the offense can muster. But Clemson's offense will make enough plays and score enough points that this one is not in doubt by the middle of the third quarter. Dye makes an appearance, Williams and Scott continue to make plays and Stoudt gets a little better while the defense does its thing.
FINAL SCORE
CLEMSON 27, SYRACUSE 10
---
GUEST PREDICTIONS
---
Mickey Plyler
- 6AM-9AM EST on WCCP 105.5FM -
31-13 Clemson

Tony Crumpton - TigerNet's Associate Editor - 34-14 Clemson

Nikki Steele - TigerNet Writer - 30-7 Clemson

Lawton Swann - Clemson Sports Talk / TigerNet Talk - 34-13 Clemson

Pigskin Prophet - 30-13 Clemson

Dutch Coleman - 9AM-12PM EST on WCCP 105.5FM - 31-9 Clemson
| Game | Actual | David Hood | Mickey Plyler | Tony Crumpton | Nikki Steele | Lawton Swann | Pigskin Prophet | Dutch Coleman |
| --- | --- | --- | --- | --- | --- | --- | --- | --- |
| UGA | 45-21 UGA | 27-24 CU | 27-23 CU | 28-27 CU | 24-21 UGA | 31-23 CU | 23-16 CU | 31-20 CU |
| SC St | 73-7 CU | 44-10 CU | 45-10 CU | 49-13 CU | 52-10 CU | 43-7 CU | 44-10 CU | 52-13 CU |
| FSU | 23-17 FSU | 27-23 FSU | 31-23 FSU | 31-21 FSU | 30-24 FSU | 35-31 CU | 31-28 CU | 27-24 CU |
| UNC | 50-35 CU | 45-17 CU | 48-20 CU | 42-24 CU | 42-17 CU | 51-27 CU | 41-21 CU | 49-17 CU |
| NCSU | 41-0 CU | 37-23 CU | 41-27 CU | 48-25 CU | 42-28 CU | 42-27 CU | 38-28 CU | 42-21 CU |
| LOU | 23-17 CU | 37-20 CU | 31-17 CU | 35-17 CU | 38-14 CU | 45-18 CU | 27-17 CU | 38-17 CU |
| BC | 17-13 CU | 27-21 CU | 24-23 CU | 24-17 CU | 28-10 CU | 34-20 CU | 27-23 CU | 24-20 CU |
| Points | - | 8 | 6 | 8 | 11 | 7 | 7 | 7 |
* Points: 3 pts for best prediction of the week (tiebreaker is Clemson score), 1pt for picking the correct winner