| | |
| --- | --- |
| Clemson vs. NC State Game Prediction | |
---
| | |
| --- | --- |
| Friday, October 3, 2014 2:57 PM | |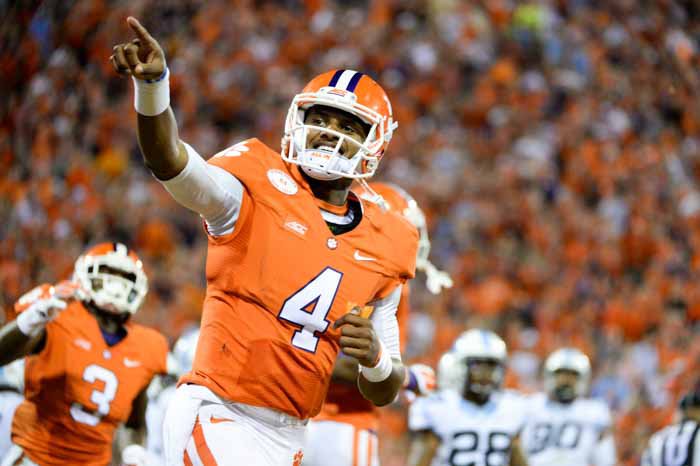 The future of the quarterback position in the ACC will be on full display Saturday afternoon in Death Valley when Jacoby Brissett and NC State square off against Deshaun Watson

Deshaun Watson
Fr. Quarterback
#4 6-3, 204
Gainesville, GA
View Full Profile and Clemson. The two quarterbacks obviously won't face each other on the field, but all eyes will be on the two signal callers as the Pack and Tigers renew acquaintances.
Clemson has won the last five games played between the two teams at Memorial Stadium, although all five have been decided by 14 points or less. Two years ago, quarterbacks Tajh Boyd

Tajh Boyd
Quarterback (2009 - 2013)
#10 6-1, 225
Hampton, VA
View Full Profile and Mike Glennon authored one of the more memorable shootouts in ACC history with Clemson eventually prevailing 62-48. In 2010, the Wolfpack managed to quiet a massive Clemson crowd by building a 13-0 lead into the third quarter before the Tigers found just enough offense to pull out a 14-13 victory.
Believe it or not, Clemson has won nine of the last ten meetings between the schools. What will happen Saturday in Death Valley?
N.C. STATE AT CLEMSON
WHAT: N.C. State at Clemson
WHERE: Death Valley (81,000)
WHEN: 3:30 p.m.
TELEVISION:ESPNU (Anish Shroff, Kelly Stouffer)
SPREAD: Clemson by 14
WHY NC STATE MIGHT WIN
THEY CAN RUN THE FOOTBALL: The Wolfpack have been better than average on the ground, averaging 5.9 yards per carry and ranking fifth in the ACC in rushing (231.2 yards per game). In 124 rushes between the Pack's top three backs, there have been just three tackles for loss (only eight yards). Leading the way for NC State is their triple threat- Shadrach Thornton, Tony Creecy and Matt Dayes. Thornton leads the team with 73.6 yards per game. Dayes ranks second with 54 yards per game and boasts the highest per carry average of the three with 7.1 yards. Dayes has caught more passes than any other running back with 18 (2nd best on the team), while Creecy has been the short-yardage guy and has been used when the Pack runs it's "wildcat" formation.
Want to know what each one brings to the table? Brissett has given each of the three a nickname based on what he feels is their strength to the offense. He calls Thornton "The Punisher," Creecy is "The Creator" and Dayes is "The Finnesser."
THAT PACK OFFENSE HAS BEEN PRETTY GOOD SO FAR: Through the first five weeks of the season, NC State leads the Atlantic Coast Conference in total offense. The Wolfpack is averaging 505.6 yards per game - a mark that ranks 20th in the FBS. That mark is up over 100 yards from a year ago. The Wolfpack ranks second in the league in scoring offense with 40.4 points per game - 20th in the FBS.
NC State has scored 40+ points in its last four games. It marks the first time in school history a Wolfpack squad has ever posted more than back-to-back 40+ point games.
THEY ALWAYS PLAY CLEMSON TOUGH: Clemson was by far the better team last season, but the Pack gave the Tigers all they could handle in Raleigh. Despite the fact that the Tigers have won nine out of ten, it's never easy and Dave Doeren has his youngsters believing they can play with anybody in the country.
WHY CLEMSON MIGHT WIN
CLEMSON'S DEFENSE END Vic Beasley

Vic Beasley
RS Sr. Defensive End
#3 6-2, 236
Adairsville, GA
View Full Profile : Vic Beasley is marching steadily towards the all-time Clemson sack record – he is one behind Michael Dean Perry and Gaines Adams

Gaines Adams
Defensive End
# 6-5, 260
Greenwood, SC
View Full Profile – and N.C. State has never had success against Beasley. He played 44 snaps in the 2012 game at Clemson and had a season high five tackles, including a season high three sacks and a caused fumble. He started and played in 54 snaps in the 2013 game at NC State and had six tackles, including a season high three sacks and a forced fumble. Overall in two games against the Pack, he has played in two games and has 11 tackles, six sacks and two forced fumbles.
Stephone Anthony

Stephone Anthony
Sr. Linebacker
#42 6-2, 244
Polkton, NC
View Full Profile has also put up solid numbers – he started and played 72 snaps in 2013 and had a career high 16 tackles, with two tackles for loss. Grady Jarrett

Grady Jarrett
Sr. Defensive Tackle
#50 6-1, 290
Conyers, GA
View Full Profile had a sack last season, as did Shaq Lawson

Shaq Lawson
So. Defensive End
#90 6-3, 269
Central, SC
View Full Profile , and DeShawn Williams

DeShawn Williams
Sr. Defensive Tackle
#99 6-1, 292
Central, SC
View Full Profile blocked a field goal. Overall, Clemson's defensive front seven has had success against the Pack offensive line.
THE KID: The members of the Clemson media is a close-knit group, and while waiting for interview sessions to begin or for the next player to show up, we talk and we dissect games and players ad nauseam. The agreement on Watson has been almost unanimous – this kid might be better right now than record-setter Tajh Boyd was at any point in his career. That's saying a lot. ESPN released a stat this week that said Watson is completing 85 percent of his passes when faced with a blitz and is averaging 18 yards per attempt in that situation.
Adam Humphries

Adam Humphries
Sr. Wide Receiver
#13 5-11, 193
Spartanburg, SC
View Full Profile told me this week that the throw Watson made to him on the sideline at Florida St. – a third down play – wouldn't have been made over the last couple of season. Humphries says Watson's skill set is "ridiculous" and I would have to agree.
Watson leads the nation in yards per pass attempt with an 11.87 figure. He is one of just three players nationally to average over 11 yards per pass attempt. The others are Marcus Mariota of Oregon (11.82) and Blake Sims of Alabama (11.25). Watson is ahead of the ACC record for a season in this category. Jameis Winston of Florida State set the league mark last year as a freshman when he averaged 10.46 yards per pass attempt. The Clemson record is 9.32 yards per attempt by Boyd last season.This has been an important statistic in recent years. Cam Newton of Auburn led the nation in this category in 2010, Robert Griffin of Baylor led in 2011 and Jameis Winston led in the category in 2013. All three won the Heisman Trophy. Aaron Murray led in the category in 2012. Can Watson keep up the pace? Only time will tell, but he has a bevy of talented receivers to throw to.
THE TIGERS CAN MAKE NC STATE ONE DIMENSIONAL: There is no denying the fact that Clemson's defense has had challenges over the last few weeks, and those challenges have crept up in the third and fourth quarters of games. However, Clemson has allowed just 104 total rushing yards over the last three games. That is the fewest rushing yards allowed over a three-game period since the 1991 season when the last three opponents of the regular season combined for just 72 rushing yards. That 1991 Clemson defense finished the year first in the nation in rushing defense. Clemson has had one bad quarter in terms of rushing defense or the Tigers would be near the top nationally in that category. Georgia had 212 rushing yards in the fourth quarter against the Tigers behind Todd Gurley. Clemson has played 16 quarters this year and allowed 432 net yards rushing, 212 on one quarter and 220 in the other 15 combined.
CLEMSON HAS A STREAK AGAINST UNRANKED OPPONENTS: Clemson has won 20 straight games against unranked teams by double digits. That is the second longest streak in the nation, trailing only Alabama in games in that category. The last time Clemson lost to an unranked team was at NC State in 2011 by a 37-13 score. The closest an unranked team has come to defeating the Tigers since then has been Boston College in 2013.
WHAT WILL HAPPEN
Dave Doeren has his team believing they can play with anybody, and his motivational skills can't be denied, especially after what he accomplished at Northern Illinois. The Pack will come out ready to play, and it wouldn't be surprising to see them use that emotion to get a quick score. If you're a Clemson fan and you're honest with yourself, this game scares you. Clemson hasn't had success with mobile quarterbacks, and Brissett can make plays with his feet as well as his arm. This one will be explosive at times, and I can see there being times when both defenses are able to make plays if a running game isn't established. However, the Pack has a young squad and Clemson has a veteran squad playing at home and despite the issues of the last few weeks, the Tigers will begin to pull away in the second half. Watson continues to shine, and I hope that one of the younger backs ( Wayne Gallman

Wayne Gallman
RS Fr. Running Back
#9 6-1, 209
Loganville, GA
View Full Profile or Adam Choice

Adam Choice
Fr. Running Back
#26 5-10, 211
Thomasville, GA
View Full Profile ) can give a spark to the running game.
FINAL SCORE
CLEMSON 37, NC STATE 23
---
GUEST PREDICTIONS
---
Mickey Plyler
- 6AM-9AM EST on WCCP 105.5FM -
41-27 Clemson

Tony Crumpton - TigerNet's Associate Editor - 48-25 Clemson

Nikki Steele - TigerNet Writer - 42-28 Clemson

Lawton Swann - Clemson Sports Talk / TigerNet Talk - 42-27 Clemson

Pigskin Prophet - 38-28 Clemson

Dutch Coleman - 9AM-12PM EST on WCCP 105.5FM - 42-21 Clemson
| Game | Actual | David Hood | Mickey Plyler | Tony Crumpton | Nikki Steele | Lawton Swann | Pigskin Prophet | Dutch Coleman |
| --- | --- | --- | --- | --- | --- | --- | --- | --- |
| Georgia | 45-21 UGA | 27-24 CU | 27-23 CU | 28-27 CU | 24-21 UGA | 31-23 CU | 23-16 CU | 31-20 CU |
| SC St | 73-7 CU | 44-10 CU | 45-10 CU | 49-13 CU | 52-10 CU | 43-7 CU | 44-10 CU | 52-13 CU |
| FSU | 23-17 FSU | 27-23 FSU | 31-23 FSU | 31-21 FSU | 30-24 FSU | 35-31 CU | 31-28 CU | 27-24 CU |
| UNC | 50-35 CU | 45-17 CU | 48-20 CU | 42-24 CU | 42-17 CU | 51-27 CU | 41-21CU | 49-17 CU |
| Points | - | 5 | 3 | 3 | 8 | 4 | 2 | 2 |
* Points: 3 pts for best prediction of the week (tiebreaker is Clemson score), 1pt for picking the correct winner