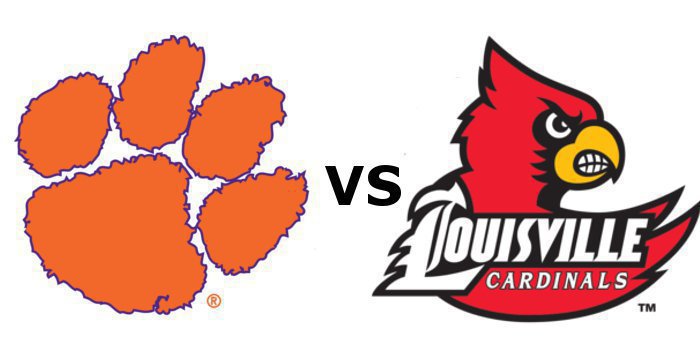 | | |
| --- | --- |
| Clemson vs. Louisville prediction: Can Clemson survive against improved Cards? | |
---
Clemson goes back on the road this weekend, traveling to Louisville for a high noon kickoff against the improving Cardinals. Louisville is 0-5 against the Tigers since joining the ACC – will this be the weekend the Cardinals finally break through for a win?
Despite dropping to No. 3 in the AP Poll following a 31-point conference victory a week ago, Clemson enters this week as the only team in the country with five wins against Power Five conference opponents this season. Clemson won those five Power Five games by an average of 23.8 points, including three victories by 31 points or more. Clemson will attempt to once again be at its best in the face of public doubt this week, as the Tigers have won 14 consecutive games when playing at a lower AP ranking than in their previous contest.
This week's game will feature two of the ACC's most prolific offenses thus far in 2019. Clemson enters the game ranked second in the conference in scoring offense (39.2), rushing offense (238.8) and total offense (497.0); Louisville enters the contest ranked third in all of those categories.
NO. 3/2 CLEMSON (6-0, 4-0 ACC) at LOUISVILLE (4-2, 2-1 ACC)
WHEN: SATURDAY, OCT. 19, NOON ET
WHERE: CARDINAL STADIUM (60,800), LOUISVILLE, KY.
TELEVISION: ABC (Bob Wischusen, Dan Orlovsky, Allison Williams)
RADIO: Clemson Tigers Network (Don Munson, C.J. Spiller, Tim Bourret, Reggie Merriweather)
**Sirius XM 81** Touchdown Radio (Brett Dolan, K.C. Jones)
CLEMSON/LOUISVILLE SERIES HISTORY
OVERALL: Clemson leads series, 5-0
HOME: Clemson leads series, 3-0
ROAD: Clemson leads series, 2-0
NEUTRAL: N/A
LAST MEETING: Nov. 3, 2018 (77-16, W)
STREAK: Clemson, Won 5
NOTABLE
*Clemson will attempt to win in its first six games against a school for the fifth time all-time (the second time against a school presently in the FBS). The Tigers previously won each of their first six all-time contests in series with The Citadel, Furman, Newberry and Virginia.
*Clemson enters this week's contest averaging 41.8 points per game against Louisville in five all-time meetings. That 41.8-point average is Clemson's highest all-time against an opponent presently in a Power Five conference.
*Three of Clemson's five best individual rushing performances against Louisville came in last year's 77-16 Clemson victory. Three different Tigers — Travis Etienne, Lyn-J Dixon, and Tavien Feaster — each eclipsed 100 rushing yards in the game.
*Clemson is attempting to win its 22nd consecutive game, dating to the start of the 2018 season, to extend the longest winning streak in school history and second-longest winning streak in ACC history.
*The Cardinals take on the No. 2 ranked team in the nation for the sixth time in school history. They are 1-8 all-time against teams ranked in the top two spots, with the lone win a 63-20 decision over Florida State in 2016.
WHEN CLEMSON HAS THE BALL
Clemson's offense came out on fire last week against Florida State There was the long play to Tee Higgins to open the game, followed by a halfback pass from Travis Etienne to Justyn Ross. By the middle of the third quarter, all the starters were out, and the Tigers were up 42-0.
Etienne ran for 127 yards on 17 carries and as a team Clemson rushed for 320 yards, and this week the Tigers face a Louisville defense that is, in a word, atrocious. The Cardinals rank 101st nationally in total defense, 80th against the run and 104th at defending the pass. The Cards don't rush the passer and don't create a ton of negative plays. Trevor Lawrence has been sacked on just 1.9 percent of pass attempts (3/161) this season -- 3rd best among Power 5 Quarterbacks. None of that bodes well for the Card defense.
Louisville has allowed rushes of 10 or more yards on 34 of 240 carries (14.2%) this season -- 2nd highest in the ACC, and has allowed an ACC-high 28 touchdowns and allowed an ACC-high 31.5 points per game in six games.
The key for Clemson is to continue to attack on offense. When the Tigers dictate the action it fares much better than it did against UNC, when the offense seemed content to throw 50-50 balls to the sidelines and almost abandoned the running game. If the offense comes out like last week, a lot of points will be scored.
ADVANTAGE: CLEMSON
WHEN LOUISVILLE HAS THE BALL
The Cardinal offense is as good as the defense is bad. Louisville is third in the ACC in rushing offense and fifth in passing, and they rank right behind Clemson in the league in total offense (Clemson is 12th nationally, Louisville is 16th).
It all starts with running back Javian Hawkins. The redshirt freshman's 622 yards rank second in the ACC behind AJ Dillon of Boston College, and head coach Dabo Swinney said this week that Louisville bases its entire attack on running the ball. In fact, Louisville has thrown the ball just 34.4 percent of the time (150 Pass Attempts/436 plays) this season -- lowest among ACC offenses.
Hawkins' running has opened things up in the passing game. Jawon Pass started the year at quarterback and when he was injured, Micale Cunningham came in and provided an upgrade at the position. Cunningham has averaged 19.0 yards per completion (816 yards/43 completions) this season -- best among ACC quarterbacks. True freshman Evan Conley guided the team to the victory over Wake Forest last week and spread the ball out to Dez Fitzpatrick, Chatarius Atwell, and Seth Dawkins. The Cardinals have playmakers across the board.
Here is what's scary for the Clemson defense – the two best rushing offenses Clemson has faced this season (Charlotte and UNC) each had success on the ground, and Louisville might be the best of the bunch. Add in the fact that Xavier Thomas might miss the game with the a concussion….you get the drift. Clemson will have to get stellar days from two other players on the defensive line and the linebackers.
ADVANTAGE: SLIGHT TO CLEMSON
SPECIAL TEAMS
Louisville had 230 kickoff return yards against Wake Forest and had another 50-yard punt return. That means kicker B.T. Potter will be counted on to ensure the Cards don't have the ability to return kicks.
The Cardinals have the steady Blanton Creque at kicker (7 of 9 this season), while Clemson has made a chance and will send out Steven Sawicki in place of Potter. Sawicki, on the road, is an unknown at this point. The Tigers are getting solid if not spectacular production out of punter Will Spiers, who has averaged two more yards per punt than Louisville's Mason King.
The most important person in this entire equation is Potter – if he kicks it out of the end zone, it nullifies the Louisville return game.
ADVANTAGE: SLIGHT TO LOUISVILLE
WHAT WILL HAPPEN
Both teams have good offenses, can make plays on special teams, but only one team has the defense to make consistent stops, and that team is Clemson. I have no doubt the Cards will make a splash here and there in the run game, but Clemson's offense will be the story of the day. The one-point win at UNC was an eye-opener – for the coaches and the players – and there is no doubt that Louisville has the Tigers' full attention this week.
I think the noon start also plays in Clemson's favor, and the offense will score points while the defense will make the plays it has to make. It's a scenario we've seen time and time again. I think Vegas has this one about right.
FINAL SCORE: CLEMSON 45, LOUISVILLE 17
Mickey Plyler - 6-9 AM on WCCP 105.5FM - 52-20 Clemson
Tony Crumpton - Associate Editor - 38-14 Clemson
Nikki Hood - Staff writer - 56-20 Clemson
Brandon Rink - Staff writer 48-17 Clemson
Pigskin Prophet - 47-21 Clemson
| Game | Actual | David Hood | Mickey Plyler | Tony Crumpton | Nikki Hood | Brandon Rink | Pigskin Prophet |
| --- | --- | --- | --- | --- | --- | --- | --- |
| Georgia Tech | 52-14 CU | 44-13 CU | 52-17 CU | 45-13 CU | 42-17 CU | 48-13 CU | 47-9 CU |
| Texas A&M | 24-10 CU | 41-27 CU | 37-20 CU | 38-24 CU | 38-27 CU | 45-27 CU | 31-23 CU |
| Syracuse | 41-6 CU | 40-16 CU | 41-17 CU | 42-13 CU | 42-17 CU | 45-13 CU | 37-13 CU |
| Charlotte | 52-10 CU | 44-13 CU | 59-10 CU | 49-10 CU | 42-17 CU | 55-13 CU | 49-10 CU |
| UNC | 21-20 CU | 45-13 CU | 52-17 CU | 38-13 CU | 47-10 CU | 45-10 CU | 48-13 CU |
| Florida State | 45-14 CU | 41-14 CU | 42-20 CU | 45-17 CU | 52-17 CU | 41-17 CU | 45-14 CU |
| Points | - | 6 | 8 | 12 | 6 | 6 | 14 |
* Points: 3 pts for best prediction of the week (tiebreaker is Clemson score), 2 pts for picking score exactly, 1 pt for picking the correct winner

Upgrade Your Account
Unlock premium boards and exclusive features (e.g. ad-free) by upgrading your account today.
Upgrade Now

Tags: Clemson Football
,
C.J. Spiller
,
Travis Etienne
,
Lyn-J Dixon
,
Tavien Feaster
,
Tee Higgins
,
Justyn Ross
,
Trevor Lawrence
,
Xavier Thomas
,
Steven Sawicki
,
Will Spiers