| | |
| --- | --- |
| Clemson vs. Louisville prediction | |
---
| | |
| --- | --- |
| Friday, October 10, 2014 1:01 PM | |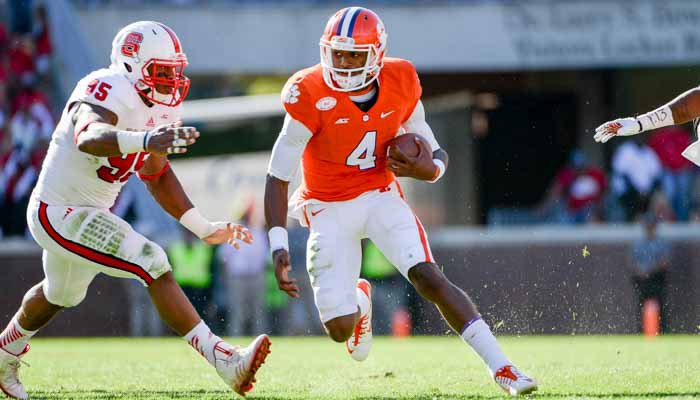 This week's home game against Louisville is the first of three for the Clemson program.
Each of the next three Clemson opponents in Memorial Stadium will be making their first trip to Clemson for a football game. The game against Louisville will be the first meeting anywhere between the two schools. Clemson and Louisville were members of the Southern Intercollegiate Athletic Association between 1914-22, but never faced each other.
In two weeks Syracuse will come to Clemson for the first time, and then on November 22 Georgia State and Clemson will play for the first time. Louisville is the 54th different team to come to Memorial Stadium and the Tigers are 39-13-1 against those teams when the visitor is making its first appearance. It's been especially difficult to beat Clemson in that first meeting since 1978. In the last 37 years Clemson is 23-2 against teams making its first appearance in Memorial Stadium.
Can Louisville reverse that trend? It's an interesting matchup, and could be the opening salvo of a nice rivalry between the two schools.
WHAT:Louisville at No. 25 Clemson
WHERE: Memorial Stadium - Clemson, S.C. (81,500)
WHEN: Saturday, Oct. 11 (3:30 p.m.)
SPREAD: Clemson by 12
TV: ESPNU (Anish Shroff, Kelly Stouffer, Cara Capuano
WHY LOUISVILLE MIGHT WIN THE GAME
*Is their defense that good? The Cardinals have held five of its six opponents to less than 100 yards rushing after limiting Syracuse to 55 yards on Oct. 3. Louisville is 17-0 when allowing an opponent to rush for less than 100 yards in a game since the 2012 season. The Cardinals are one of four schools that have allowed one rushing touchdown, joining Alabama, Florida and Stanford. Clemson has struggled on the ground this season, and if the Cardinals are able to stifle the Clemson run game it would make it easier for the Louisville defenders to tee off on freshman quarterback Deshaun Watson

Deshaun Watson
Fr. Quarterback
#4 6-3, 204
Gainesville, GA
View Full Profile .
Louisville's defense is allowing just 58.3 yards per game on the ground, which leads the ACC. The Cardinals are allowing just 2.0 yards per carry (350 yards on 174 attempts) with a long run of 26 yards.
Granted, Louisville hasn't played a dynamic offense to date, but they've still put up good numbers. And it hasn't been all on the ground – the Cardinals have 12 interceptions on the season, tied with Boise for the lead nationally.
The secondary has a wealth of experience – there are two seniors (cornerback Andrew Johnson and safety Terell Floyd) and two juniors (Gerod Holliman or James Sample at safety and cornerback Charles Gaines) in the starting rotation. Holliman leads the nation with seven interceptions. If the defense can force Watson into bad throws, the Cardinals have proven they can take the football away.
The Cardinals haven't allowed a touchdown in the last 13 quarters dating back to their 23-21 loss to Virginia on Sept. 13. The Cavaliers scored on a Grayson Lambert 10-yard run in the third quarter for the last touchdown allowed. The Cardinals have allowed just five field goals over the last 13 quarters. In the red zone this season, the Cardinals have allowed the opponents to score just five touchdowns in 16 opportunities.
WHY CLEMSON MIGHT WIN THE GAME
*It's at home, and Louisville hasn't played in an environment like Clemson in a long time. Memorial Stadium holds 81,500 fans (plus standing room) and the last time Louisville played in front of a crowd that large most of the current Cardinals were in grade school. In 2000, a crowd of 80,741 saw Florida St. shut out Louisville 32-0.
*The defensive numbers are nice, but………..Discounting Murray St., the other offenses that Louisville has faced aren't exactly record setters. Syracuse leads that group at 70th nationally in total offense, while Miami is 84th, Virginia is 82nd, Florida International is 120th and Wake Forest is dead last nationally at 128th. Scoring offense? Virginia leads that group – 60th nationally.
*Offensively, Louisville isn't impressive. The Cardinals haven't said whether quarterback Will Gardner – who has missed the last few weeks with a knee injury – will play or whether Petrino will throw out freshman Reggie Bonnafon. Louisville is ranked 88th nationally in total offense, and it might not matter who is playing quarterback if the offensive line doesn't plug up some holes. The Cardinals have allowed 19 sacks this season – 3.17 per game – for 142 lost yards. Both numbers are near the bottom nationally, and they face a Clemson defense that thrives on getting pressure on the quarterback.
Brandon Radcliff has 63 carries for 362 yards and six touchdowns, while Dominique Brown has 78 carries for 327 yards and three touchdowns. The Cardinals are averaging 156.5 yards per game (ninth in the ACC) and 3.7 yards per carry. On the other side of the ball, Clemson is allowing just 110.6 rushing yards per game, which is fourth in the ACC, and it has allowed just 223 yards in the past four games.
Getting back Gardner and wide receiver DeVante Parker will help, but might not make much of a difference as Parker gets back into game shape.
WHAT WILL HAPPEN
Louisville has talked about the crowd, and defensive standout Lorenzo Mauldin has bragged that if the Cardinals defense gets a 3-and-out on Clemson's first drive the Cardinals will win the game. Talk is great, but most of the matchups favor the Tigers.
Right now, Clemson is playing like a top-tier program and the Cardinals haven't faced a top-tier program in a while. Add in the fact that it's in Death Valley, and Louisville will have its hands full.
The Tigers have scored 91 points the past two games and are averaging 40.4 per game, tops in the ACC. The Clemson defense has allowed just 22 points per game and is coming off a shutout. Louisville has gotten off to the solid start, but it has been because of the defense. Defensive coordinator Todd Grantham was at Georgia last season, and his team gave up 38 points with better talent.
This one goes to the Tigers.
FINAL SCORE: CLEMSON 37, LOUISVILLE 20
---
GUEST PREDICTIONS
---
Mickey Plyler
- 6AM-9AM EST on WCCP 105.5FM -
31-17 Clemson

Tony Crumpton - TigerNet's Associate Editor - 35-17 Clemson

Nikki Steele - TigerNet Writer - 38-14 Clemson

Lawton Swann - Clemson Sports Talk / TigerNet Talk - 45-18 Clemson

Pigskin Prophet - 27-17 Clemson

Dutch Coleman - 9AM-12PM EST on WCCP 105.5FM - 38-17 Clemson
| Game | Actual | David Hood | Mickey Plyler | Tony Crumpton | Nikki Steele | Lawton Swann | Pigskin Prophet | Dutch Coleman |
| --- | --- | --- | --- | --- | --- | --- | --- | --- |
| Georgia | 45-21 UGA | 27-24 CU | 27-23 CU | 28-27 CU | 24-21 UGA | 31-23 CU | 23-16 CU | 31-20 CU |
| SC St | 73-7 CU | 44-10 CU | 45-10 CU | 49-13 CU | 52-10 CU | 43-7 CU | 44-10 CU | 52-13 CU |
| FSU | 23-17 FSU | 27-23 FSU | 31-23 FSU | 31-21 FSU | 30-24 FSU | 35-31 CU | 31-28 CU | 27-24 CU |
| UNC | 50-35 CU | 45-17 CU | 48-20 CU | 42-24 CU | 42-17 CU | 51-27 CU | 41-21 CU | 49-17 CU |
| NCSU | 41-0 CU | 37-23 CU | 41-27 CU | 48-25 CU | 42-28 CU | 42-27 CU | 38-28 CU | 42-21 CU |
| Points | - | 6 | 4 | 4 | 9 | 5 | 3 | 5 |
* Points: 3 pts for best prediction of the week (tiebreaker is Clemson score), 1pt for picking the correct winner