| | |
| --- | --- |
| Clemson vs. Georgia Tech prediction | |
---
| | |
| --- | --- |
| Friday, November 14, 2014 3:17 PM | |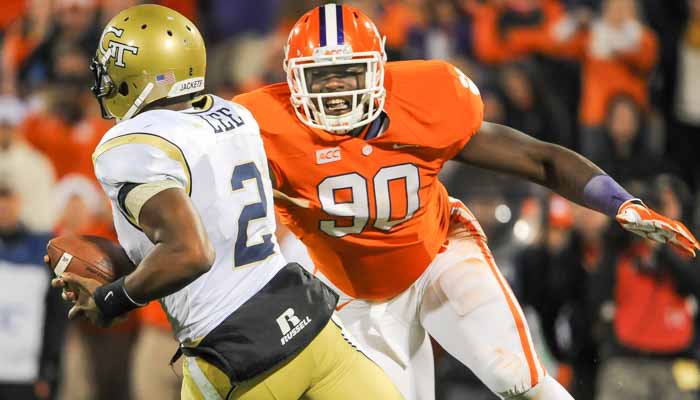 Georgia Tech. Bobby Dodd. The place has been a house of horrors for Clemson football over the past 11 years, and while the teams are very familiar with each other a scheduling oddity brought Tech to Clemson each of the past two seasons. This season, it's back to Atlanta and a stadium where Clemson hasn't won since 2003.
Twelve of the last 19 games in the series have been decided by five points or less, including a six-game streak between 1996-01 in which every game was decided by exactly three points. Eleven of Georgia Tech's last 13 wins in the series have been decided by seven points or less.
Clemson has won the last two games and three of the last four. But all three of those wins were at Clemson. The home team has won each of the last five games. The last win for the visitor took place at Clemson in 2008, when Georgia Tech downed Clemson 21-17 in Dabo Swinney

Dabo Swinney
Head Coach
View Full Profile 's first game as the Tigers' head coach.
What will it be this weekend? Probably more of the same.
| | |
| --- | --- |
| WHAT: | No. 19 Clemson at No. 22 Georgia Tech |
| WHERE: | Grant Field - Atlanta, GA (51,000) |
| WHEN: | Friday, Nov. 15 (12:00 p.m.) |
| SPREAD: | Clemson by 3 |
| TV: | ESPN (Mike Patrick, Ed Cunningham, Jeannine Edwards) |
WHY GEORGIA TECH MIGHT WIN
*THE RUN GAME/POSSESSING THE FOOTBALL – Quarterback Justin Thomas is the key to Tech's option offense, and Thomas has 142 carries for 781 yards to lead the Yellow Jackets to 336.0 rushing yards per game, which is easily the best in the ACC. Zach Laskey has rushed for 595 yards on 120 carries, and Synjyn Days has rushed for at least 100 yards the past three games to have 503 this season. Laskey has missed three games but returns this week. Clemson's run defense – outside of the 4th quarter debacle at Georgia – has been outstanding this season. The Tigers rank second in the ACC, allowing just 90.5 yards per game, and they lead the conference, allowing just 2.7 yards per carry. If Georgia Tech runs at will, it will be a long afternoon. Georgia Tech is 9th nationally in time of possession, keeping the ball for over 33 minutes each game.
*THE CURSE OF BOBBY DODD - Georgia Tech holds a 50-27-2 advantage over Clemson all time in the series and has beaten the Tigers more than any other team. 43 of the Yellow Jackets' wins have come at home at Grant Field since the series began in 1898. Clemson hasn't won a game on Georgia Tech's home turf since 2003 when the Tigers claimed a 39-3 victory led by Charlie Whitehurst

Charlie Whitehurst
Quarterback (2002 - 2005)
#6 6-4, 225
Duluth, GA
View Full Profile who threw for 298 yards and three touchdowns, one of which went to current running backs coach Tony Elliott

Tony Elliott
Assistant Coach / Running Backs
View Full Profile who was a senior on the 2003 squad. Clemson's four losses at Grant field over the last 11 years have been by a combined 28 points, with 14 of those points coming in the 2011 contest. Who can forget the phantom holding call on Thomas Austin

Thomas Austin
Sr. Offensive Guard
# 6-4, 310
Camden, SC
View Full Profile

Thomas Austin
Offensive Line
# 6-4, 310
Camden, SC
View Full Profile

Thomas Austin
Offensive Line
# 6-4, 285
Camden, SC
View Full Profile , or the fake field goal that turned into a touchdown?
*TURNOVERS -Tech has forced 21 turnovers in 2014, scoring 15 times after takeaways (14 touchdowns and one field goal). Georgia Tech has scored 101 points off turnovers and is plus-70 points off-turnover margin. Tech has forced 11 turnovers in its last three games – blowout wins over Pittsburgh, Virginia and North Carolina State. Clemson has turned it over six times in the last two games, and if those trends continue Clemson won't leave Atlanta with a win.
WHY CLEMSON MIGHT WIN:
* Deshaun Watson

Deshaun Watson
Fr. Quarterback
#4 6-3, 204
Gainesville, GA
View Full Profile : The kid is back and with his return Clemson's offense has a chance to shake the doldrums it has been in. The offense began to show life in the second half against Wake Forest last week, and that trend will have to continue. Watson has missed the last four games with a broken hand, but he has been back at practice for the last two weeks and should be ready for the Jackets. When he's healthy, Clemson's offense is hard to stop. Prior to the injury, Watson had completed 75-of-112 passes for 1,176 yards and 12 touchdowns, while adding another 210 yards and three scores on the ground. Georgia Tech head coach Paul Johnson said this past week that the Jackets have struggled against mobile quarterbacks, and offensive coordinator Chad Morris

Chad Morris
Offensive Coordinator / QBs
View Full Profile told me this week that the entire playbook is open with Watson's return and that he wouldn't hesitate to call Watson's name on run plays. Watson also just has the "it" factor when it comes to sidestepping a rush and making a last-minute throw, and that has been sorely missed. Receiver Mike Williams

Mike Williams
So. Wide Receiver
#7 6-5, 208
Vance, SC
View Full Profile was leading the country in plays over 20 yards before Watson's injury but hasn't really been a factor since the Boston College game. Before Watson's injury, Williams had 21 receptions for 520 yards and four scores and since then he has 17 catches for 252 yards (128 came against Boston College) and no touchdowns. One NFL scout told me last week – as a couple of dozen lined up to watch Watson throw in pre-game warmups at Wake – that he has no doubt Watson will be the best player in the nation next season.
*EXPERIENCED DEFENSE: One of the reasons that Tech's offense works so well is because nobody else runs it and players don't get to practice or play against except when Tech is on the schedule. However, eight of Clemson's 11 starters on defense are either juniors or seniors, meaning all of them have played at one time or another against Georgia Tech's triple option offense over the last four or five years. Vic Beasley

Vic Beasley
RS Sr. Defensive End
#3 6-2, 236
Adairsville, GA
View Full Profile , Corey Crawford

Corey Crawford
Sr. Defensive End
#93 6-5, 276
Columbus, GA
View Full Profile , Josh Watson

Josh Watson
RS Sr. Defensive Tackle
#91 6-4, 292
Wilmington, DE
View Full Profile , Grady Jarrett

Grady Jarrett
Sr. Defensive Tackle
#50 6-1, 290
Conyers, GA
View Full Profile – they all understand that Tech's offensive line is going to cut block on every play. I would expect – and I could be wrong – to see Shaq Lawson

Shaq Lawson
So. Defensive End
#90 6-3, 269
Central, SC
View Full Profile play a lot of snaps at Beasley's end spot and see Beasley stand up more this week. That gets the Tigers an extra big body on the line. Tavaris Barnes

Tavaris Barnes
RS Sr. Defensive End
#9 6-4, 273
Jacksonville, FL
View Full Profile told me this week that Clemson's defensive linemen know to wait for the cut block, push the offensive lineman down, and then go attack the play. Another big advantage for the Tigers is Jarrett – his ability to occupy blockers and force the dive to the outside will be key. He hasn't blocked been this season, and I don't think he will be blocked Saturday.
*SPECIAL TEAMS: Clemson may actually have an advantage on special teams this week. Punter and kickoff specialist Bradley Pinion

Bradley Pinion
Jr. Punter
#92 6-6, 230
Concord, NC
View Full Profile has been phenomenal as of late and is probably Clemson's unsung hero. He is capable of flipping field position with just one play. Ammon Lakip

Ammon Lakip
RS Jr. Kicker
#36 5-10, 200
Alpharetta, GA
View Full Profile got off to a rough start to begin the season but has found his confidence and has seemed to hit his stride. The reigning Groza Award Star of the Week winner is 17-of-21 on field goals, including making his last nine attempts. Harrison Butker kicks for the Jackets and he has been inconsistent - Butker has made just 7-of-12 field goal tries, including just 1-of-5 from 30 to 39 yards.
WHAT WILL HAPPEN
Turnovers will be a key, no doubt. But the stat I will be watching most Saturday afternoon is Third Down Conversions. This will be a battle of wills on Saturday – Tech leads the nation in third down conversion percentage in converting a whopping 70-of-118 attempts (59.32 percent). That's remarkable. On the flip side, guess whose defense leads the nation in opponent's third down conversions? That's right…Clemson. The Tigers have allowed just 32 conversions in 138 attempts (23.19 percent). If Tech is able to gain yardage on first and second down it opens up the playbook on third down and they are hard to stop. If Clemson can make stops on the first two downs and force Tech to throw, they are vulnerable.
Clemson's offensive line hasn't been stellar but the Jackets haven't really had much of a pass rush, preferring to sit back and wait for opponent's mistakes. That's where Watson comes in. Watson is rusty early but eventually finds his stride. Tech hits a few big plays – it's what they do – but the Tigers' defense does enough and the offense does enough and special teams do enough to get out of Atlanta with the win.
---
GUEST PREDICTIONS
---
Mickey Plyler
- 6AM-9AM EST on WCCP 105.5FM -
38-27 Clemson

Tony Crumpton - TigerNet's Associate Editor - 28-21 Clemson

Nikki Steele - TigerNet Writer - 35-24 Clemson

Lawton Swann - Clemson Sports Talk / TigerNet Talk - 30-21 Clemson

Pigskin Prophet - 33-24 Clemson

Dutch Coleman - 9AM-12PM EST on WCCP 105.5FM - 38-20 Clemson
| Game | Actual | David Hood | Mickey Plyler | Tony Crumpton | Nikki Steele | Lawton Swann | Pigskin Prophet | Dutch Coleman |
| --- | --- | --- | --- | --- | --- | --- | --- | --- |
| UGA | 45-21 UGA | 27-24 CU | 27-23 CU | 28-27 CU | 24-21 UGA | 31-23 CU | 23-16 CU | 31-20 CU |
| SC St | 73-7 CU | 44-10 CU | 45-10 CU | 49-13 CU | 52-10 CU | 43-7 CU | 44-10 CU | 52-13 CU |
| FSU | 23-17 FSU | 27-23 FSU | 31-23 FSU | 31-21 FSU | 30-24 FSU | 35-31 CU | 31-28 CU | 27-24 CU |
| UNC | 50-35 CU | 45-17 CU | 48-20 CU | 42-24 CU | 42-17 CU | 51-27 CU | 41-21 CU | 49-17 CU |
| NCSU | 41-0 CU | 37-23 CU | 41-27 CU | 48-25 CU | 42-28 CU | 42-27 CU | 38-28 CU | 42-21 CU |
| LOU | 23-17 CU | 37-20 CU | 31-17 CU | 35-17 CU | 38-14 CU | 45-18 CU | 27-17 CU | 38-17 CU |
| BC | 17-13 CU | 27-21 CU | 24-23 CU | 24-17 CU | 28-10 CU | 34-20 CU | 27-23 CU | 24-20 CU |
| SYR | 16-6 CU | 27-10 CU | 31-13 CU | 34-14 CU | 30-7 CU | 34-13 CU | 30-13 CU | 31-9 CU |
| WF | 34-20 CU | 27-6 CU | 31-10 CU | 34-10 CU | 30-3 CU | 31-0 CU | 27-3 CU | 31-3 CU |
| Points | - | 12 | 8 | 12 | 13 | 9 | 9 | 9 |
* Points: 3 pts for best prediction of the week (tiebreaker is Clemson score), 1pt for picking the correct winner