| | |
| --- | --- |
| Clemson vs Georgia Tech Prediction | |
---
| | |
| --- | --- |
| Thursday, November 14, 2013 12:41 PM | |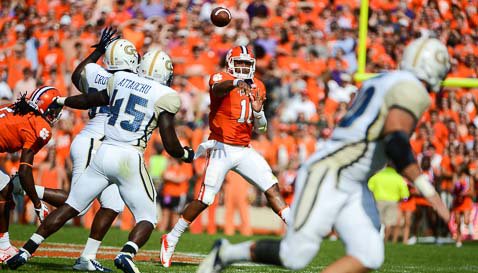 For those fans who like to watch a football with a little chill in the air, Thursday night is the perfect opportunity.
No. 8 Clemson welcomes Georgia Tech to Death Valley in a rare Thursday night contest at Clemson, and the forecast for kickoff is for temps to be in the low 40's or high 30's. This is Clemson's first Thursday night contest at home since 2002, and the Tigers face a Yellow Jacket team that needs a win to clinch at least a share of the ACC Coastal Division title for the fourth time in six seasons under Paul Johnson.
A year ago, the Jackets rolled up 483 yards of total offense (339 on the ground) and led Clemson 31-30 with 13 minutes left before Clemson scored the game's final 17 points in a 47-31 win.
The Jackets are also playing well defensively as the Jackets held Pitt to -5 yards rushing – the best rushing defense effort by the Jackets in the Paul Johnson era. It was only the eighth time over the last 60 years that Tech has held an opponent to negative yards rushing.
An interesting side note to the actual game on the field will be the fans – Clemson hasn't had a home game since losing to Florida St back in October, and it will be interesting to see how the fans react if and when this team faces adversity. Will the cold weather and Thursday night kickoff keep fans away?
All in all, should be a fascinating night in the Valley.
What: Georgia Tech (6-3, 5-2) AT No. 8 Clemson (8-1, 6-1)
WHERE: Memorial Stadium (85,000) - Clemson, S.C.
WHEN: Thursday, November 14th, 7:30 p.m.
SPREAD: Clemson -10
TV: ESPN
WHEN GEORGIA TECH HAS THE BALL
The key to this matchup will be third down. Tech ranks fourth nationally in third-down pct. (.540), while Clemson is fourth in third-down defense (.286). Can the Tigers stop long Georgia Tech scoring drives and get the Clemson offense back on the field? The Jackets also rank third nationally in time of possession and has won the TOP battle seven times this season, holding the ball at just under 34 minutes per game. Remember last season when South Carolina held the ball for huge chunks of the second half, causing Clemson's offense to go into panic mode when they did have the ball? Same thing applies here, and the Jackets are more than capable of 17-and-18-play drives. Georgia Tech runners David Sims and Robert Godhigh power the Yellow Jackets option offense, combining for 1,037 yards and 11 touchdowns. Averaging 11.3 yards per rush, Godhigh leads the ACC in that category. Of Godhigh's 708 yards from scrimmage this season, 45.2 percent have come after contact (320). Clemson has improved against the run this season and is the league's fifth best at shutting down the rushing attack at 140 yards per game. The Tigers have allowed just two 100-yard rushers this season. Quarterback Vad Lee has rushed 138 times for 384 yards and six touchdowns, and he has completed 52-of-114 passes for 1,005 yards, eight touchdowns and six interceptions. If the Tigers can control the line of scrimmage with ends Vic Beasley

Vic Beasley
RS Jr. Defensive End
#3 6-3, 225
Adairsville, GA
View Full Profile and Corey Crawford

Corey Crawford
Jr. Defensive End
#93 6-5, 270
Columbus, GA
View Full Profile and tackle Grady Jarrett

Grady Jarrett
Jr. Defensive Tackle
#50 6-1, 290
Conyers, GA
View Full Profile , they control the Jacket rushing attack enough to break the rhythm of the offense. Beasley, however, is more of a pass rusher and we could see freshman Shaq Lawson

Shaq Lawson
Fr. Defensive End
#90 6-4, 260
Central, SC
View Full Profile , who outweighs Beasley and might be a bigger threat against the run. However, this comes down to third downs and turnovers.
ADVANTAGE: GEORGIA TECH
WHEN CLEMSON HAS THE BALL
Clemson is averaging 39.8 points per game, which ranks 15th nationally in scoring. Georgia Tech ranks
t-14th in scoring defense, allowing 18.8 points per contest. Clemson ranks 11th nationally in total offense, while Tech ranks 12th in total defense. Senior defensive back Jemea Thomas has logged 21 tackles, three pass breakups and an interception over the last two games and is the two-time defending ACC Defensive Back of the Week. Thomas leads Tech with 58 tackles. Senior DE Jeremiah Attaochu is six sacks shy of tying Tech's career record, and his 25.0 career sacks rank third among active FBS players. The Jackets moved to a 4-3 defense this season under new defensive coordinator Ted Roof after running the 3-4 the past few seasons, and Clemson's offensive players said they expect blitzes off the edge as the Jackets try to disrupt the Clemson passing game. Two players stand out for me – wide receiver Sammy Watkins

Sammy Watkins
Jr. Wide Receiver
#2 6-1, 205
Fort Myers, FL
View Full Profile has had at least 100 yards receiving in six of Clemson's last seven victories. He set a school record with 14 catches two games ago at Maryland, then caught eight passes for a season-high 169 yards at Virginia. If he can get loose and make Roof think twice about bringing the house, Clemson's offense can run at peak efficiency. However, the running game also has to produce, and that's on senior Roderick McDowell

Roderick McDowell
Gr. Running Back
#25 5-9, 195
Sumter, SC
View Full Profile , who has to keep building off the success of the past few weeks.
ADVANTAGE: CLEMSON
SPECIAL TEAMS
Georgia Tech is the only team in the nation that has blocked three punts this season, and all three have
been by redshirt sophomore Chris Milton, making him the nation's individual leader in blocked punts. Harrison Butker isn't anything special at kicker – he is 5-of-8 on field goals. Punter Sean Poole would be among the nation's leaders at 44.10 yards per punt, but he has just 29 punts and doesn't qualify. We all know what Chandler Catanzaro

Chandler Catanzaro
Gr. Punter / Kicker
#39 6-2, 195
Greenville, SC
View Full Profile and Bradley Pinion

Bradley Pinion
So. Punter
#92 6-5, 230
Concord, NC
View Full Profile are capable of, and Pinion actually has 19 punts that have been downed inside the opponent's 20-yard line this season, just five shy of the Clemson record. In the return department, Adam Humphries

Adam Humphries
Jr. Wide Receiver
#13 5-11, 190
Spartanburg, SC
View Full Profile has actually climbed to 21st nationally in punt returns, averaging 10.73 yards per return. Keep them from blocking a kick, and Clemson has the advantage.
ADVANTAGE: CLEMSON
WHAT WILL HAPPEN
Turnovers and third down. With 18 giveaways this season, Tech is tied for 102nd in that category. Tech has forced six fumbles this season, recovering two. The six forced fumbles are tied for 73rd in the country. Clemson has a plus-nine turnover margin, while Georgia Tech is minus-four. If the Tigers can force Vad Lee into a few costly mistakes and take the ball away from the Tech offense, this one could get ugly. If the Jackets stray from form and take advantage of Clemson turnovers – just like FSU – it could get ugly the other way. However, Tech head coach Paul Johnson said it best this week when he said that this is the best Clemson defense he has faced, and that defense will be the difference. Tigers win the turnover battle and win a close one.
FINAL SCORE: CLEMSON 34, TECH 23
---
GUEST PREDICTIONS
---
Mickey Plyler
- 6-9AM on WCCP 104.9FM EST -
31-20 Clemson
Nikki Steele - TigerNet Writer - 37-28 Clemson
Tony Crumpton - TigerNet's Associate Editor - 38-24 Clemson
Lawton Swann - Clemson Sports Talk / TigerNet Talk - 45-20 Clemson
Pigskin Prophet - 34-20 Clemson
Butt-head - Friend of the Prophet who said anyone could do this - 27-21 Clemson
| Game | Actual | David Hood | Mickey Plyler | Tony Crumpton | Nikki Steele | Lawton Swann | Pigskin Prophet | Butt-Head |
| --- | --- | --- | --- | --- | --- | --- | --- | --- |
| Georgia | 38-35 CU | 37-34 CU | 31-28 CU | 31-28 CU | 34-31 CU | 37-31 CU | 39-34 CU | 48-31 CU |
| SC State | 52-13 CU | 55-13 CU | 56-10 CU | 63-17 CU | 56-16 CU | 57-10 CU | 60-13 CU | 63-21 CU |
| NC State | 26-14 CU | 37-13 CU | 41-20 CU | 63-17 CU | 37-17 CU | 45-20 CU | - | 34-17 CU |
| Wake Forest | 56-7 CU | 41-13 CU | 41-17 CU | 41-14 CU | 38-13 CU | 52-13 CU | 45-17 CU | 45-17 CU |
| Syracuse | 49-14 CU | 38-22 CU | 34-17 CU | 45-27 CU | 45-17 CU | 47-17 CU | 38-20 CU | 70-21 CU |
| BC | 24-14 CU | 44-17 CU | 41-17 CU | 45-20 CU | 42-21 CU | 52-21 CU | 47-17 CU | 42-21 CU |
| FSU | 51-14 FSU | 34-30 CU | 31-30 CU | 30-27 CU | 31-24 CU | 38-34 CU | 34-28 CU | 44-24 CU |
| Maryland | 40-27 CU | 38-13 CU | 45-17 CU | 42-20 CU | 37-10 CU | 42-13 CU | 35-21 CU | 44-14 CU |
| Virginia | 59-10 CU | 44-20 CU | 48-17 CU | 41-20 CU | 38-13 CU | 45-13 CU | 38-20 CU | 37-17 CU |
| Points | - | 12 | 10 | 10 | 8 | 14 | 7 | 10 |
* Points: 3 pts for best prediction of the week (tiebreaker is Clemson score), 1pt for picking the correct winner