| | |
| --- | --- |
| Clemson vs. Georgia St. prediction | |
---
| | |
| --- | --- |
| Saturday, November 22, 2014 7:01 AM | |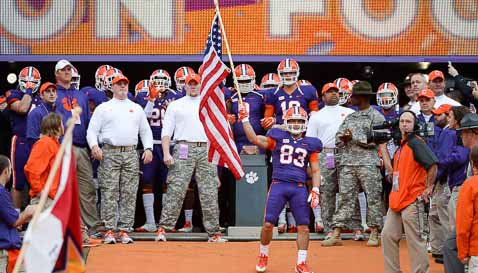 What do you do when you have Senior Day and Military Appreciation rolled into one, have an offense that is struggling and a team that needs to gain some confidence? You schedule a team like Georgia St.
Of course, the powers that be didn't know the situation when the Panthers were scheduled but this game comes at a good time for a team still licking its wounds from a depressing effort in Atlanta a week ago.
Clemson will celebrate Senior Day. It is not the final home game as the Tigers still face South Carolina on November 29. But, with 34 seniors including walk-ons and injured players going through the ceremony, Dabo Swinney

Dabo Swinney
Head Coach
View Full Profile wanted to use as much time as possible to honor his seniors. And there has been much to honor - entering Saturday's game this group has won 39 games, tied for the second most in school history. A win over Georgia State will tie the record of 40 wins set by the seniors of 1990, who went 10-2 on the field for four straight years.
The Panthers are 1-9 overall and 0-7 in the Sun Belt Conference. Can they provide a test for the Tigers?
WHAT: Georgia St. at No. 22 Clemson
WHERE: Clemson Memorial Stadium – Clemson, SC (81500)
WHEN: Saturday, November 22nd, 3:30 pm
SPREAD: Clemson by 40.5
TV: RSN ((Wes Durham, James Bates, Jenn Hildreth)
WHY GEORGIA ST. MIGHT WIN
*Letting a loss beat you twice…….Senior defensive tackle Grady Jarrett

Grady Jarrett
Sr. Defensive Tackle
#50 6-1, 290
Conyers, GA
View Full Profile said this week that the focus of the Clemson seniors has been in making sure they don't let last week's loss at Tech cause a drop this week. Clemson's defensive effort against the Yellow Jackets was satisfactory, but the offensive effort was abysmal after freshman Deshaun Watson

Deshaun Watson
Fr. Quarterback
#4 6-3, 204
Gainesville, GA
View Full Profile left the game. If the offense comes out and continues to struggle, would that give Georgia St. a spark?
*The Panthers have done this before….., Georgia State travelled across the country to play at Washington earlier this season, and the Panthers opened the game with a strong first half to lead the Huskies 14-0 at the half. Quarterback Nick Arbuckle threw a pair of touchdown passes, and GSU out-gained Washington 231-73 in the first half. The Panthers still led 14-7 late in the third quarter before UW pulled away for a 45-14 victory.
*They have put up some nice numbers….Georgia State has produced one of the Sun Belt's top passing attacks behind Arbuckle, receivers Donovan Harden, Robert Davis and LynQuez Blair and tight end Joel Ruiz. Arbuckle leads the Sun Belt with 2,812 yards passing and 19 touchdown passes, and the junior from Camarillo, Calif., needs 313 yards passing to break the Georgia State career record of 3,124 yards passing. Harden is the Panthers' top receiver with 52 catches for 796 yards and six touchdowns, just one shy of the Georgia State season record.
WHY CLEMSON MIGHT WIN
*Defense…….The Panthers will be facing one of the nation's top defenses as Clemson allows just 262.1 yards per game. The Tigers rank in the top 20 nationally in 19 different statistical categories. All-American defensive end Vic Beasley

Vic Beasley
RS Sr. Defensive End
#3 6-2, 236
Adairsville, GA
View Full Profile has eight sacks and 14.5 tackles for loss. The Panthers allow almost three sacks a game, and Clemson's defense could have a field day against the Panther offense.
*Meanwhile, Georgia St. doesn't play much defense…. The Panthers are ranked 122nd nationally in total defense, giving up 6.1 yards per play and a tad over 500 yards a game. Even with Clemson's offensive limitations under starter Cole Stoudt

Cole Stoudt
Sr. Quarterback
#18 6-4, 231
Dublin, OH
View Full Profile , the offense should be able to move the football and get some of the young playmakers like Wayne Gallman

Wayne Gallman
RS Fr. Running Back
#9 6-1, 209
Loganville, GA
View Full Profile and Artavis Scott

Artavis Scott
Fr. Wide Receiver
#3 5-11, 190
Oldsmar, FL
View Full Profile in open space. It would also be nice to see the Tigers get the tight end involved in the passing game.
*Talent…and history….is on Clemson's side…..Clemson has celebrated its military history every year since with the games held in November or when Clemson plays host to a school with its own military heritage. Clemson has a 16-4 record for the previous 20 Military Appreciation Day games. The Tigers have won six in a row with the last loss coming against Virginia Tech in 2007. This is also Georgia St.'s first trip to Death Valley, the third team to make such a visit this season (Louisville and Syracuse). Georgia State is the 56th different team to come to Memorial Stadium and the Tigers are 41-13-1 against those teams when the visitor is making its first appearance. But, it has been especially difficult to beat Clemson in the first meeting since 1978. In the last 37 years Clemson is 25-2 against teams making their first appearance in Memorial Stadium. The only teams to win their first game here are Marshall (13-10 winners over Clemson in 1999 in Tommy Bowden

Tommy Bowden
Head Coach
View Full Profile 's first game as Clemson coach) and Miami (FL) (36-30 win over Clemson in 2005 in triple overtime).
WHAT WILL HAPPEN
Count me as one of the naysayers. I think Clemson's offense is broke at this point, and even though it's Georgia St. I think the Tigers are struggling to find answers on the offensive line and at quarterback. Is Cole Stoudt the answer, and can he regain that form? Can Nick Schuessler

Nick Schuessler
RS So. Quarterback
#12 6-3, 195
Grayson, GA
View Full Profile gain some playing time and show he can capably lead the team? I watched North Carolina's offense against Duke Thursday night, and I was shocked at how the Heels achieved first downs running simple patterns – on 3rd-and-3 the slot receiver runs four yards on a quick slant and catches the pass for a first down. Two yards? Quick hits up the middle. Out routes that go beyond the sticks. It seems like Clemson's offense has been stuck in neutral for six weeks, and it will take some player making a play to provide a spark that will get them out of the doldrums. It will happen, but it will once again take the Tigers a while to get the offense rolling. Even then, I am not sure this is the big blowout people want and expect. The Tigers win, comfortably, but it will be a fight for yardage and points all day.
FINAL SCORE
CLEMSON 37 GEORGIA ST. 3
---
GUEST PREDICTIONS
---
Mickey Plyler
- 6AM-9AM EST on WCCP 105.5FM -
38-6 Clemson

Tony Crumpton - TigerNet's Associate Editor - 42-9 Clemson

Nikki Steele - TigerNet Writer - 42-3 Clemson

Lawton Swann - Clemson Sports Talk / TigerNet Talk - 41-3 Clemson

Pigskin Prophet - 40-9 Clemson

Dutch Coleman - 9AM-12PM EST on WCCP 105.5FM - 33-0 Clemson
| Game | Actual | David Hood | Mickey Plyler | Tony Crumpton | Nikki Steele | Lawton Swann | Pigskin Prophet | Dutch Coleman |
| --- | --- | --- | --- | --- | --- | --- | --- | --- |
| UGA | 45-21 UGA | 27-24 CU | 27-23 CU | 28-27 CU | 24-21 UGA | 31-23 CU | 23-16 CU | 31-20 CU |
| SC St | 73-7 CU | 44-10 CU | 45-10 CU | 49-13 CU | 52-10 CU | 43-7 CU | 44-10 CU | 52-13 CU |
| FSU | 23-17 FSU | 27-23 FSU | 31-23 FSU | 31-21 FSU | 30-24 FSU | 35-31 CU | 31-28 CU | 27-24 CU |
| UNC | 50-35 CU | 45-17 CU | 48-20 CU | 42-24 CU | 42-17 CU | 51-27 CU | 41-21 CU | 49-17 CU |
| NCSU | 41-0 CU | 37-23 CU | 41-27 CU | 48-25 CU | 42-28 CU | 42-27 CU | 38-28 CU | 42-21 CU |
| LOU | 23-17 CU | 37-20 CU | 31-17 CU | 35-17 CU | 38-14 CU | 45-18 CU | 27-17 CU | 38-17 CU |
| BC | 17-13 CU | 27-21 CU | 24-23 CU | 24-17 CU | 28-10 CU | 34-20 CU | 27-23 CU | 24-20 CU |
| SYR | 16-6 CU | 27-10 CU | 31-13 CU | 34-14 CU | 30-7 CU | 34-13 CU | 30-13 CU | 31-9 CU |
| WF | 34-20 CU | 27-6 CU | 31-10 CU | 34-10 CU | 30-3 CU | 31-0 CU | 27-3 CU | 31-3 CU |
| GT | 28-6 GT | 30-23 CU | 38-27 CU | 28-21 CU | 35-24 CU | 30-21 CU | 33-24 CU | 38-20 CU |
| Points | - | 12 | 8 | 12 | 13 | 9 | 9 | 9 |
* Points: 3 pts for best prediction of the week (tiebreaker is Clemson score), 1pt for picking the correct winner