| | |
| --- | --- |
| Clemson offers Tyshon Dye's cousin | |
---
| | |
| --- | --- |
| Wednesday, June 18, 2014 8:57 PM | |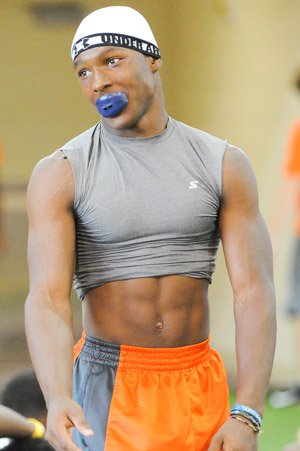 It's a good thing that Elberton, Georgia is only an hour away from Clemson because Mecole Hardman

Mecole Hardman
Wide Receiver
5-11, 175
Elberton, GA
View Full Profile was so excited about being offered by the Tigers Saturday afternoon that he convinced his parents to take him on a return trip Sunday.
The 5-11, 170-pound Elbert County athlete worked out at both defensive back and wide receiver at Dabo Swinney

Dabo Swinney
Head Coach
View Full Profile 's camp last week, but it was his work with receivers coach Jeff Scott

Jeff Scott
Asst. Coach (WR) / Recruiting Coord.
View Full Profile that caught the attention of offensive coordinator Chad Morris

Chad Morris
Offensive Coordinator / QBs
View Full Profile and Swinney.
The 2016 prospect was so impressive that the Clemson coaching staff knew they couldn't wait any longer to extend an offer.
"I didn't mind working out at both positions, because I wanted to show them what I could do," Hardman told TigerNet over the weekend. "Coach Morris saw me, and he came over to me and told me that they had to offer me and to stick around after the session. After the session was over, Coach Swinney came over and told me he liked what he saw, and he personally offered me. That meant a lot to me, that he would come over and do that. "
Hardman was so excited about the news that when he returned home, he immediately asked his parents if they could go back to Clemson the following day.
"I was really excited about the offer and they asked me if I could come up for a visit the next day and I was like, 'Definitely.' I asked my parents and they said that it was okay," Hardman said. "We went back up there on Sunday. I have a lot of interest in Clemson."
It turns out that his parents enjoyed the Clemson experience just as much as Hardman.
"They loved it," he said. "They said that it was a big campus and a good school to go to and they know that Clemson will make me handle my business. They really like Clemson, right now."
One of the things Hardman likes most about Clemson is knowing that he will have someone to turn to – cousin and redshirt freshman running back Tyshon Dye.
"He [Dye] told me about Clemson what he likes and what he doesn't like," he said. "He said that overall it's a great campus and the coaches take care of you. He said that it's like a family up there. He told me everything about Clemson and I like everything about it. It's a plus knowing that he's there because if I do go to Clemson I know I can go to him."
Hardman has offers from Charlotte, Kentucky, Miami (FL), Old Dominion, Penn St., Tennessee, UAB and Wisconsin. However, after seeing everything that Clemson has to offer, Hardman said the Tigers are firmly in his top three.
"It went great," he said. "I had a great time the coaches and was able to meet some of the players, so it was all a really good time. I liked the facilities and the campus and the coaches. Clemson is definitely up there in my top three."
As a sophomore, Hardman did a little bit of everything – quarterback, receiver and running back. He completed 28-of-66 passes for 505 yards for four touchdowns, carried the ball 176 times for 1,672 yard – a 9.5 yard per carry clip – and 17 touchdowns, and caught one pass for 31 yards and a score.
Check out Hardman's Sophomore Highlights