| | |
| --- | --- |
| Clemson focused on Gamecocks, the next team in the Tigers' way | |
---
| | |
| --- | --- |
| Saturday, November 21, 2015 8:51 PM | |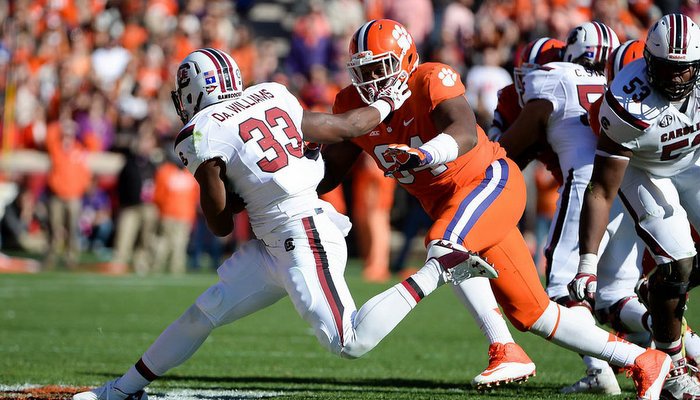 CLEMSON – The Clemson Tigers are ranked number one in the nation and sit 11-0 after defeating Wake Forest 33-13 Saturday afternoon in Death Valley, but their focus is squarely on South Carolina because the Gamecocks are the next team in Clemson's way.
South Carolina lost a 23-22 heartbreaker to The Citadel Saturday afternoon in Columbia, falling to 3-8 on the season. The Gamecocks will host Clemson next week in a noon kickoff, and Clemson's players and coaches told the media following the win over the Demon Deacons that their focus is South Carolina.
Senior defensive tackle D.J. Reader told TigerNet that defensive coordinator Brent Venables has already moved past Wake Forest.
"Coach V just made a funny comment. He said he's not even going to grade film, we're going straight to South Carolina," Reader said. "I'm going to enjoy it for the night and get in here tomorrow and watch some film and start moving on."
Head coach Dabo Swinney said South Carolina's loss Saturday will have no bearing on how they play Clemson next weekend.
"That game has nothing to do with next week's game. Last week's touchdowns and rushes don't win next week," Swinney said in his postgame press conference. "You have to do it every week. The old saying, 'Throw it all out the window' is a true statement. We are going to have to play well, and to play well we will have to prepare well. We are going to have to play well to win. "
Reader said he was surprised to hear about the Bulldogs' upset victory and that his teammates also have to realize that anything can happen in a rivalry game.
"I was surprised. Any given Saturday anybody can beat anybody. It just seemed like The Citadel might have been more hungry, but it was a surprise," Reader said. "I think these guys understand that it's a rivalry game, and anytime you have a rivalry - it doesn't matter what sport it is - you better bring your best out. The years we weren't as good or whatever happened, we still put our best foot forward. I know that in a rivalry game anything can happen. We just have to come out and play hard."
Reader said South Carolina's five-peat made him angry and he now realizes how important the rivalry is.
"The first few years I didn't know how important it was. After losing five of those things and I started seeing people holding up the five fingers and it started making me mad," he said. "I had to figure out just how important this rivalry was, so I did a little research on it and saw that we were really ahead. For me being from North Carolina, it's a basketball thing. It's Duke or Carolina basketball. You pick a side. If you're a N.C. State fan, nobody really cares about you. You pick a side - Duke or Carolina. It's really cool to have another rivalry especially in my sport. It definitely means a lot more to get even with those guys. We can come out and tie that series, so I think it will be cool to come out next week and take care of business."
Swinney said the Tigers need to reverse their trend of not playing well in Williams-Brice.
"It's just another opportunity to go and compete. I hate the season is coming to an end, to be honest with you," Swinney said. "We've had some great games with them, but we haven't done a good job with them. We are going to have to do a good job this week."
Co-offensive coordinator Tony Elliott said he's already moved on to the Gamecocks.
"For me, I think I'm already moved on in my mind. For the guys, I told them to celebrate it. You've got 24 hours and then you're going to get back in here on Monday because that's the first time we see them and we're going to put it to bed quickly and then we're on to South Carolina, because we understand the importance of this rivalry," Elliott said. "You can throw the records out. It doesn't matter what happened today or what happened all season, they're going to be ready to play. They're a quality football team. They're going to give us their best shot. We understand that yes we're having some success but we can be beat on any given night if we don't show up, so our challenge here is to get the best plan together and have our guys motivated and ready to play. Then, for our seniors we're challenging them to go have some success down in Columbia because of all the things that they've done, they haven't had success down there."
Jeff Scott – the other offensive coordinator – said South Carolina just happens to be the next team in Clemson's way.
"I think it [South Carolina after the loss to The Citadel] can go a lot of different ways. Our formula this year has been to really worry about us and worry about our execution," Scott said. "South Carolina just happens to be in our way. Obviously, it's a big game. It's a rivalry game and very important, but on the bigger stage they're in the way of our next step. We'll put all of our focus on our execution and playing our best next week in Columbia."