| | |
| --- | --- |
| Clemson best defense since 2009 'Bama? BC's Addazio thinks so | |
---
| | |
| --- | --- |
| Monday, October 13, 2014 8:36 PM | |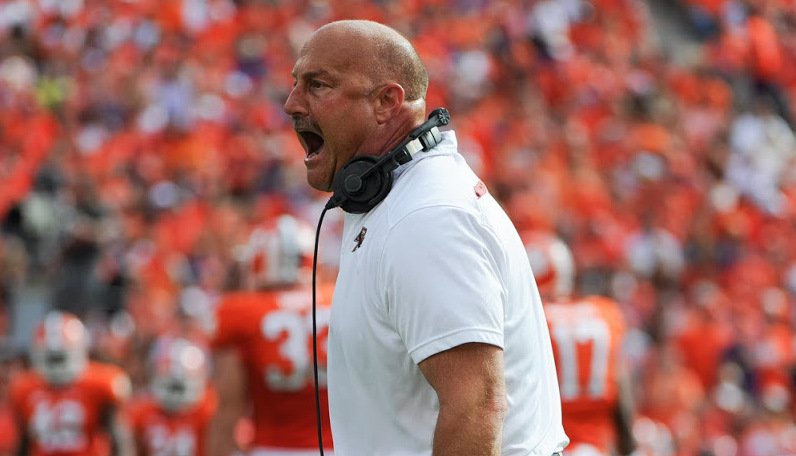 Louisville head coach Bobby Petrino and a few of the Cardinal players spent much of last week uttering comments that caused Clemson fans and players alike to bristle.
Boston College head coach Steve Addazio isn't falling into that trap, and spent much of his Monday press conference praising the Clemson defense.
Boston College and Clemson will face off at 3:30 p.m. on Saturday and the game will be broadcast on ESPNU. The game is also Homecoming for the Eagles, but Adazzio said the Tigers weren't scheduled because of their weakness and compared Clemson's defense to the 2009 Alabama squad.
"As we move forward this week, that's our biggest challenge. "I've come in here and talked about opposing defenses before," Addazio told the media. "I did that with USC and said we had a challenge. I will tell you that after watching Clemson right now - last year I told you they had a great defense and everyone knows they're a really good defense - I'm saying that in my career--predominantly in the SEC--I haven't seen a defense like this since we played Alabama in the [2009] SEC Championship Game.
"This is the most dominant defense I have seen. Period. I'm just amazed watching them. They're all back. [The staff has] done an unbelievable job of coaching these guys. They're really super talented and really well coached. That's what I'm seeing and I'm believing when I watch this film. People make plays on them--they're broken plays. They're not really well executed plays, because it's really difficult. That's how completely dominant they are."
Addazio said the game against the Tigers is both an opportunity and a challenge.
"It's an unbelievable opportunity for us to play them at home. It's an unbelievable challenge," he said. "I'm sitting here saying, `How are we going to move the ball against these guys?' That's how good they are. And they're that good. They're relentless. Where do you start with them? Do you want to start with Vic Beasley

Vic Beasley
RS Sr. Defensive End
#3 6-2, 236
Adairsville, GA
View Full Profile ? Watch him. He must run a 4.50. I don't think I've seen a guy that fast. [Former BC Eagle] Matt Patchan is a legitimate, bonafide left tackle and he was struggling with him [last season]. The guy is unbelievable. He's a great pass rusher. He'll be a first-round draft pick. He's already got eight sacks.
"Number 90 Shaq Lawson

Shaq Lawson
So. Defensive End
#90 6-3, 269
Central, SC
View Full Profile ? Number 50 ( Grady Jarrett

Grady Jarrett
Sr. Defensive Tackle
#50 6-1, 290
Conyers, GA
View Full Profile ), their interior lineman? He's completely dominant. No one blocks him. Not a soul. Not Florida State. Not Georgia. Nobody. In No. 42, Stephone Anthony

Stephone Anthony
Sr. Linebacker
#42 6-2, 244
Polkton, NC
View Full Profile , I think he's the best in the country. He makes more plays, more broken tackles. They're a great tackling defense. They're an amazing tackling defense. I have a world of respect for what they're doing down there on the defensive side of that ball. I'm just focusing on the defense right now."
He then said that Clemson's offense can't be overlooked, even with starter Deshaun Watson

Deshaun Watson
Fr. Quarterback
#4 6-3, 204
Gainesville, GA
View Full Profile sidelined.
"On offense, they're averaging about 140 rushing, 306 passing, 447 yards per game. I heard that Deshaun Watson might be out," Addazio said. "He is a tremendous athlete, but Cole Stoudt

Cole Stoudt
Sr. Quarterback
#18 6-4, 231
Dublin, OH
View Full Profile 's a really good quarterback and a really good player. They have talent everywhere. Their receivers are unbelievable. They've got a great scheme. They're explosive. This is a top-caliber team coming in offensively and defensively. They are one of the elite teams of the country. They've had some tough losses, but they're as good as anyone in America."
Addazio said the Eagles will have to "throw caution to the wind" in order to pull off the win.
"We have to figure out how to create an advantage for Boston College. We have a great opportunity to go out there and play as hard as we can and put caution to the wind and just go, just roll," he said. "No one gives us a chance to win, that's terrific, and understandable given how talented they are as a football team. I think their staff has done an unbelievable job. This team here, they're coached well, and I really mean that and respect that. We have to have a really good game plan. We have to play hard. We have to be physical. We have to be opportunistic. That's my mindset."
He was asked if quarterback Tyler Murphy could be an "X-factor" against Clemson's defense, and he said that quarterbacks have to be careful and not take too many hits when playing against the Tigers.
"This is a physical, fast, strong, tackling team. We got a lot of games. We're going to do what we have to do to play wide open," Addazio said. "When I watched NC State play Clemson, Jacoby Brissett took an unbelievable amount of hits. Then I went back and watched Ohio State. I watched Braxton Miller get hurt and the amount of shots that he took. You have to be really careful in the drop back game right now. You drop back with these guys, you better have a plan and you better get that ball out. That's where these quarterbacks are taking these unbelievable hits. Yes, we'll need his legs and his mobility, but we have to be careful because there's a price to pay there.
"When you play great teams like this, you have to make your physicality go. You have to have diversity in your attack. You can't be a one-dimensional team. You have to be patient in your power game. It's going to be a couple of bad-looking deals then hit a little something. You have to make them play inside-out. If you just try to turn it into some finesse perimeter game, there's a big, physical team on the other side that can flat and run. Just take Beasley alone. He runs as well as any running back. At some point you have to make him defeat a block and make a tackle coming right at you."