| | |
| --- | --- |
| Clemson and Georgia Tech...could they meet twice in 2015? | |
---
| | |
| --- | --- |
| Tuesday, May 12, 2015 2:57 PM | |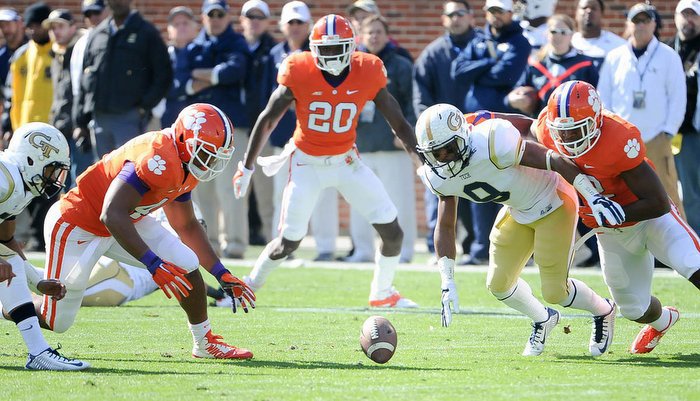 The road to the Atlantic Coast Conference Championship for the Clemson football team might run through Georgia Tech in 2015. In fact, the Tigers and Yellow Jackets could very well play twice next season as both teams will likely enter 2015 favored by many to win their respective divisions.
The Yellow Jackets are Clemson's cross division rival and the two programs have played more than a few slobber knockers over the past few seasons. The programs are a contrast in philosophy and style – Tech wins with less talent and runs a difficult scheme to stop while the Tigers have recruited extremely well but have had their troubles against Paul Johnson's squad.
After going 7–6 in 2013, the Yellow Jackets entered 2014 unranked. Georgia Tech would win its first five games of the season, which included comeback victories over Georgia Southern and Virginia Tech, and end a five-game losing streak to Miami (FL). After losing back-to-back games to Duke and North Carolina, the Yellow Jackets won out the rest of its regular season, which was capped off with a 30–24 overtime victory over Georgia. The Yellow Jackets represented the Coastal Division in the ACC Championship Game, where they were defeated by Atlantic Division champions Florida State. The Yellow Jackets then represented the ACC in the Orange Bowl, where they defeated Mississippi State 49–34. Georgia Tech ended the season with an 11–3 record and a #8 ranking in the final AP Poll.
The Jackets are ranked in most if not all preseason Top 25 polls, and will play at Clemson on Saturday, October 10th in Death Valley. If both win their respective divisions, a rematch could be possible in Charlotte in December in the ACC Championship Game, and Tech's head coach said he wants his team to carry over the momentum from 2014.
"We're excited the way we finished up the 2014 season and we wanted to try to carry some of that momentum into spring, and I felt like we did," Johnson said. "We got a lot of things accomplished, ended up with getting some, I guess, nagging injuries or some bad injuries at a couple positions, which you're always afraid of in spring practice, but overall I think that we got a lot accomplished and started to lay the foundation for the 2015 season."
The return of quarterback Justin Thomas and several offensive linemen has Georgia Tech slotted as the favorite in the ACC's Coastal division, but one of the top concerns this spring has been restocking the A-back and B-back positions in the backfield. The B-back position takes a bruising, between the tackles runner and Johnson added a key piece with the transfer of former Stanford runner Patrick Skov, the 6-1, 235-pound younger brother of All-American linebacker Shayne Skov.
"We're excited to have Patrick come and be a part of our program. I really enjoyed getting to meet him when he was here for a brief time on a visit," Johnson said. "I think he's a very mature young man, very well-spoken. He gives us a little older, more mature guy at that position. We feel like that we have a couple of young guys coming in that can be dynamic players, but it's always good to have a guy with that type of experience to come in and compete."
Thomas started all 14 games and had five 100-yard rushing games and nine 100-yard passing games. He rushed 190 times for a team-best and career-high 1,086 yards (5.7 yards per carry) and eight touchdowns and completed 96-of-187 passes (.513) for 1,719 yards and 18 touchdowns. What will he do for an encore?
"Well, I think Justin got a lot better as the year went along. One of the things I was most proud of with our football team is I think we were a way better team at the end of the year than we were early," Johnson said. "I think we got better each week, and certainly Justin I would include in that assessment. I think he had a good spring. I think he's getting better overall knowledge of what we're trying to accomplish and what we're trying to do. He's got a great skill set for what we want to do. He's a good competitor, and I look for him to have a great junior season. I think that he's more comfortable with what we're asking him to do and understands it better, and he's going to be one of the more experienced guys over there, so he's going to have to be a leader.
"He lost a lot of good senior skill guys around him. But the one good thing he has in his favor is we do have four of the starting five offensive linemen back, so he's got a nucleus there, and I think he's just going to get better and better. He's got great quickness, he's got a strong arm. He can throw the ball. Doesn't hurt that he's pretty fast. He's just a really good athlete. I think that he's the definition of what you would call a dual-threat quarterback in that he can hurt you with his feet and his arm."
The Jackets have a lot to replace on offense, including wide receiver DeAndre Smelter and running backs Synjyn Days and Zach Laskey. Who will step into those spots?
"Well, I think, you know, we actually lost the two guys at B-back who were playing early, so that's going to be more open in the fall," Johnson said. "But I thought our A-backs did some good things. We had a couple of guys that we red-shirted, Qua Searcy and Clinton Lynch, who I think both are going to be good players. They'll certainly be in the mix. Broderick Snoddy actually missed spring, he played a lot for us at A-back a year ago. Dennis Andrews played, Ike Willis. We've got some guys who have played a little bit. I think we'll be okay at that position. We lost two really good wide receivers. I think both of them will be playing on Sunday, and that's probably the biggest area of concern right now is who's going to step in and be the go-to guys at those positions."
However, the Jackets return nine starters on a defense that will be more comfortable under second-year coordinator Ted Roof.
"Any time you can stay in the same scheme and system with the same coaches that's a plus," Johnson said. "We do have eight starters coming back there, and they're going to have to play better. We're going to need our defense to play much better this year because the offense is going to be younger, especially early in the year and starting out. We're excited about what they were able to accomplish in the spring. I think we're hopeful that we're going to get back a couple of defensive linemen who did not play a year ago, and I think they're going to be a big, added help to the defense just from a depth standpoint and from play-making ability. It's always good to have a bunch of guys back that have played, and certainly we hope that we're going to show major improvement on that side of the ball this year."