| | |
| --- | --- |
| Clemson and Alabama ties run deep, stretch back decades | |
---
| | |
| --- | --- |
| Wednesday, January 6, 2016 2:01 PM | |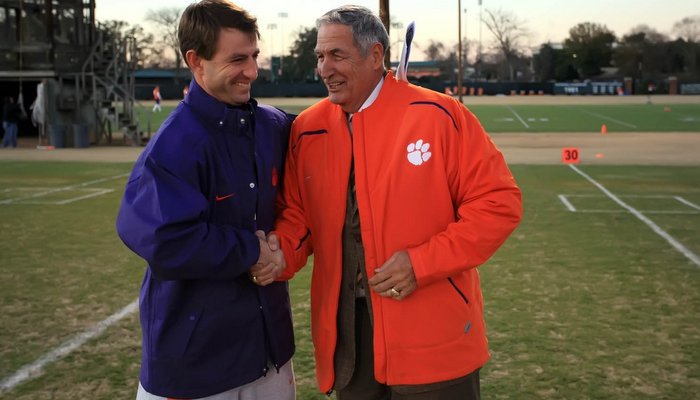 CLEMSON – The ties between Clemson and Alabama are strong and stretch back decades, making Monday's matchup between the two schools even more intriguing.
Former Clemson head coach Danny Ford played at Alabama and won a national championship for Clemson. Head coach Dabo Swinney played at Alabama and hopes to win a title with the Tigers when the teams meet Monday at the University of Phoenix Stadium in the College Football Playoff National Championship.
The ties run deeper than those two coaches. However – current Alabama assistants Burton Burns (eight years) and Billy Napier (three years) were on staff at Clemson while Clemson tight ends coach Danny Pearman spent eight years at Alabama. Swinney's nephew Taylor goes to Alabama, as does Pearman's daughter (also named Taylor).
Thad Turnipseed –the current Director of Recruiting & External Affairs for the Tigers – spent 11 years at Alabama before moving to Clemson.
Swinney said his experience with both schools came in the early 90's when Gene Stallings was the head coach of the Crimson Tide.
"A long time ago, to be honest with you, because when I was a sophomore at Alabama in '90, that's when Gene Stallings came, and he brought a bunch of Clemson guys," Swinney said Tuesday. "Woody McCorvey was the receiver coach at Clemson, and that's how I started learning. I knew about Clemson, but I started kind of intimately learning about Clemson through Woody McCorvey and Ellis Johnson and Chip Davis and Danny Pearman and Curley Hallman."
Swinney calls the ties between the two schools "crazy" and said he even has a picture of legendary Clemson coach Frank Howard with his parents.
"Hootie Ingram was my AD for years at Alabama. The ties are crazy," Swinney said. "I think Hootie was instrumental in getting the Paw patented when he was here. Obviously Frank Howard. I met Frank Howard when I was about ten years old. I got a picture of Frank Howard in my office having dinner with my mom and dad at a restaurant."
Swinney said that McCorvey – Swinney's chief of staff at Clemson – is the perfect bridge between the programs.
"Just the craziest -- it's just crazy how things get intertwined like that, and then Woody McCorvey obviously became a great role model and mentor in my life," Swinney said. "Still is to this day. He's my chief of staff here if you will, and not to mention Charley Pell, Danny Ford. I mean, it's just amazing the ties between the two schools from a head coach standpoint, but then you look at all the assistants who have left Clemson to go to Alabama or left Alabama to come to Clemson. It's really crazy. Bill Oliver, I spent six, seven years with Bill Oliver, and worked with Curley Hallman. So just so many guys. Charlie Harbison was a guy that was back and forth to both schools. Just a bunch of ties between these two schools for whatever reason."
He then laughed and said he knows a lot of people in Alabama who pull for Clemson.
"There's a lot of closet Clemson fans at Alabama. They don't want to admit it, but there's a bunch of them," Swinney said. "I think we've kind of become a team in that state where people pull for. Kind of gives them another team. It's kind of boring -- when your team is done on Saturday, at least, you've got somebody else that you can watch. I think our brand has definitely grown in that state."