| | |
| --- | --- |
| Clemson vs The Citadel prediction | |
---
| | |
| --- | --- |
| Friday, November 22, 2013, 2:20 PM | |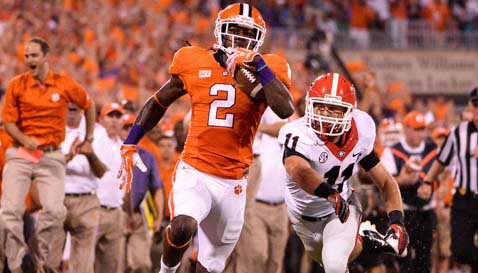 Saturday will be as much about saying goodbye as it will be about the final result of Clemson's home finale, a tilt against a Citadel team that will be playing its last game of the season.
Saturday's game is also Military Appreciation Day, a day that Clemson honors its veterans, including wide receiver Daniel Rodriguez

Daniel Rodriguez
RS So. Wide Receiver
#83 5-8, 175
Stafford, VA
View Full Profile , a veteran of the war on terror who was wounded in Afghanistan.
Saying goodbye to seniors such as Tajh Boyd

Tajh Boyd
RS Sr. Quarterback
#10 6-1, 225
Hampton, VA
View Full Profile , Roderick McDowell

Roderick McDowell
Gr. Running Back
#25 5-9, 195
Sumter, SC
View Full Profile , Chandler Catanzaro

Chandler Catanzaro
Gr. Punter / Kicker
#39 6-2, 195
Greenville, SC
View Full Profile and Spencer Shuey

Spencer Shuey
Gr. Linebacker
#33 6-3, 230
Charlotte, NC
View Full Profile will be difficult Saturday, but it should be made easier with a win as the Tigers look to win at least 10 games for the third consecutive season with a victory.
Ironically, it was a loss to The Citadel that led to the creation of IPTAY. The last Bulldog win in the series took place in a game that was played in Florence, SC. After the game, Clemson head coach Jess Neely met with some school administrators and told them he needed $10,000 to enhance the program's infrastructure. That meeting led to the formation of IPTAY, the de¬partment's athletic scholarship organization.
Clemson has won the last 15 games in the series since that 1931 Citadel victory. The Citadel has scored in double figures just three times in those 15 games, and Clemson has out¬scored The Citadel by 390-58.
Clemson is a perfect 27-0 against Division I-AA (now Football Championship Sub-Division) teams since the NCAA formed the division prior to the 1978 season. Southern Conference schools became I-AA in 1982. Clemson has outscored Football Championship Sub-Division teams by a 1021-192 margin, an average victory of 38-7. Clemson has won 26 of the 27 games by at least double digits. The only exception came when Clemson defeated Wofford 35-27 in 2011. Wofford's 27 points were the most by an FCS school against Clemson.
WHAT: The Citadel (5-6) at No.7 Clemson (9-1)
WHERE: Memorial Stadium (85,000)- Clemson, S.C.
WHEN: Saturday, Nov. 23 (12 p.m.)
LINE: Clemson by 40
TV: ESPN3
WHEN THE CITADEL HAS THE BALL
It's back to assignment football for the defense. The Tigers played against Georgia Tech's offense ten days ago, and now get a second consecutive game against the option. Clemson's defenders did a decent job against Tech quarterback Vad Lee, shutting down the pitch most of the night with ends Corey Crawford

Corey Crawford
Jr. Defensive End
#93 6-5, 270
Columbus, GA
View Full Profile and Vic Beasley

Vic Beasley
RS Jr. Defensive End
#3 6-3, 225
Adairsville, GA
View Full Profile , while the defensive tackles controlled the middle of the line. However, the Bulldogs are one of the best rushing teams in the FCS, averaging 5.42 yards per rush, ranking fourth nationally. The triggerman for the offense is quarterback Ben Dupree, who leads the team in rushing with 939 yards and 18 touchdowns. Running back Darien Robinson is second with 921 yards and seven touchdowns, while Vinny Miller and Dalton Trevino have rushed for 352 and 224 yards, respectively. The Bulldogs don't go to the air often – Dupree has completed 40 of 74 passes for 578 yards and three touchdowns and an interception. Matt Thompson is the leading receiver, and he has just 15 receptions for 135 yards. Robinson is a threat out of the backfield, however - he's caught 14 passes for 183 yards with two scores. The Bulldogs will run, run, run and then run it some more. Don't expect a lot of sacks because they just don't throw it all that much. With that in mind, Clemson's defense should be able to take the lessons learned against Georgia Tech and apply them here.
ADVANTAGE: CLEMSON
WHEN CLEMSON HAS THE BALL
Yes, it is the last home game for many of Clemson's offensive stars, and the only burning question heading into the game is how much each will play. Quarterback Tajh Boyd injured his collarbone against Tech, and the Tigers want to keep him healthy for the rivalry game next week. Clemson head coach Dabo Swinney

Dabo Swinney
Head Coach
View Full Profile was coy this week when asked about playing time for Boyd – as well he should be – but expect Clemson's senior signal caller to engineer a few scoring drives and then head to the sidelines for one final curtain call. Expect the same for Sammy Watkins

Sammy Watkins
Jr. Wide Receiver
#2 6-1, 205
Fort Myers, FL
View Full Profile and Roderick McDowell. The Bulldogs have been stout against the run recently, and offensive coordinator Chad Morris

Chad Morris
Offensive Coordinator / QBs
View Full Profile won't hesitate to throw the ball early and often in trying to engineer that lead, and fans could see a lot of backups Cole Stoudt

Cole Stoudt
Jr. Quarterback
#18 6-4, 205
Dublin, OH
View Full Profile and Chad Kelly

Chad Kelly
RS Fr. Quarterback
#11 6-2, 210
Buffalo, NY
View Full Profile . The Bulldogs don't get a lot of pressure on FCS quarterbacks – they've averaged just under two sacks per game this season – and whoever is under center should have time to throw. At the end of the day, however, Clemson's stat leaders will probably have last names like Howard, Kelly and Williams. And that's not necessarily a bad thing. I do have one favor to ask, however. Can we get Daniel Rodriguez in the end zone Saturday? I've seen Rodriguez up close and personal over the last two seasons, and I am always impressed with his work ethic and leadership. If the Tigers get inside the five yard line – and if the score permits – and bring in D.J. Reader

D.J. Reader
So. Defensive Tackle
#48 6-2, 335
Greensboro, NC
View Full Profile as a blocker and get D-Rod six points?
SPECIAL TEAMS
Chandler Catanzaro has hit 37 of his last 39 field goals, and ends his stellar home career Saturday. Catman has been as automatic as you could ask for, as has punter and kickoff specialist Bradley Pinion

Bradley Pinion
So. Punter
#92 6-5, 230
Concord, NC
View Full Profile . Adam Humphries

Adam Humphries
Jr. Wide Receiver
#13 5-11, 190
Spartanburg, SC
View Full Profile now ranks 22nd nationally in punt returns, averaging 10.89 yards per return. For the Bulldogs, DeAndre Schoultz averages 6.4 yards per punt return. On kickoffs, Terrance Martin averages 25.7 yards per return. Kicker Thomas Warren is 6-for-10 on field goals this season, while Eric Goins averages 40.8 yards per punt. Goins also handles the kickoff duties, and 10 of his 51 kickoffs have been touchbacks. Could this be the game that Clemson finally breaks a return?
ADVANTAGE: CLEMSON
WHAT WILL HAPPEN
The Bulldogs are 5-6, out of the FCS playoffs and will be playing their last game of the season Saturday. As a result, their coaches have said they are treating this game like a bowl game or a playoff game, and you can expect them to pull out all of the stops against a Clemson team that may be looking ahead to next week's game against South Carolina. It won't matter. Once the emotions have died down and it turns into just a football game, the talent will take over. The Tigers will cruise to the lead at the half, and plenty of younger players will get a lot of playing time late.
FINAL SCORE: CLEMSON 56, THE CITADEL 10
---
GUEST PREDICTIONS
---
Mickey Plyler
- 6-9AM on WCCP 104.9FM EST -
49-14 Clemson
Nikki Steele - TigerNet Writer - 58-7 Clemson
Tony Crumpton - TigerNet's Associate Editor - 59-13 Clemson
Lawton Swann - Clemson Sports Talk / TigerNet Talk - 52-3 Clemson
Pigskin Prophet - 50-10 Clemson
Butt-head - Friend of the Prophet who said anyone could do this - 56-16 Clemson
| Game | Actual | David Hood | Mickey Plyler | Tony Crumpton | Nikki Steele | Lawton Swann | Pigskin Prophet | Butt-Head |
| --- | --- | --- | --- | --- | --- | --- | --- | --- |
| Georgia | 38-35 CU | 37-34 CU | 31-28 CU | 31-28 CU | 34-31 CU | 37-31 CU | 39-34 CU | 48-31 CU |
| SC State | 52-13 CU | 55-13 CU | 56-10 CU | 63-17 CU | 56-16 CU | 57-10 CU | 60-13 CU | 63-21 CU |
| NC State | 26-14 CU | 37-13 CU | 41-20 CU | 63-17 CU | 37-17 CU | 45-20 CU | - | 34-17 CU |
| Wake Forest | 56-7 CU | 41-13 CU | 41-17 CU | 41-14 CU | 38-13 CU | 52-13 CU | 45-17 CU | 45-17 CU |
| Syracuse | 49-14 CU | 38-22 CU | 34-17 CU | 45-27 CU | 45-17 CU | 47-17 CU | 38-20 CU | 70-21 CU |
| BC | 24-14 CU | 44-17 CU | 41-17 CU | 45-20 CU | 42-21 CU | 52-21 CU | 47-17 CU | 42-21 CU |
| FSU | 51-14 FSU | 34-30 CU | 31-30 CU | 30-27 CU | 31-24 CU | 38-34 CU | 34-28 CU | 44-24 CU |
| Maryland | 40-27 CU | 38-13 CU | 45-17 CU | 42-20 CU | 37-10 CU | 42-13 CU | 35-21 CU | 44-14 CU |
| Virginia | 59-10 CU | 44-20 CU | 48-17 CU | 41-20 CU | 38-13 CU | 45-13 CU | 38-20 CU | 37-17 CU |
| Georgia Tech | 55-31 CU | 34-23 CU | 31-20 CU | 38-24 CU | 37-28 CU | 45-20 CU | 34-20 CU | 27-21 CU |
| Points | - | 13 | 11 | 11 | 9 | 17 | 8 | 11 |
* Points: 3 pts for best prediction of the week (tiebreaker is Clemson score), 1pt for picking the correct winner

Tags:
Adam Humphries
,
Bradley Pinion
,
Chad Kelly
,
Chad Morris
,
Chandler Catanzaro
,
Cole Stoudt
,
Corey Crawford
,
D.J. Reader
,
Daniel Rodriguez
,
Roderick McDowell
,
Sammy Watkins
,
Spencer Shuey
,
Tajh Boyd
,
Vic Beasley