| | |
| --- | --- |
| Clemson-Maryland prediction | |
---
| | |
| --- | --- |
| Friday, October 25, 2013 1:28 PM | |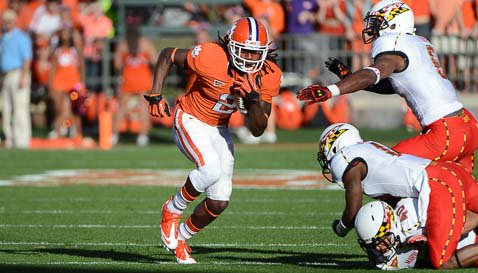 I have to admit, Saturday's game at Maryland has a weird feel to it, and there are several contributing factors.
It's probably Clemson's last game at Maryland, because the Terps leave for the Big 10 after this season. It's also in Byrd Stadium, which has seen more than its share of wacky games between the Tigers and Terrapins over the years.
Another contributing factor is that this Maryland team is battling a host of injuries, just like last season, and Clemson won't have to face quarterback C.J. Brown, who carved up the Tiger defense up here two years ago.
Throw in the fact that you have a Clemson team that might be battling a bit of a hangover after last week's loss to Florida St. – you just never know when one loss will beat you twice – and it has the makings of a desultory cocktail of factors that leave you wondering just what to expect.
One thing for sure is that it more than likely won't be boring.
NO. 9 CLEMSON (6-1, 4-1 ACC) AT MARYLAND (5-2, 1-2)
WHAT: No. 9 Clemson at Maryland
WHERE: Byrd Stadium (51,802) College Park, MD
WHEN: Saturday, Oct. 26th, 3:30 p.m.
SPREAD: CLEMSON -14.5
TV: ESPN
WHEN CLEMSON HAS THE BALL
Maryland's defense has given up 123 points in the last three games, and faces a Clemson offense that has scored 56 and 45 points in its last two games against the Terrapins. The Terrapins are facing a ton of injuries on defense – including losing a starting linebacker and a starting safety that are out this week that add to a host of previous injuries. The Terrapins feature three down linemen and the Tigers will probably see a lot of 3-3-5 looks with four or five bringing pressure at any given time, something that for whatever reason has given Clemson trouble at times. Talent-wise, this would normally be a mismatch, but these aren't normal circumstances. Clemson's offense that has totaled 31 points over the last two weeks – 17 offensive points against Boston College and 14 against Florida St. The Tigers have battled turnovers, haven't really produced any kind of punch in the running game, and quarterback Tajh Boyd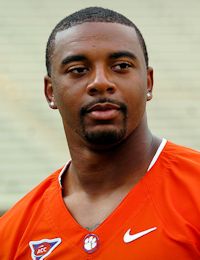 Tajh Boyd
RS Sr. Quarterback
#10 6-1, 225
Hampton, VA
View Full Profile has battled inconsistency. In fact, there simply isn't enough space here to go into all of Clemson's offensive issues the last two weeks. Does this one all come down to the running game, however? Maryland held Wake Forest to 47 yards rushing last week, and recorded seven tackles for loss despite having seven main contributors out. They also give up just 123.7 rushing yards per game, which is second in the ACC. Clemson's Roderick McDowell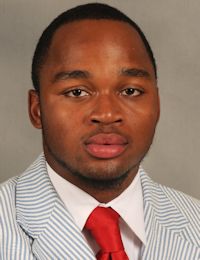 Roderick McDowell
Gr. Running Back
#25 5-9, 195
Sumter, SC
View Full Profile has averaged five yards per carry this season, and averaged 5.5 yards per carry against FSU last week. Offensive coordinator Chad Morris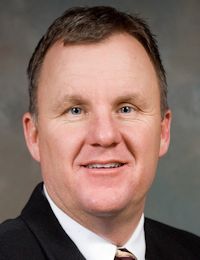 Chad Morris
Offensive Coordinator / QBs
View Full Profile says he has simplified his offense in order to find that missing consistency, and I've been begging for weeks to see the "smashmouth spread" that was promised when he was hired. If room is found in the running game, the clogged passing lanes will open up. I also saw a humbled Tajh Boyd during interviews this week, and I think that bodes well.
ADVANTAGE – CLEMSON
WHEN MARYLAND HAS THE BALL
The Tigers will see South Carolina native Caleb Rowe at quarterback Saturday. C.J. Brown led Maryland to a 5-0 start this season, but he was knocked out of the Terrapins' 63-0 loss to Florida State with a concussion. Rowe threw for 332 yards in a 27-26 win over Virginia, but Brown started last week at Wake Forest. He left still feeling effects from the concussion, and Rowe threw for 207 yards and a touchdown. Maryland likes to line up in the spread and do a lot of designed quarterback runs and read plays, but Rowe is more of a pocket passer and less of a threat with his feet than Brown, who carved up Clemson two years ago. With Rowe more of a stationary target that Brown, expect Clemson's defensive line to come after Rowe with a vengeance, especially after being shut down for much of last week's game against FSU. Normally, a good running game would take pressure off of the passing game, but starting running back Brandon Ross (458 yards) is out, and their second-leading rusher was Brown, and he is out as we mentioned. Next in line is Albert Reid, who has 37 carries for 193 yards. Wide receivers Levern Jacobs and Amba Etta-Tawo take over for the team's two top receivers, Stefon Diggs and Deon Long, each of whom suffered leg injuries last week against Wake Forest and are lost for the season. Jacobs has 13 catches for 245 yards, while Etta-Tawo has eight catches for 87 yards. Oh, did we mention that Maryland's starting tight end (Dave Stinebaugh, 11-162) is also out? Add in Ross, and that means four of Maryland's top five receivers on the year won't see action Saturday. If the Terps have anything they can look forward to, it's the fact that Clemson will be short-handed in the secondary for the first half of Saturday's game, and they only have to look at last week's game film to see wide receivers running wide open against the Clemson secondary. However, Maryland's backups aren't the same as what FSU put on the field.
ADVANTAGE – CLEMSON
SPECIAL TEAMS
Maryland K Brad Craddock leads the ACC with 13 field goals. Two of his three misses were from 50-plus yards, and he is 13-for-16 overall. The Terps' William Likely is averaging 28.8 yards on kickoff returns, second in the ACC and 14th in the nation, and he averaged 30 yards per attempt last week, so the onus will be on kickoff specialist Bradley Pinion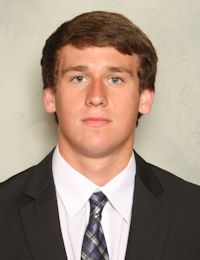 Bradley Pinion
So. Punter
#92 6-5, 230
Concord, NC
View Full Profile to put all of his kicks in the end zone this week. Speaking of Pinion, he and Maryland punter Nathan Renfro are both averaging 41 yards per punt. Clemson kicker Chandler Catanzaro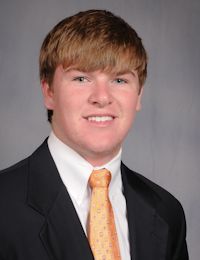 Chandler Catanzaro
Gr. Punter / Kicker
#39 6-2, 195
Greenville, SC
View Full Profile has made five of his field goal attempts this season. One interesting thing to watch is Clemson on kick returns - the Tigers have returned a kickoff for a touchdown in three of the last four meetings between the teams.
ADVANTAGE – EVEN
WHAT WILL HAPPEN
Clemson has a six-game road winning streak and has 14 consecutive double-digit wins over unranked opponents, and considering all of Maryland's injury issues, it would be easy to say that Clemson wins in a blowout. However, Clemson's scoring woes leave pause for concern, and if Maryland was healthy, this game would be downright scary. But Maryland isn't healthy, and there is just too much going in Clemson's favor in this one. It might be close early, and if Clemson turns the ball over early it could lead to another deer-in-the-headlights look for the offense, but Clemson's defense should be able to keep things steady until the offense finds the rhythm.
FINAL SCORE
CLEMSON 38, MARYLAND 13
---
GUEST PREDICTIONS
---
Mickey Plyler
- 6-9AM on WCCP 104.9FM EST -
Clemson
Nikki Steele - TigerNet Writer - 37-10 Clemson
Tony Crumpton - TigerNet's Associate Editor - 42-20 Clemson
Lawton Swann - Clemson Sports Talk / TigerNet Talk - 42-13 Clemson
Pigskin Prophet - 35-21 Clemson
Butt-head - Friend of the Prophet who said anyone could do this - 44-14 Clemson
| Game | Actual | David Hood | Mickey Plyler | Tony Crumpton | Nikki Steele | Lawton Swann | Pigskin Prophet | Butt-Head |
| --- | --- | --- | --- | --- | --- | --- | --- | --- |
| Georgia | 38-35 CU | 37-34 CU | 31-28 CU | 31-28 CU | 34-31 CU | 37-31 CU | 39-34 CU | 48-31 CU |
| SC State | 52-13 CU | 55-13 CU | 56-10 CU | 63-17 CU | 56-16 CU | 57-10 CU | 60-13 CU | 63-21 CU |
| NC State | 26-14 CU | 37-13 CU | 41-20 CU | 63-17 CU | 37-17 CU | 45-20 CU | - | 34-17 CU |
| Wake Forest | 56-7 CU | 41-13 CU | 41-17 CU | 41-14 CU | 38-13 CU | 52-13 CU | 45-17 CU | 45-17 CU |
| Syracuse | 49-14 CU | 38-22 CU | 34-17 CU | 45-27 CU | 45-17 CU | 47-17 CU | 38-20 CU | 70-21 CU |
| BC | 24-14 CU | 44-17 CU | 41-17 CU | 45-20 CU | 42-21 CU | 52-21 CU | 47-17 CU | 42-21 CU |
| FSU | 51-14 FSU | 34-30 CU | 31-30 CU | 30-27 CU | 31-24 CU | 38-34 CU | 34-28 CU | 44-24 CU |
| Points | - | 10 | 8 | 6 | 6 | 10 | 5 | 8 |
* Points: 3 pts for best prediction of the week (tiebreaker is Clemson score), 1pt for picking the correct winner